Download Manuals, Datasheets, Software and more:
Radar and Electronic Warfare
Performance precision and insight for your radar test and electronic warfare design.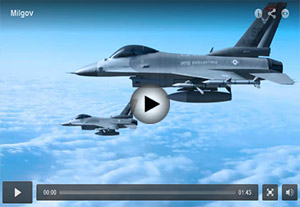 Designing effective electronic countermeasures for radar and electronic warfare threats is a difficult and demanding task. 
From wideband radar implementations to surveillance and band clearing, these applications require greater levels of vigilance each day. 
Tektronix content and tools provides the expertise and innovative solutions to help you meet the challenge. 
Learn more about how to see aspects of your signals that were previously invisible and how to recreate stimuli and environmental factors with impressive fidelity, giving you the insight to increase the capabilities of your systems, shorten your design cycle and build confidence in your final design.
Library
Title
Creating Wireless Signals with Arbitrary Waveform Generators
In this primer we look at the technology propelling the digital wireless revolution, some common AWG wireless test applications and important considerations for getting the best performance possible …
Understanding Radar Signals Using Real-Time Spectrum Analyzers
The transient nature of radar pulses combined with modern pulse compression schemes often demand carefully designed test setups. This Primer will cover measurements methods, choosing your measurement …
Emission Control, Radiation Hazards, and the Value of Intelligent RF Sensing for These Applications
New technology advancements with increased RF emitting technology capabilities requires a higher level of RF situational awareness. For added security of personnel and to increase the odds of …
Fundamentals of Real-Time Spectrum Analysis
Engineers and scientists have been looking for innovative uses for RF technology ever since the 1860s, when James Clerk Maxwell mathematically predicted the existence of electromagnetic waves capable …
Fundamentals of Radar Measurements
Chapter I. Introduction Modern radar design has created complicated pulses that present significant measurement challenges. Improvements to range, resolution and immunity …
DPX Acquisition Technology for Spectrum Analyzers Fundamentals
A Revolutionary Tool for Signal Discovery, Trigger, Capture and Analysis Detection is the first step in characterizing, diagnosing, understanding and resolving any …
RFXpress Advanced RF/IF/IQ Waveform Creation and Editing Software for Tektronix Arbitrary Waveform Generators
RFXpress enables you to create the exact waveforms required for extensive, thorough and repeatable design validation, and margin and conformance testing. It considerably cuts the time you need for …
Improving IED Countermeasure Technology - Using RF Capture and Playback Systems
By combining the Tektronix spectrum analyzer and X-COM Systems long duration RF signal storage system, a unique tool results for the recording, analyzing, and creating of new waveforms and complex RF …
SignalVu-PC Demonstration Guide (with Stored Signals) – Bringing the Benefits of Wideband Vector Signal Analysis to your PC
This demonstration guide is designed to help you understand the benefits of SignalVu-PC Offline Vector Signal Analysis Software when using stored files from supported Tektronix Real-Time Signal …
Amplitude Correction for Impulse Response Measurement of Radar Pulses
One measurement of the quality of a linear FM chirp is Impulse Response. The linearity of frequency or phase of the chirp tells part of the story. If a reflection or other time-related mechanism …
Title
Making Modern Radar Measurements the Easy Way
At one time, radar measurements could be performed using an oscilloscope for time domain, and a spectrum analyzer for frequency domain parameters. As radars became more and more complex, the …
Techniques for Validating Electronic Countermeasures
This Webinar examines approaches for validating Electronic Countermeasures (ECM) systems using the Tektronix Real Time Spectrum Analyzers such as the RSA5100B and RSA7100B.
Conquering Radar Signal Generation
What are the challenges related to the creation and generation of complex radar signals and what are the tools to help make this task more efficient? Gain these insights and learn how to avoid common …
Conquering Wideband Radar
Are you trying to build high fidelity wideband signal environments? Are you struggling to pick up on notoriously difficult to detect wideband signals? This webinar will focus on the challenges related …