Download Manuals, Datasheets, Software and more:
What is a Source Measure Unit (SMU)?
The Source Measure Unit (SMU) is an instrument that can precisely source voltage or current and simultaneously measure voltage and/or current. It combines the useful features of a digital multimeter (DMM), power supply, true current source, electronic load and pulse generator, all into a single, tightly synchronized instrument in a compact form factor. SMUs are considered more useful than the combination of any of the five instruments, due to the measuring instrument's versatility and high accuracy performance.
Source Measure Unit (SMU) Selector Guide
Software for your Source Measure Unit
Start sourcing and measuring in minutes, and develop your next application test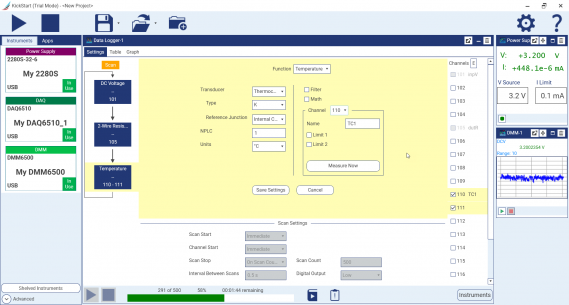 Start measuring in minutes without complex programming. Perform I-V characterization and more.

The familiar user experience of a curve tracer for two-terminal devices for tracing characteristics through both current and voltage.

Learning Center
Learn Source Measure Units(SMU) basics - from fundamental measurement concepts to key industry applications, such as how to use an SMU in a 2 terminal and 3 terminal device obtaining IV curves and how an SMU can simplify the test setup and increase productivity.