Download Manuals, Datasheets, Software and more:
DMM7510 7.5 Digit Graphical Sampling Multimeter
The DMM7510 7.5 digit multimeter combines a precision, high-resolution digital multimeter (DMM), graphical touchscreen display, and high-speed, high-resolution digitizer to create the first graphical sampling multimeter. With pA-level sensitivity and 1Msample/s sampling, it accurately measures ultra-low sleep mode currents and transmit drain currents from wireless devices. 
See more digital multimeter models.
Best Accuracy (one year)
DC Volts: 0.0014%
DC Current: .0060%
Resistance: 0.0024%
Digitizing Rate
1,000,000 readings/s
Display
Touchscreen Display
Wide dynamic range for drain current consumption profiling of IoT products
The DMM7510's digitizer can measure the current drain in all the IoT device's operating states. Capture µA sleep mode currents and transmit currents up to 1A with the combination of sensitive and fast current measurements from the high resolution, high speed digitizer.
Highlights
Sample current drain wave shapes at rates up to 1Msample/s
Sample over 5 decades with the digitizer's 18-bit resolution
Outstanding accuracy with low noise for high confidence
With a low noise input stage and a 32-bit A-D converter, the DMM7510 embodies Keithley's low level measurements expertise to deliver DC accuracies typically only found in metrology-grade instrumentation.
Highlights
14 ppm 1-year DC volt accuracy
60 ppm 1-year DC current acccuracy
24 ppm 1-year resistance accuracy
Internal auto-calibration
Measure low signals with high sensitivity
High sensitivity enables the DMM7510 to measure very low levels of voltage, current, and resistance, and detect small changes and signal drift.
Highlights
DC voltage sensitivity: 10 nV
Current sensitivity: 1 pA
Resistance sensitivity: 0.1 µΩ
Capture and store more than 27 million readings
Capture a complex waveform profile, study long-term stability, or record environmental and life testing data easily. The DMM7510's large internal memory buffer enables extensive reading storage of your device's complete profile.
Highlights
Standard mode storage: 11 million readings
Compact mode storage: 27.5 Million readings
All readings timestamped
Observe, interact with, and explore your measurements
Visualize and study every waveform using the graphical touchscreen display. And for even more in-depth analysis, pinch and zoom to easily expand and magnify your view.
Accidents happen. Make sure you're protected.
We have the only plan in the industry to offer coverage for accidental damage. Yes, this includes screen damage, spills, broken mounts, and electrostatic discharge or electronic overstress events. Reduce unplanned repair or replacement costs with our Total Protection Plan. Watch the video or click below to learn more.
Measure and visualize ultra-low drain current levels
Low power components and devices are becoming more and more efficient. Sleep mode drain currents for microcontrollers (MCUs) and other components for low-power portable products can be only tens of nanoamps. Sleep mode states for a complete product can be microamps. The DMM7510 can measure a 1 µA sleep current with 1 pA resolution and 0.375 nA tolerance.
1pA current sensitivity in enhanced accuracy mode
60ppm of reading + 9ppm of range 1-year-accuracy for the 100µA, 1mA, and 10mA ranges
Measure current drain in all operating states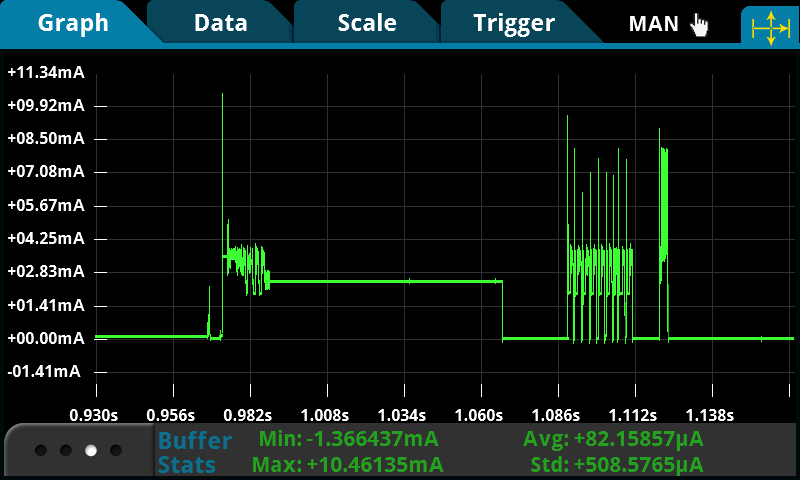 The DMM7510 has the range and the sampling speed to capture the load current in all operating states of a device—including low-power, portable IoT devices—from sleep mode to the load current bursts during RF transmission.
Sampling speed up to 1Msample/s
27.5 million reading storage
Multiple triggering options including analog level, slope, window, and digital external triggers
Determine device power consumption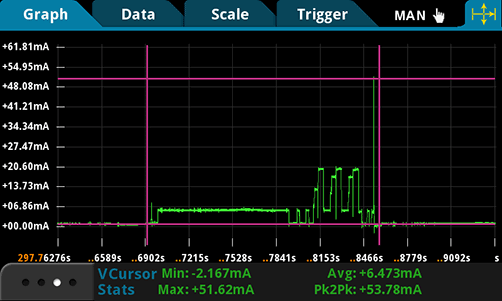 Device power consumption can be easily determined from a captured drain current profile using the extensive memory and waveform display of the DMM7510. Using the horizontal and vertical cursors, the average current can be computed and with this value the power consumption of the device can be determined.
Reduce test time
Use the DMM7510's test script processing embedded scripting capability to turn the DMM7510 into an intelligent controller. The DMM7510 has the built-in intelligence to execute a control program and control other Keithley products. This saves time by eliminating a lot of PC communication with the DMM7510 and other instruments that the DMM7510 is controlling. This significantly reduces test execution time.
Test Scripts can convert the DMM7510 into a specialized measurement instrument
SAFETY UNIVERSAL TEST LEAD KIT
SINGLE FIXED RACK-MOUNT KIT FOR 2U GRAPHICAL DISPLAY INSTRUMENTS
DUAL FIXED RACK-MOUNT KIT FOR 2U GRAPHICAL DISPLAY INSTRUMENTS
KELVIN PROBES, 0.9M (3FT)
LOW COST SINGLE PIN KELVIN PROBE SET
TRIGGER LINK CABLES W/DIN CON
8-Pin DIN-TO-BNC TRIGGER CABLE
CABLE, DUAL BANANA TO DUAL BANANA, 60 INCHES LONG
LOW PROFILE IEEE-488 INTERFACE BOARD
IEEE-488.2 USB-TO-GPIB INTERFACE ADAPTER

Control your instruments from your PC
Drive innovation through faster test & measurement with KickStart Software. KickStart instrument control software for the PC enables quick test setup, text execution and data visualization. By plotting data immediately and offering quick statistical summaries of the data in the reading table, KickStart allows you to gather insights faster and make the decisions you need to make.
Run tests on multiple types of bench instruments independently or simultaneously
Auto export data for long term logging
Replicate tests quickly using saved test configurations
Use built-in plotting, comparison and statistical tools to quickly discover measurement anomalies and trends
Configure tests using simulated instruments and swap in real instruments when available
See How
Automated Control from Lab to Fab
Keithley's Automated Characterization Suite (ACS) offers complete control of your equipment. Whether you need to control a few instruments on your bench, or automate an entire test rack for production, ACS offers a flexible, interactive environment for device characterization, parametric test, reliability test, and simple functional test.
Perform simple 1-off tests or build complex project trees
Code with Python inside ACS for unlimited flexibility and control
Manual or automated wafer prober control
Data management and statistical analysis capabilities