Download Manuals, Datasheets, Software and more:
MDO4000C Mixed Domain Oscilloscope
Please note, new 4 Series MSO oscilloscopes are the recommended replacements for the MDO4000C Series. Learn about the new 4 Series MSO Oscilloscopes.
The most powerful mixed domain oscilloscope, the MDO4000 combines up to six instruments including options like a function generator and a built-in spectrum analyzer. Unlike any other instrument, it can synchronize RF, analog and digital channels – giving unprecedented insight into your design.
See more oscilloscope models.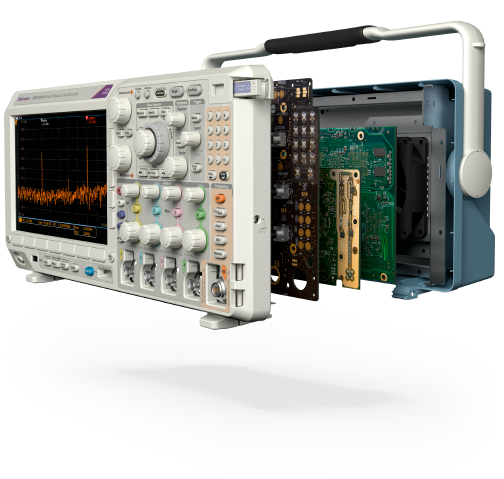 More than just a powerful scope
Engineering designs today are a complex mix of processors, serial buses, and wireless interfaces. At the core of the MDO4000C is a reputable Tektronix oscilloscope paired with an expandable platform. Customize it to your testing needs. Add 16 logic channels, a 50 MHz arbitrary/function generator, protocol analysis, and an integrated true hardware 3 or 6 GHz spectrum analyzer to help tackle complex designs challenges.
Highlights
Integrated triggered acquisition system - over 125 trigger combinations in the time AND frequency domains
20 Mpoint record length with Wave Inspector® controls
True spectrum analyzer hardware enables real spectrum analysis
Expandable functionality ensures usefulness well into the future
Accurate Measurements Matter
Put simply, the MDO Series scopes are designed to make the most accurate measurements in the industry – providing an unrivaled view into your designs. The MDO4000C takes measurements on actual acquisition data, while many other instruments only offer a snapshot view by taking measurements on display data. It doesn't end there. We guarantee more specifications than many of our competitors, ensuring the MDO4000C will give you total confidence in your measurements. After all, measurement accuracy impacts design integrity. Why settle for anything less than precise?
We guarantee 15 measurements. They guarantee 4. Read why it matters.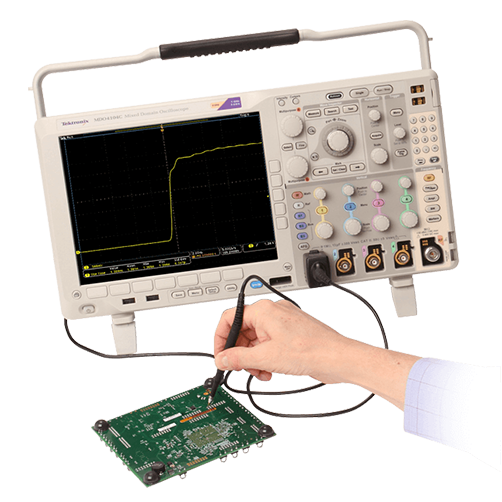 Industry Leading Probes – included with every purchase.
When examining the measurement signal path, probes are a key element that cannot be overlooked. When you buy an MDO4000C the industry's best probes are included in the price. Featuring industry-best loading of 3.9 pF and bandwidth matched to your oscilloscope, the TPP-series probes will be your go-to probe for everyday use.
See how probes affect your measurements
Read how Tektronix probes improve accuracy
Highlights
TPP-series probes included standard, one per analog channel
Industry-best capacitive probe loading of 3.9 pF
500 MHz or 1 GHz probe bandwidth to match the scope's bandwidth
Wireless Measurements - at a whole new level
Whether RF measurements make you smile or cringe, the MDO4000C oscilloscope with integrated hardware spectrum analyzer and SignalVu-PC software has you covered. Unlike oscilloscopes that offer FFT "spectrum analysis," the MDO4000C with true spectrum analyzer provides a triggered acquisition system that is integrated across analog, digital and spectrum analyzer channels. You can perform RF measurements up to 6 GHz, and correlate events in the frequency domain with the time domain phenomena that caused them.
MDO4000 series vs. regular scope FFTs
Measure digital, analog, and RF signals with a mixed domain oscilloscope
Highlights
Available 3 or 6 GHz spectrum analyzer option
Industry's only true integrated spectrum analyzer hardware
Spectrum analysis time-synchronized with analog and digital waveforms

Accidents happen. Make sure you're protected.
We have the only plan in the industry to offer coverage for accidental damage. Yes, this includes screen damage, spills, broken mounts, and electrostatic discharge or electronic overstress events. Reduce unplanned repair or replacement costs with our Total Protection Plan. Watch the video or click below to learn more.
Competitive Comparison
MDO4000C Series
Oscilloscope
InfiniiVision 4000 X-Series
Oscilloscope
20 M points on 4 channels, max

Record Length

2 M points on 4 channels, max

On waveform data

Measurements

On displayed data

Dedicated hardware spectrum analyzer

Spectrum Analyzer

None.
Uses gated FFT on oscilloscope input

9 kHz to 6 GHz

RF Frequency Range

Max. range limited by horizontal time scale
<15 GHz

Up  to 1 GHz - 1 year warranty

Included Passive Probes

700 MHz - 90 day warranty

3.9 pF

Probe Capacitive Loading

9.5 pF
| Model | Analog Bandwidth | Sample Rate | Record Length | Analog Channels | Digital Channels | Spectrum Analyzer | Function Generator Output | List Price | Configure And Quote |
| --- | --- | --- | --- | --- | --- | --- | --- | --- | --- |
| MDO4024C | 200 MHz | 2.5 GS/s | 20 Mpoints | 4 | 16 (optional) | Up to 6 GHz | 1 (optional) | US $11,600 | Configure & Quote |
| MDO4034C | 350 MHz | 2.5 GS/s | 20 Mpoints | 4 | 16 (optional) | Up to 6 GHz | 1 (optional) | US $18,000 | Configure & Quote |
| MDO4054C | 500 MHz | 2.5 GS/s | 20 Mpoints | 4 | 16 (optional) | Up to 6 GHz | 1 (optional) | US $23,900 | Configure & Quote |
| MDO4104C | 1 GHz | 2.5 - 5 GS/s | 20 Mpoints | 4 | 16 (optional) | Up to 6 GHz | 1 (optional) | US $29,500 | Configure & Quote |
| Model | Analog Bandwidth | Sample Rate | Record Length | Analog Channels | Digital Channels | Spectrum Analyzer | Function Generator Output | List Price | Configure And Quote |
| --- | --- | --- | --- | --- | --- | --- | --- | --- | --- |
| MDO4024C | 200 MHz | 2.5 GS/s | 20 Mpoints | 4 | 16 (optional) | Up to 6 GHz | 1 (optional) | US $11,600 | Configure & Quote |
| MDO4034C | 350 MHz | 2.5 GS/s | 20 Mpoints | 4 | 16 (optional) | Up to 6 GHz | 1 (optional) | US $18,000 | Configure & Quote |
| MDO4054C | 500 MHz | 2.5 GS/s | 20 Mpoints | 4 | 16 (optional) | Up to 6 GHz | 1 (optional) | US $23,900 | Configure & Quote |
| MDO4104C | 1 GHz | 2.5 - 5 GS/s | 20 Mpoints | 4 | 16 (optional) | Up to 6 GHz | 1 (optional) | US $29,500 | Configure & Quote |
 

Tektronix


MDO4000C
Tektronix
MDO3000
Keysight
4000 X-Series
LeCroy
HDO4000
R&S
RTE1000 Series
R&S
RTM2000 Series
Bandwidth
200 MHz to 1 GHz
100 MHz to 1 GHz
200 MHz to 1.5 GHz
200 MHz to 1 GHz
200 MHz to 1 GHz
200 MHz to 1 GHz
Upgradeable Bandwidth
Yes
Yes
Yes
--
--
Yes
Analog Channels
4
2 or 4
2 or 4
2 or 4
2 or 4
2 or 4
Analog Sample Rate
Up to 5 GS/s
Up to 5 GS/s
Up to 5 GS/s
Up to 2.5 GS/s
Up to 5 GS/s
Up to 5 GS/s
Standard Record Length (All Channels)
20 M
10 M
2 M
12.5 M
10 M
10 M
Integrated Arbitrary/Function Generator
50 MHz (opt)
50 MHz (opt)
20 MHz (opt)
--
--
--
Integrated Logic Channels (MSO)
16 (opt)
16 (opt)
16 (opt)
16 (opt)
16 (opt)
16 (opt)
Integrated Hardware Spectrum Analyzer
Up to 6 GHz (opt)
Up to 3 GHz (opt)
--
--
--
--
Full Synchronization of Analog, Digital and RF
Yes
--
--
--
--
--
Standard Probes
Up to 1 GHz Passive
Up to 1 GHz Passive
Up to 700 MHz Passive
Up to 500 MHz Passive
Up to 500 MHz Passive
Up to 500 MHz Passive
Standard Warranty
3 years
3 years
3 years
3 years
3 years
3 years
View Datasheet
PROBE SET; RF MEASUREMENT,NEAR FIELD PROBE SET,PASSIVE,HAND HELD
External Preamp., TPA Connector, SMA input
| Datasheet | Accessory | Description |
| --- | --- | --- |
| | 119414600 | PROBE SET; RF MEASUREMENT,NEAR FIELD PROBE SET,PASSIVE,HAND HELD |
| | HCTEK54 | Hard Carrying Case |
| | RMD5000 | Rackmount Kit |
| View Datasheet | TPA-N-PRE | External Preamp., TPA Connector, SMA input |
| | TPA-N-VPI | Probe adapter from Type-N connector to TekVPI |