Download Manuals, Datasheets, Software and more:
TekScope™ PC Analysis Software
Get the analysis capability of an award-winning oscilloscope on your PC. Analyze waveforms anywhere, anytime. The basic license lets you view and analyze waveforms, perform many types of measurements and decode the most common serial buses - all while remotely accessing your oscilloscope. Advanced license options add capabilities such as multi-scope analysis, more serial bus decoding options, jitter analysis and power measurements.
Sign up for a free 30-day trial. No payment method is required. Or, if you are a registered user, you can log in here.
Get Started
TekScope PC Analysis Software

Easy access to your remote oscilloscope
Use TekScope PC software to remotely access your Tektronix oscilloscope. With the TEKSCOPE-STARTER license option you can:
View waveforms and run many types of measurements, math and plots.
Perform basic instrument control, waveform transfer and analysis in real-time with most current Tektronix oscilloscope models. See the datasheet for a complete list.
Decode the most common serial protocols: I2C, SPI, RS-232/422/485/UART.
Oscilloscope analysis without the oscilloscope
Analyze waveforms just as you would on your scope, without the need for the scope. Work anytime, anywhere.
Analyze waveform files from Tektronix oscilloscopes, or other instruments
Remotely connect to Tektronix oscilloscopes to acquire data in real time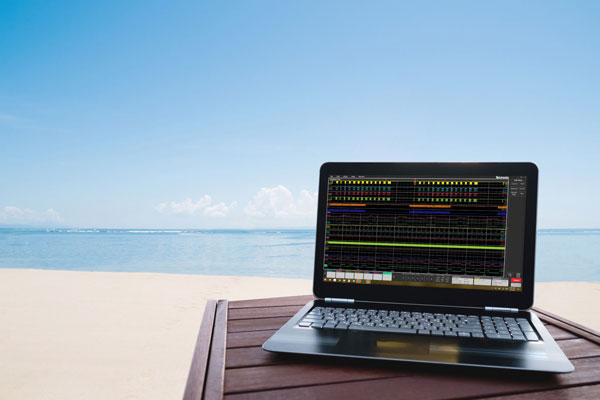 Share data with your colleagues and customers
Stop sending stacks of static screenshots and send entire datasets instead. Your fellow engineers will be able to rescale waveforms and take measurements as if they were sitting in front of the oscilloscope.
Synch waveforms from multiple scopes
Turn up to four scopes into a single virtual instrument. View and analyze data from multiple scopes on the same screen, with a single set of controls.
Rearrange channels
Group channels
Pan and zoom
Add cursors or automated measurements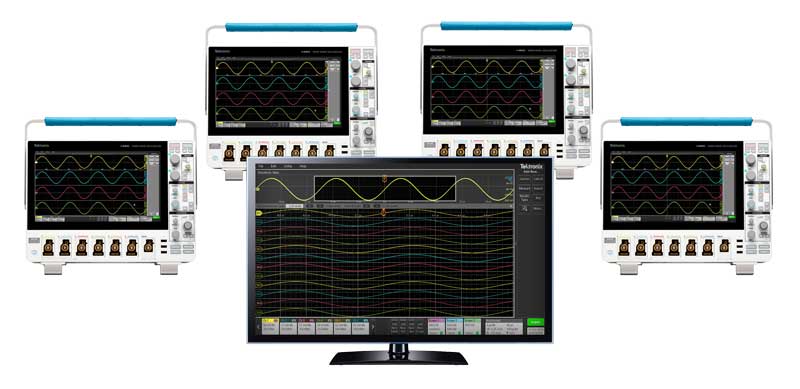 Advanced analysis - even if your scope isn't equipped for it
Boost the analysis available on your scope with advanced capabilities like bus decoding, spectrum analysis, and jitter analysis.
The same intuitive user interface as the 2/4/5/6 Series MSOs
Supports most waveform files (.wfm, .isf, .csv, .tr0, .trc, and .bin)
Flexible licensing lets you add options you need, when you need them.
Waveforms viewing and analysis, standard measurements, basic and advanced math options, basic and advanced plot options, wide range of file formats, FastFrame segmented memory, multi-language support
Serial decode, search and event table analysis on I2C, SPI, RS-232/422/485/UART buses
Remote Access to a single oscilloscope (Supports most Tektronix oscilloscope models)
Features and options for TekScope PC Software provide similar capabilities to options installed on oscilloscopes, but they are independent. In order to perform pc-based analysis you need only the appropriate TekScope license. You don't need to have the option installed on your oscilloscope. TekScope licenses do not install features on your oscilloscope and oscilloscope options do not enable advanced analysis with TekScope.