Download Manuals, Datasheets, Software and more:
400G PAM4 Testing


Optical Manufacturing Tests for 400G
The 8 Series Sampling Oscilloscope provides an efficient and effective solution for 400G optical manufacturing tests, design and verification of high-speed components and systems, and signal integrity analysis. It supports compliance testing for industry standards including: 25G, 50G, 100G, 200G, 400G IEEE 802.3 standards such as 400GBASE-FR8, 400GBASEDR4. Our software was built from the ground up to reduce the complexity associated with measurements like TDECQ.
Overcoming 400G measurement challenges
The rapid worldwide growth in cloud computing is driving massive demand for high-performance datacenter infrastructure. To keep pace with this relentless demand, developers are transitioning to 400G technologies enabling smaller, faster, lower cost-per-bit solutions.
There are several core technologies that are enabling 400G, including the use of higher order modulation and higher data rates up to 56 GBaud. This new modulation scheme provides four-level pulse amplitude modulation (PAM4), which transmits two bits per symbol, doubling the data rate compared to conventional NRZ.
PAM4 signals, having a lower signal-to-noise ratio and 1/3 of the amplitude of equivalent NRZ, require more advanced tools and features for successful validation.
Learn how to:
What's New: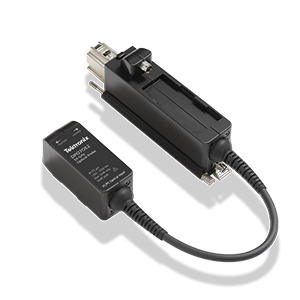 Industry's first 56 GBd optical probe (DPO7OE2) for advanced debug and troubleshooting for PAM4 testing with Real-Time Scope
See Recommended Products
Accelerate 400G product development
Developing 400G products is challenging. PAM4 signals require more sophisticated tools and features in order to evaluate them successfully. The DPO7OE series optical probe with a DPO70000 real-time scope provides superior features, trigger and debug capabilities to effectively troubleshoot and measure PAM4 signals up to 56 GBaud.
Tektronix Real-time solutions give you the ability to efficiently validate your technology advances and rapidly debug and validate 400G technology complementing the low-noise of a sampling oscilloscope.

Validate faster and increase yield
One of the greatest challenges is keeping test cost per device as low as possible while meeting required specifications. With PAM4 signals increasing the number of tests needed to conduct versus NRZ signals by a factor greater than 10, solutions providing measurements quickly for optimized tuning, with the lowest noise to maximize production yields are required.
The Tektronix sampling solutions include the DSA8300 and the 80C20/21 optical module to provide the highest bandwidth, highest sensitivity, and shortest test time when testing up to 56 GBaud. This solution enables you to effectively balance performance and testing costs.

Featured Content
NEW! Analyzing 26 to 53 GBd PAM4 Optical and Electrical Signals
Application Note
The need to deliver data rates in excess of 50 Gb/s has created great interest in bringing next generation PAM4 components and systems to market. This paper presents techniques for analyzing 28 GBaud and 53 GBaud optical and electrical PAM4 signals for compliance and debug testing of both components and systems.
Download Note
Optical Bandwidth Requirements for NRZ and PAM4 Signaling
White Paper
Until recently, both optical and electrical bandwidths produced similar results but this is no longer the case with the recent IEEE spec change. This paper clarifies these terms, mathematically shows how they are related, and provides the basis to understand and confidently calculate optical and electrical bandwidth for an optical channel.
Download Paper
PAM4 in 400G/200G/100G/50G Networking Technology
Poster
Download our poster and receive a complete, up-to-date poster providing an overview of PAM4, including both optical standards and measurements and electrical standards and measurements.
DOWNLOAD A COPY
Facing challenges in other wired communication applications?
Enter email:
Please enter a valid email address.
Your email has been sent.
Library
Title
Webinar: PAM4 Optical Transceiver Characterization
Watch as we discuss PAM4 optical transceivers, both 100G and 400G, including the latest on standards, testing, and characterization. We cover high throughput NRZ measurement and margin and compare …
Practical 400G PAM4 Test Methods - Optical and Electrical Measurement
The accelerated development of 400G Ethernet technology is driving new requirements through the test community as it relates to measuring PAM4 signals for optical and electrical systems. This …
Webinar: High Volume Optical Transceiver Validation
Learn about the current challenges in testing optical transceivers in a high volume manufacturing setting, and see a demonstration of a transceiver test system for PAM4 characterization using the …
Understanding Differences between PCI Express 4050 and IEEE High Speed Electrical Specifications
Our Tektronix domain experts, Dan Froelich and Pavel Zivny, contrast the methodologies of the PCI Express 4.0/5.0 and IEEE 26 GBd NRZ/PAM4 electrical specifications and engage in a lively discussion …
400G Networking and 28GBd56GBd Testing Are you Ready
With PAM4 moving into production and 400G design efforts in full swing, the test challenges around characterization, verification and debug, and manufacturing testing have never been greater. This …