Coherent Optical
Automating Coherent Optical Device Optimization and Testing
Global datacenter expansions are happening at a rapid pace, driven by the ever-increasing demand for digital information. With IP traffic growing at over 20% per year, continuous network technology innovation is required to meet the needs of consumers and business.
Next-generation metro data center interconnection solutions aim at doubling the symbol rate to reduce the cost per bit, rack and energy consumption without substantial infrastructure investments. What's needed? An end-to-end Coherent Test Solution that is fully calibrated and automatically controls and calibrates multiple Optical Modulation Analyzers (OMA) to reduce measurement errors and accelerate product design cycles.
Avoid the equalization trial and error approach
To tweak coherent optical transmitters for optimal performance, impulse response information needs to be known. Where many solutions adjust equalization based on a trial and error approach, making adjustments based on the device's characteristics saves time and results in better performance.
Tektronix provides an end-to-end automated coherent optical device optimization and test solution to analyze the device under test's characteristics and provide the best possible setup parameters to deliver the highest performance and best yield in the shortest amount of time.
Automate to reduce calibration times & measure accurately
Multi-channel research of multi-Optical Modulation Analyzer's test systems is challenging and difficult. Synchronization and phase coherent acquisition is critical, but can be influenced by external and internal factors. The key to making measurements on coherent optical systems relies on the ability to correct and adjust these factors to provide clean test signals that are known and repeatable.
The Tektronix OMA software automatically controls and fully calibrates multiple OMA systems to reduce measurement errors, increasing the confidence in your analysis.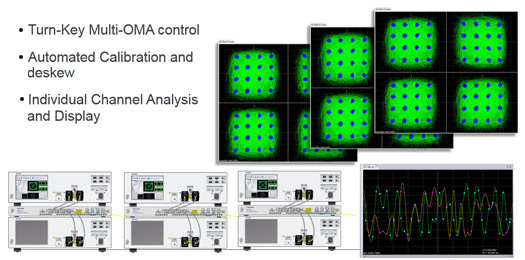 Facing challenges in other wired communication applications?

400G PAM4 Testing

Accelerate PCIe, SAS, SATA Compliance Testing

Consumer Standards Over Type-C
Library
Title
Keys for Successful Coherent Acquisition
As demand for data increases, network operators continue to search for methods to increase data throughput of existing optical networks. To achieve 100Gb/s, 400Gb/s, 1Tb/s and beyond, complex modulation formats have become prevalent. These modulation formats present new challenges for the designer when it comes to choices of test equipment.
Coherent Optical Measurements Reference Poster
Quickly and easily identify the cause of coherent optical transmitter and receiver impairments with this reference poster.
Automating Bit Error Rate Measurements of Complex Modulated Optical Signals
Common to all digital communications systems is the need to characterize bit error rates (BER). In this application note, you will learn how the Tektronix OM4225/4245 Coherent Lightwave Signal Analyzer enables access to the complete set of variables for characterizing complex optical signals on fiber.