Live Chat with Tek representatives. Available 6:00 AM - 4:30 PM PST.
Download Manuals, Datasheets, Software and more: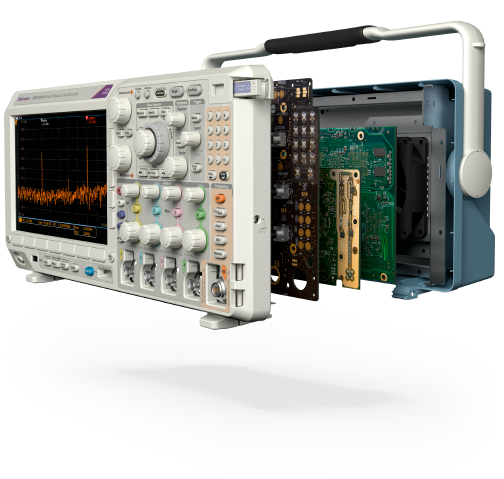 A powerful scope is only the start.
Today's engineering world is dominated by multi-core processors, serial buses, and wireless interfaces. At the heart of the MDO3000 is a tried-and-true Tektronix oscilloscope paired with a base spectrum analyzer and digital voltmeter. Then you can customize it to your testing needs. Add 16 logic channels, a 50 MHz arbitrary/function generator, protocol analysis, and an expanded 3 GHz spectrum analyzer to help tackle today's—and tomorrow's—complex designs.
Highlights
Award winning oscilloscope with 125 trigger combinations
10 Mpoint record length with Wave Inspector® controls
Base spectrum analyzer included
Add instruments and functionality as your testing needs evolve
Accurate Measurements Matter
Put simply, the MDO3000 Series scope is designed to make the most accurate measurements in the industry. While many other instruments only offer low-resolution display data, the MDO3000 takes measurements on actual acquisition data, providing an unrivaled view into your designs. In fact, we're so confident in the MDO3000 will give you total confidence in your measurements that we guarantee our specifications. After all, measurement accuracy impacts design integrity. Why settle for anything less than exact?
18 guaranteed specs. Class-leading accuracy. Read why that matters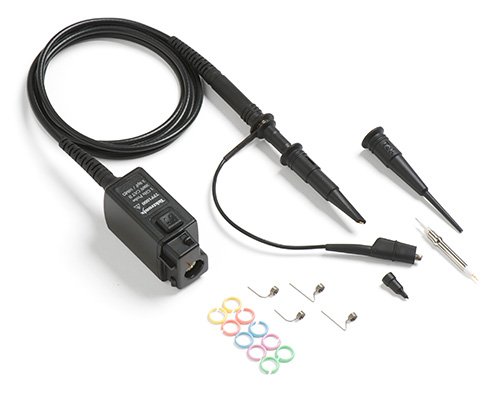 The best probes at the best price: free.
Probes should not be overlooked as a key element in the measurement signal path. When you buy an MDO3000 you get the industry's best probes free. Featuring industry-best loading of 3.9 pF and high bandwidth to match your oscilloscope, the TPP-series probes will be your go-to probe for everyday use.
See how probes affect your measurements
Read how Tektronix probes improve accuracy
Highlights
TPP-series probes included standard, one per analog channel
Industry-best capacitive probe loading of 3.9 pF
250 MHz, 500 MHz or 1 GHz probe bandwidth to match the scope's bandwidth
Make Wireless Measurements like an RF Expert – without having to become one
Are wireless communications and EMI considerations pulling you from your comfort zone? Or are you an RF expert who needs an oscilloscope capable of making time and frequency domain measurements? Either way, the MDO3000 oscilloscope with a built-in spectrum analyzer is up to the task. Unlike other oscilloscopes that offer FFT "spectrum analysis", only the MDO3000 has a true spectrum analyzer built right in, enabling you to perform RF measurements up to 3 GHz without having to leave the comfort of your scope.
MDO3000 series vs. regular scope FFTs
Highlights
Base spectrum analyzer, included standard
Available 3 GHz spectrum analyzer upgrade
Industry's only true integrated spectrum analyzer hardware

Accidents happen. Make sure you're protected...
We have the only plan in the industry to offer coverage for accidental damage. Yes, this includes screen damage, spills, broken mounts, and electrostatic discharge or electronic overstress events. Reduce unplanned repair or replacement costs with our Total Protection Plan. Watch the video or click below to learn more.
 

Tektronix


MDO3000
Tektronix
MDO4000C
Keysight
3000T
LeCroy
WaveSurfer 3000
R&S
RTM2000
Bandwidth
100 MHz to 1 GHz
200 MHz to 1 GHz
100 MHz to 1 GHz
200 MHz to 750 MHz
200 MHz to 1 GHz
Upgradeable Bandwidth
Yes
Yes
Yes
Yes
Yes
Analog Channels
2 or 4
4
2 or 4
2 or 4
2 or 4
Analog Sample Rate
Up to 5 GS/s
Up to 5 GS/s
Up to 5 GS/s
Up to 4 GS/s
Up to 5 GS/s
Standard Record Length (All Channels)
10 M
20 M
2 M
10 M
10 M
Integrated Arbitrary/Function Generator
50 MHz (opt)
50 MHz (opt)
20 MHz (opt)
25 MHz (opt)
--
Integrated Logic Channels (MSO)
16 (opt)
16 (opt)
16 (opt)
16 (opt)
16 (opt)
Integrated Hardware Spectrum Analyzer
Up to 3 GHz (opt)
Up to 6 GHz (opt)
--
--
--
Full Synchronization of Analog, Digital and RF
--
Yes
--
--
--
Standard Probes
Up to 1 GHz Passive
Up to 1 GHz Passive
Up to 500 MHz Passive
Up to 500 MHz Passive
Up to 500 MHz Passive
Standard Warranty
3 years
3 years
3 years
3 years
3 years
| Data Sheet | Software Package / Software Option | Description | Configure and Quote |
| --- | --- | --- | --- |