Download Manuals, Datasheets, Software and more:
TCP0150 AC/DC Current Probe, Datasheet
TCP0150 Datasheet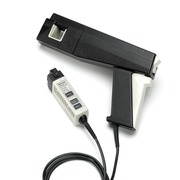 Read Online:
The TCP0150 is a high performance and easy-to-use 150 A AC/DC current probe designed for use and direct connection to the TekVPI™ probe interface.
Key performance specifications
DC to 20 MHz bandwidth
150 ARMS maximum current capability
500 a peak pulse current capability
High accuracy with typically less than 1% DC gain error
Accurately measures current levels as low as 5 mA
Key features
Easy-to-Use and accurate AC/DC current measurements
Connects directly to oscilloscopes with the TekVPI™ probe interface
Low noise and DC drift
Provides automatic units scaling and readout on the oscilloscope's display
Remote GPIB/USB probe control through the oscilloscope
Split-core probe head construction allows easy connection to conductors
Easy to degauss and autozero
Setup controls and probe status and diagnostic indicators are provided on both the probe hardware and through an Easy-to-Access scope UI display menu
Applications
Power supplies
Semiconductor devices
Power inverters/converters
Electronic ballasts
Industrial/consumer electronics
Motor drives
Transportation systems
Specifications
All specifications are guaranteed unless noted otherwise. All specifications apply to all models unless noted otherwise.
Warranted characteristics
Bandwidth

DC to ≥20 MHz (-3 dB). Derate with frequency. See Figure 1. (Calculated from Rise Time BW = .35/Rise Time)
Rise time

≤17.5 ns
Max RMS current

150 A
Max peak pulse current

500 A
Minimum sensitivity

5 mA (on oscilloscope's 1 mV/div setting)

AC coupling (on oscilloscopes that support AC/DC coupling)
Current ranges

25 A and 150 A
Max bare-wire voltage

600 VRMS CAT I and II

300 VRMS CAT III
Typical characteristics
DC accuracy

±1% typical (3% warranted)
Max amp-second product

25 A range

3,000 aµs

150 A range

15,000 aµs
Insertion impedance

0.03 Ω at 1 MHz

0.075 Ω at 5 MHz

.125 at 10 MHz

.3 at 20 MHz
Signal delay

≈ 21 ns
Displayed RMS noise

≤500 μARMS (probe only)
Physical characteristics
Cable length

2 meters (79 in.)
Probe head size

Length

26.8 cm (10.55 in.)

Width

4.1 cm (1.6 in.)

Height

15.6 cm (6.13 in.)
Max conductor diameter

21 mm x 25 mm (0.83 in. x 1.0 in.)
Shipping weight

.7865 kg (1.734 lb.)
Power requirements

TCP0150 is powered directly by oscilloscopes with the TekVPI interface
Environmental
Temperature

Operating

0 ºC to +50 ºC

Nonoperating

-40 ºC to +75 ºC
Humidity

Operating

5% to 95% RH (Relative humidity) at up to +30 ºC

5% to 85% RH above 30 ºC up to +50 ºC, noncondensing

Nonoperating

5% to 95% RH (Relative humidity) at up to +30 ºC

5% to 85% RH above 30 ºC up to +75 ºC, noncondensing
Altitude

Operating

Up to 2,000 meters (6,560 feet)

Nonoperating

Up to 12,000 meters (40,000 feet)
Recommended oscilloscopes
Oscilloscopes with the TekVPI probe interface.
Note: For best probe support, download and install the latest version of the oscilloscope software from www.tek.com/software/downloads

TCP0150 insertion impedance

TCP0150 Max Peak Pulse versus PW

Do not apply currents greater than the max continuous current for more than 10 seconds to minimize heating effects.
Ordering information
Models
TCP0150

AC/DC current probe with TekVPI interface.
Options
Language options
Opt. L0

English manual

Opt. L5

Japanese manual

Opt. L7

Simplified Chinese manual

Opt. L9

Korean manual
Service options
Opt. CA1

Single Calibration or Functional Verification

Opt. C3

Calibration Service 3 Years

Opt. C5

Calibration Service 5 Years

Opt. D3

Calibration Data Report 3 Years (with Opt. C3)

Opt. D5

Calibration Data Report 5 Years (with Opt. C5)

Opt. R3

Repair Service 3 Years (including warranty)

Opt. R5

Repair Service 5 Years (including warranty)

Opt. SILV600

Standard warranty extended to 5 years
Recommended accessories
015-0601-50 

Current loop, 1 turn, 50 Ω with BNC connector used for performance verification

067-1701-xx

TekVPI calibration fixture

067-1686-xx

Cal/Deskew fixture for DPO7000/70000 series