Live Chat with Tek representatives. Available 6:00 AM - 4:30 PM PST.
Download Manuals, Datasheets, Software and more:
DPO70000SX ATI Performance Oscilloscope
DPO70000SX ATI Performance Oscilloscopes deliver the industry's most accurate capture of high-speed signal behavior to verify, validate and characterize your next generation designs. Capture up to 70 GHz signals with the lowest noise and highest fidelity, ensuring the most accurate measurements of your signal's true characteristics. See all oscilloscopes »
Bandwidth
13 GHz - 70 GHz
Record Length
Up to 1G points
Sample Rate
Up to 200 GS/s
High Speed Serial Communications
Want to measure to current and emerging standards and reduce your time to market? We can help. With decades of experience on committees and a commitment to creating state-of-the-art software packages, Tektronix supports you through the introduction and adoption of cutting-edge standards.
High Speed Serial Standards Support
Highlights
Compliance testing and debugging for PCIe, SATA/SAS, USB 3.1 Type-C, Thunderbolt 3 Type-C and DisplayPort 1.3/1.4 Type-C, HDMI 2.0, DDR, LPDDR and MIPI
Hardware serial trigger of 8b10b data to 14.1Gbps for diagnostic and debug work
Data Communications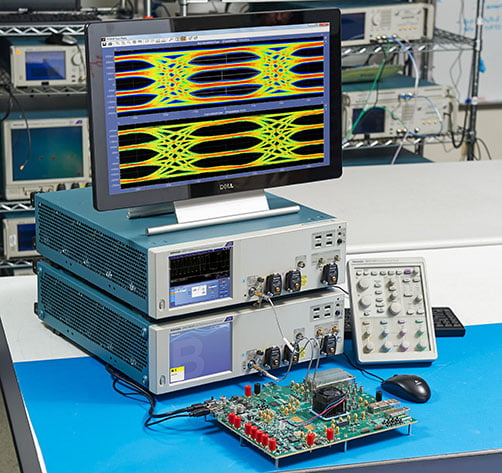 Comprehensive Tx and Rx testing support for 100G and 400G standards, plus testing guidance for both NRZ and PAM4 signaling – so your team can tackle the next wave of data comm technologies.
Solutions for Next Wave Data Comm Technologies
Highlights
Debugging of complex 100G Link Training sequences
Characterize PAM4 and NRZ signals
Perform IEEE and OIF-CEI compliant measurements
Both optical and electrical measurements available
Coherent Optical
Get ready to tackle 400G and 1 Terabit long haul communications system work with the scalable architecture and low noise performance of the DPO70000SX Series Oscilloscope.
Discover Coherent Optical Solutions
Highlights
Coherent Optical Modulation: Easily modulate complex signals with support for dual polarization, multi-level signals and automatic bias control
Coherent Optical Analysis: Make fast and repeatable complex modulation measurements with the industry's most customizable analysis tools
New ArmA,TrigB feature supports carefully controlled timing of acquisitions for Recirculating Loop testing
Wideband RF
Gather data faster for your wideband RF research with ultra-wide bandwidths, easier signal connectivity and the flexibility to perform open-ended online and offline analysis of RF signal behavior.
Highlights
The only wideband oscilloscope on the market with an RF envelope trigger
Robust pulse analysis and demodulation tools available with SignalVu spectral analysis package
| Data Sheet | Software Package / Software Option | Description | Configure and Quote |
| --- | --- | --- | --- |
Phase-matched Cable Pair, 67 GHz, 1.85mm, male-male, 24
Phase-stable Coaxial Cable, 67 GHz, 1.85mm, male-male, 24
Phase-stable Coaxial Cable, 67 GHz, 1.85mm, male-male , 36
RF Attenuator Kit; 1 ea. 3dB, 6dB, 10dB, 20dB Atten., 67 GHz, 1.85mm
RF Signal Path Kit; 1 ea. 3dB, 6dB, 10dB, 20dB Atten., 1 ea. V(m)-V(m), V(m)-K(f), V(f)-K(m), V(f)-K(f) Adapter, (1) DC Block, 67 GHz, 1.85mm
RF Channel Timing De-skew Kit; (1) Precision Power Divider, DC to 65 GHz, 1.85mm, female x 3, (1) V(m)-V(m) Adapter, 67 GHz, 1.85mm
View Datasheet
DPO70000SX multi-unit synchronization cable; 1 meter length
View Datasheet
DPO70000SX multi-unit synchronization cable; 2 meter length
View Datasheet
Upgrade options include a variety of spare or replacement SSDs for DPO70000SX oscilloscopes
| Datasheet | Accessory | Description |
| --- | --- | --- |
| | DPO7AFP | Auxiliary Front Panel |
| View Datasheet | DPO7RFC1 | Phase-matched Cable Pair, 67 GHz, 1.85mm, male-male, 24 |
| View Datasheet | DPO7RFC2 | Phase-stable Coaxial Cable, 67 GHz, 1.85mm, male-male, 24 |
| View Datasheet | DPO7RFC3 | Phase-stable Coaxial Cable, 67 GHz, 1.85mm, male-male , 36 |
| View Datasheet | DPO7RFK1 | RF Attenuator Kit; 1 ea. 3dB, 6dB, 10dB, 20dB Atten., 67 GHz, 1.85mm |
| View Datasheet | DPO7RFK2 | RF Signal Path Kit; 1 ea. 3dB, 6dB, 10dB, 20dB Atten., 1 ea. V(m)-V(m), V(m)-K(f), V(f)-K(m), V(f)-K(f) Adapter, (1) DC Block, 67 GHz, 1.85mm |
| View Datasheet | DPO7RFK3 | RF Channel Timing De-skew Kit; (1) Precision Power Divider, DC to 65 GHz, 1.85mm, female x 3, (1) V(m)-V(m) Adapter, 67 GHz, 1.85mm |
| | DPO7USYNC1M | DPO70000SX multi-unit synchronization cable; 1 meter length |
| | DPO7USYNC2M | DPO70000SX multi-unit synchronization cable; 2 meter length |
| | Opt. SSD | Upgrade options include a variety of spare or replacement SSDs for DPO70000SX oscilloscopes |