Download Manuals, Datasheets, Software and more:
Analysis Software for Oscilloscopes
Get more out of your Tektronix oscilloscope by downloading one of our many oscilloscope software solutions and applications. Add oscilloscope capabilities to your PC, remotely manage and control your oscilloscope unit, and expand the capabilities of the instruments on your bench with free and premium Tektronix oscilloscope software.
Turn your PC into an oscilloscope with TekScopeTM
With TekScope PC Analysis Software, you can analyze waveforms anytime from anywhere by turning your PC into an oscilloscope. The basic license lets you view and analyze waveforms, perform many types of measurements and decode the most common serial buses. Premium options are available for more advanced capabilities like multi-scope analysis, bus decoding, power analysis, jitter analysis and more.
Features:
Perform basic instrument control, waveform transfer and real-time analysis with TBS1000C and TBS2000B Series oscilloscopes
Decode common serial protocols, including: I2C, SPI, RS-232/422/485/UART, CAN, CAN-FD, LIN
Supports most waveform files (.wfm, .isf, .csv, .h5, .tr0, .trc, and .bin)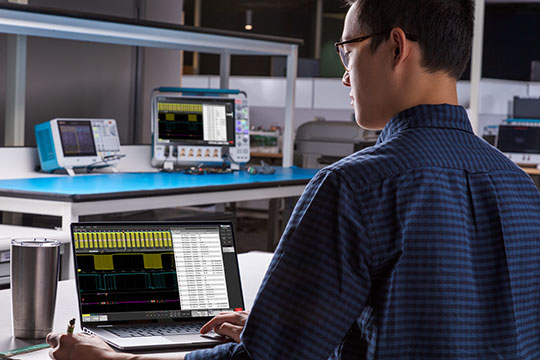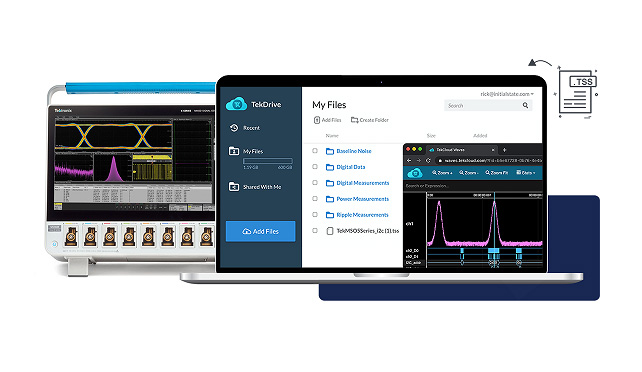 Share data across teams with TekDrive
TekDrive is a collaborative test and measurement workspace wherein users can upload, store, organize, search, download, and share files from any connected device. Because TekDrive is natively integrated into many oscilloscope models, users can seamlessly and securely share files without a USB flash drive.
Features:
Analyze and explore standard files such as *.wfm, *.isf, *.tss, and *.csv in your browser
Transform and filter data in real time using inline math
REST API enables integration with any connected device or software application

Gather insights faster with KickStart
Drive innovation through faster test & measurement with KickStart Instrument Control Software for the PC. KickStart enables quick test setup, test execution and data visualization. By plotting data immediately and offering quick statistical summaries of the data in the reading table, KickStart allows you to gather insights faster and make the decisions you need to make.
Features:
Run tests on multiple types of bench instruments independently or simultaneously
Auto export data for long-term logging configurations
Use built-in plotting, comparison and statistical tools to quickly discover measurement anomalies and trends
Configure tests using simulated instruments and swap in real instruments when available
Analyze RF and vector signals on your oscilloscope with SignalVu-PC
Working in the frequency domain? Validate your RF designs and speed your time-to-insight by using your oscilloscope and PC to analyze RF and vector signals. SignalVu-PC spectrum analyzer software shows the time-variant behavior of these signals and is ideal for validating designs for EMI/EMC pre-compliance testing, wideband radar, wireless LAN, or frequency-hopping communications.
Features:
Analyze waveforms without acquisition hardware present
Free version includes 17 signal analysis and real-time spectrum analysis measurements
Get the same signal analysis capabilities found in Tektronix real-time signal analyzers on your computer, tablet, or MSO/DPO oscilloscope with Windows 7/8/10 Intel i5 or i7 64-bit operating system


Characterize wideband RF signals on an oscilloscope with SignalVu
Get the functionality of a vector signal analyzer, pulse analyzer, WiGig or WLAN tester, and spectrum analyzer when you download SignlaVu VSA Software onto your Tektronix oscilloscope. Characterize your wideband RF signals more easily by combining the analysis engine of a real-time signal analyzer with the powerful trigger capabilities of your oscilloscope.
Features:
Make acquisitions using up to 70 GHz bandwidth
Find the root cause of problems in the frequency, phase, amplitude, and modulation domains with time-correlated, multi-domain displays
Quickly characterize components and systems with the built-in ACLR, multicarrier ACLR, power vs. time, CCDF, OBW/EBW, and spur search measurements
Find the right oscilloscope software for your scope
| Oscilloscope software | Compatible with |
| --- | --- |
| TekScope | Tektronix 4/5/6 Series MSO, 5LP/6LPD Series MSO (analyze waveform data and set up sessions), 3 Series MDO, DPO/MSO/MDO3000, DPO/MSO/MDO4000, DPO7000C, DPO/MSO70000C/D/DX/SX Series (analyze waveform data only) |
| TekDrive | 5 Series MSO Mixed Signal Oscilloscope, 5 Series MSO Low Profile, 6 Series MSO Mixed Signal Oscilloscope, 6 Series Low Profile Digitizer, 6 Series B MSO Mixed Signal Oscilloscope, TekScope |
| KickStart | TBS1000 Series, TBS2000 Series, 2 Series MSO, 3 Series MDO, 4 Series MSO, 5 Series B MSO, 5 Series B MSO Low Profile, 6 Series B MSO, 6 Series B MSO Low Profile Digitizer, MDO3000 Series, MDO4000 Series, MSO3000 Series, MSO4000 Series, DPO3000 Series, DPO4000 Series, TDS1000 Series, TDS2000 Series, and TDS200 Series |
| SignalVu-PC | All MSO and DPO oscilloscopes |
| SignalVu VSA | MSO/DPO5000, DPO7000 and MSO/DPO70000 Series |
Need help finding oscilloscope software that meets your requirements?