Download
Download
Download Manuals, Datasheets, Software and more:
Contact us
Contact us
Live Chat with Tek representatives. Available 6:00 AM - 4:30 PM PST.

See more, in a big way.
When you see more signal, you find anomalies faster. With an impressive 9" WVGA display and 15 horizontal divisions—the most in its class—the TBS2000 digital storage oscilloscope not only helps you see the big picture, it gives you a clearer picture. Plus a 20-million point record length lets you capture long time windows with higher timing resolution.
Measure accurately, easily and automatically.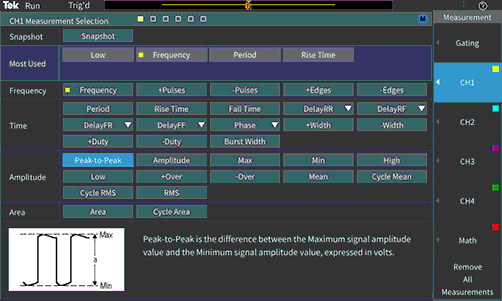 Share more, with ease.
The TBS2000 is the first oscilloscope with Wi-Fi support via a USB Wi-Fi dongle. It also has 2 USB host ports and 1 LXI compliant 100-BaseT Ethernet port, making it easy to share measurements and collaborate—with your lab partner or across the globe. Plus, the included software lets you easily connect to your PC to grab screen images and analyze data.
More probes. More applications.
The TekVPI™ probe interface not only supports standard BNC probes, but also allows you to use latest-generation active voltage and current probes. TekVPI enables communication between the scope and the latest current and differential voltage probes, simplifying measurement setups and extending your range of applications.
Highlights
Automatically communicate scale factors to the oscillscope.
Probe guidance such as open-jaw errors, offset settings and degauss requirements are presented on oscilloscope display.
No external power supply is required to power the probe.
A powerful learning tool.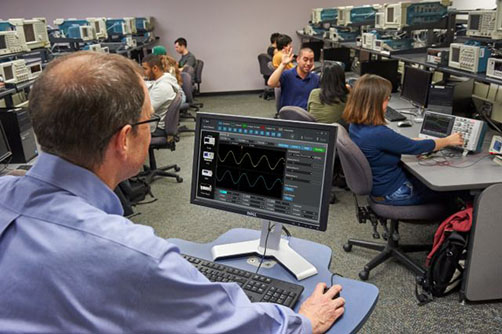 With the TBS2000 students can take a hands-on approach, thanks to features that make learning engineering fundamentals easier.
All classroom and lab resources »
Highlights
HelpEverywhere provides context for challenging menus.
TekSmart Lab™ network software helps instructors set up and monitor many instruments from one PC.
Courseware ecosystem lets instructors load information into the TBS2000, to help students during labs.
Accidents happen. Make sure you're protected.
We have the only plan in the industry to offer coverage for accidental damage. Yes, this includes screen damage, spills, broken mounts, and electrostatic discharge or electronic overstress events. Reduce unplanned repair or replacement costs with our Total Protection Plan. Watch the video or click below to learn more.
Tektronix
TBS2000
Keysight
X2000
Display
9 inch (800x480)
8.5 inch
Horizontal Grids
15
10
Waveform Display with Menu Off
100% Waveform display with menu-off
80% waveform display, no menu off
Record Length
20M Points
100K Points Standard
1M Points Optional
Connectivity
Wi-Fi Dongle Support, USB, LAN
No wireless connectivity, USB, LAN optional
Channels
2 or 4
2 or 4
Bandwidth
Up to 100Mhz
Up to 200Mhz
Sample Rate
Up to 1 GS/s
Up to 2 GS/s
Automatic Measurements
32
24
Flexible Probes Support
TekVPI interface for active, differential and current probe support with probe communication, no external power needed
Standard BNC interface, no probe power and communication
Measurements
Cursor measurements with on-waveform readouts
Cursor measurement readouts are off to the side of the screen
Education Solution
TekSmartLab, Courseware, HelpEverywhere, ScopeIntro
–
Frequency Counter
All CH Hardware 6 digits
1CH frequency counter
Warranty
5 years
5 years
Accessory, Deskew Pulse Generator Signal Source with TekVPI Scope Interface
USB TO IEEE488 (GPIB) COMMUNICATIONS ADAPTOR FOR USBTMC-USB488 COMPLIANT TEKTRONIX INSTRUMENTS
View Datasheet
Wi-Fi dongle supporting wireless connectivity for TBS2000, certificated by FCC and CE
Probe adapter from TekProbe-BNC to TekVPI
| Datasheet | Accessory | Description |
| --- | --- | --- |
| | ACD4000B | Soft Carrying Case |
| View Datasheet | TEK-DPG | Accessory, Deskew Pulse Generator Signal Source with TekVPI Scope Interface |
| View Datasheet | TEK-USB-488 | USB TO IEEE488 (GPIB) COMMUNICATIONS ADAPTOR FOR USBTMC-USB488 COMPLIANT TEKTRONIX INSTRUMENTS |
| | TEK-USB-WIFI | Wi-Fi dongle supporting wireless connectivity for TBS2000, certificated by FCC and CE |
| View Datasheet | TPA-BNC | Probe adapter from TekProbe-BNC to TekVPI |
KickStart Instrument Control Software Version 2.2.1 (Windows 10, 8, 7 compatible)


KickStart Software for the PC enables quick test setup and data visualization when using one or more instruments. Key Features • Save time by automating data collection of millions of readings. • Set up a multi-instrument test with the ability to …


Part Number: KICKSTART-2.2.1
Application
The Anatomy of an Oscilloscope Poster


This poster shows many of the hundreds of parts that work together in an oscilloscope to make sure you see the real signal. It includes a block diagram of a scope's signal path, to show you what happens between the signal input and the display.


Literature Number: 3GW-60580-0
Poster
Measurement Data Logging with TekBench Oscilloscope Control Software


This application note describes how to use TekBench™ Software and a Tektronix oscilloscope to perform measurement data logging for evaluating a design's reliability in a room temperature environment, such as a project laboratory.


Literature Number: 61W-61442-0
Application Note
When I connect my TBS2000 to the Ethernet via the VXI Web Interface and want to use the control panel it says, "Please enter the password".  What is the password?


By default, there is no password set, so you can leave the password field blank.   However, a user can set a password through the "Set Password" tab. If a password is set, make sure to note what you set the password to.

Faq Id776436
The default password for the autoset is six zeros. If someone has changed this password to something we do not have record of, how can we reset this password back to default?


If you perform the TekSecure, it will reset the password back to the default one as this action will erase all the internal user stored memory. 

Faq Id468051
What are the key differences between the TBS2000, MSO/DPO2000B, TBS1000B, and TDS2000C oscilloscopes?


Below is a condensed table of key specifications of this range of oscilloscopes. More information can be found on the data sheets or in the manuals of each of the oscilloscope product lines. Note that there are feature options available to each …

Faq Id72201
I downloaded and Installed OpenChoice Desktop, but it doesn't recognize my scope.


Refer to the Prerequisites.txt file available to download on the same page for OpenChoice desktop. Make sure you have all the prerequisites specified.    Prerequisites 1. PC equipped with  Microsoft Windows 7 32 Bit and 64 Bit OS, Windows 8.1 32 Bit …

Faq Id474266
Digital Storage Oscilloscope


With a 9-inch WVGA display, 20 million point record length and 1 GS/s sample rate, TBS2000 Series Oscilloscopes capture and display significantly more signal to help you evaluate designs faster. Easily and confidently analyze your signals with new …


Literature Number: 3GW-60235-3
Datasheet
TBS2000 Series


Digital Storage Oscilloscope




This TBS2000 series oscilloscope user manual explains how to operate the oscilloscope and includes installation procedures. It also provides information about features, functions, and applications.


Part Number: 077114702
Primary User
TBS2000 Series


Digital Oscilloscopes




This programmer manual provides you with the information required to useProgrammable Interface commands for remotely controlling your instrument (TBS2000).


Part Number: 077114902
Programmer
TBS2000 Series


Digital Oscilloscopes




This programmer manual provides you with the information required to useProgrammable Interface commands for remotely controlling your instrument (TBS2000).


Part Number: 077114901
Programmer
TBS2000 Series


Digital Storage Oscilloscope




This TBS2000 series user manual explains how to operate the oscilloscope and includes installation procedures. It also provides information about features, functions, and applications.


Part Number: 077114701
Primary User
TBS2000 Series


Digital Oscilloscopes Programmer Manual


This programmer manual provides you with the information required to use Programmable Interface commands for remotely controlling your instrument (TBS2000).
Part Number: 077114900
Programmer
TBS2000 Series


Digital Oscilloscopes Service Manual


This manual provides you with the service information for your instrument (TBS2000).
Part Number: 077115000
Service
TBS2000 Series


Declassification and Security Instructions


This document helps customers with data security concerns to sanitize or remove memory devices from the TBS2000 Series instruments.
Part Number: 077115100
Declassification
TBS2000 Series Oscilloscopes


Safety and Installation Instructions


The TBS2000 Safety and Installation Instructions provides product compliance and safety information, how to connect and power on the oscilloscope, and a brief introduction to the instrument controls.
Part Number: 071344500
Field Install Instructions
TBS2000 Series


Digital Storage Oscilloscope User Manual




This TBS2000 series user manual explains how to operate the oscilloscope and includes installation procedures. It also provides information about features, functions, and applications.


Part Number: 077114700
Primary User
TBS2000 Series


Digital Oscilloscopes Technical Reference


This manual provides you with the specifications and performance verification procedures for your instrument (TBS2000).
Part Number: 077114800
Performance Verification
TEKVISA Connectivity Software - V4.2.0


TekVISA is the Tektronix implementation of VISA (Virtual Instrument Software Architecture), an industry-standard communication protocol.When installed on a PC, TekVISA provides communication with instruments that are connected to the PC via various …


Part Number: 066093812
Driver
TBS2000 FIRMWARE BUILD - V1.26.0


This firmware is for all TBS2000 Series oscilloscopes


Part Number: 066186704
Firmware
TBS2000 FIRMWARE BUILD - V1.25.03


This firmware is for all TBS2000 Series oscilloscopes


Part Number: 066186703
Firmware
TEKVISA CONNECTIVITY SOFTWARE - V4.1.1


TekVISA is the Tektronix implementation of VISA (Virtual Instrument Software Architecture), an industry-standard communication protocol.When installed on a PC, TekVISA provides communication with instruments that are connected to the PC via various …


Part Number: 066093811
Driver
v1.18 firmware release for TBS2000 series


This Firmware is an upgrade for all TBS2000 Series oscilloscopes.


Part Number: 066186701
Firmware
Tektronix Openchoice Desktop Application TDSPCS1 - v2.6


The Tektronix OpenChoice Desktop free application lets you capture oscilloscope screen images, waveform data, and settings from a Microsoft Windows computer. After installing the software, refer to the section "Connecting to a PC" in your …


Part Number: 066093914
Utility
V2.0 application release for the PC Courseware Editor, V2.0


The PC Courseware Editor helps you create lab descriptions and instructions on a PC and then upload the material directly onto a TBS1000B-EDU or TBS2000 oscilloscope


Part Number: 066164002
Application
10 Factors in Choosing a Basic Oscilloscope.


This guide will give you a quick overview of the key factors that determine the suitability of a basic oscilloscope for the job at hand. Learn the XYZ's of Oscilloscopes »  


Literature Number: 3GW_60848_1
Brochure
TBS2000 vs. R&S HMO Compact Comparison


A comparison fact sheet of the TBS2000 and the R&S HMO Compact Oscilloscopes.


Literature Number: 3GW-60798-0
Competitive
TBS2000 vs. Rigol DS2000A


A comparison fact sheet of the TBS2000 vs. the Rigol DS2000A Oscilloscopes 


Literature Number: 3GW-60797-0
Competitive
Oscilloscope Selection Guide


From basic signal-checking to high-performance analysis, this selection guide gives an overview of the complete range of oscilloscopes from Tektronix. Comparison tables give high-level specifications and features, and indicate the major differences …


Literature Number: 46W-31080-7
Selection Guide
TBS2000 vs. GW-Instek GDS-2000A Comparison


A comparison fact sheet between the TBS2000 and the GW-Instek GDS-2000A.


Literature Number: 3GW-60799-0
Competitive
TBS2000 Technical Demonstration Guide


A step by step guide on how to use the TBS2000 Oscilloscope.


Literature Number: 3GW-60591-0
How-to Guide
TBS2000 vs. Keysight X2000 Comparison


A comparison fact sheet between the TBS2000 and Keysight X2000 Oscilloscopes.


Literature Number: 3GW-60796-0
Competitive
TBS2000 vs. LeCroy WaveAce2000 Comparison


A comparison between the TBS2000 and the LeCroy WaveAce2000


Literature Number: 3GW-60800-0
Competitive
Tektronix Probe Selection Guide


Tektronix probes ensure the highest signal fidelity possible from your device-under-test to your oscilloscope. With over 100 probe choices available, all perfectly matched to our industry-leading oscilloscopes, you can find the probe you need for …


Literature Number: 60W_14232_10
Product Selector Guide