Download Manuals, Datasheets, Software and more:
Embedded Design Reference Solution
This all-in-one solution addresses the majority of embedded system debug challenges and is our most recommended system. Built around a 5 Series B MSO oscilloscope, it includes software, probes, remote collaboration software and uptime assurance packages.
Accelerate your project with: 
Serial protocol decoding 
Analog and Digital signal measurements 
RF spectrum analysis 
Power rails and power supply measurements
Signal generation
PC-based waveform analysis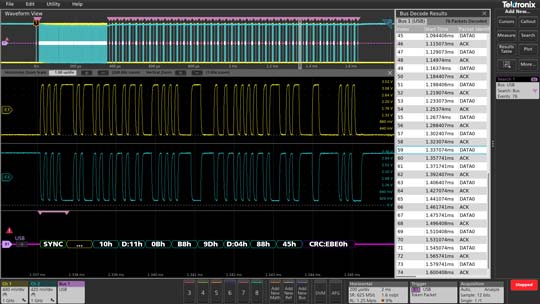 Board Debug Made Easy
This is the reference solution for finalizing new designs, bringing up new teams, connecting global teams and keeping you focused on your programs, not your test equipment.

Tektronix reference solutions let you focus on your product timelines, by taking advantage of Tektronix expertise to choose the most advantageous and productive parts and combine them into one solution. Order a single line item to get a complete package for embedded system design.

PCB-DEBUG-SOLN
Embedded Design Reference Solution
The Embedded Design Reference Solution system includes a comprehensive set of analysis tools and probes for debugging and validating systems, including calibration and service coverage for 3 years.
| | | |
| --- | --- | --- |
| Instrument/Probe/Option | Quantity | Description |
| MSO58B (5-BW-1000) | 1 | 8-channel 5 Series B MSO oscilloscope with 1 GHz bandwidth including C3 and T3 |
| 5-PRO-SERIAL | 1 | A comprehensive kit of serial protocol support for embedded systems. Eliminates the need to decode by hand. |
| TPR1000 | 1 | 1 GHz, Single-Ended TekVPI Power-Rail Probe |
| TLP058 | 1 | 8-channel 500 MGHz logic probe including R3 |
| TEKSCOPE-PRO-SR PC | 6 | TekScope PC Software for off-line analysis, including IMDA Analysis and comprehensive serial bus support |
| TEKDRIVE-BUS | 6 | TekDrive Data Storage Subscription, Individual Tier, Annual user license |
| Services | 1 | Scope includes 3 year total protection plan, T3, with accidental damage coverage, Probes include 3 year extended warranty coverage, R3, and scope + probes are covered with 3 year calibration plans, C3 |