Download Manuals, Datasheets, Software and more:
MTS400 Series MPEG Analysis Tools
Packetized Elementary Stream (PES) Analyzer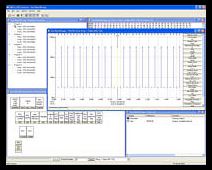 Read Online:
Features & Benefits
Verifies Conformance of the PES Header Contents to the MPEG, DVB, and ATSC Standards
Analyze PES Header Contents
Compare Actual Presentation and Decode Time Stamps (PTS/DTS) Values with Calculated Values
Detects Encoder Drift Against Real-time Errors
Displays the Most Important Elementary Stream Field Values for a Selected Access Unit
Characteristics
Applications
When developing professional and consumer equipment, particularly encoders and set-top boxes, the characteristics of the test streams being either generated or used as stimulus need to be ascertained. The header associated with each PES packet is of particular interest, as it contains the decode and presentation time stamps (DTS and PTS) for the contained Elementary Stream. Errors in these time stamps may cause resets or picture freeze problems at the receiver in extreme cases. They are more typically the cause of lip sync problems where the time stamps of associated video and audio streams are not synchronized.
Supported CODECs
MPEG-2 Video
MPEG-2 Audio
MPEG-2 AAC Audio
MPEG-4 AAC Audio
AC-3 Audio
Standalone Software System Requirements (MTS4SA)
PC with Genuine Intel Pentium class 1.2 GHz processor
Intel or 100% compatible motherboard chipset
Windows 2000 or Windows XP Operating System
Internet Explorer 5.0 or above
256 MB of RAM
50 MB of available hard disk space for the application and documentation
SVGA (800 × 600) resolution video adapter and monitor (XVGA (1024 × 768) or higher resolution recommended)
CD-ROM or DVD drive
Keyboard and Microsoft Mouse or compatible pointing device
Ordering Information
PES Analyzer
This application is available on MTS400 Series analyzer instruments, as MTS4SA standalone software, and on MTX/RTX Series generator instruments.
Additional Information
Please contact your local Service Manager for information regarding our products and services, or contact us at: www.tektronix.com/serviceandsupportcontactus