Download Manuals, Datasheets, Software and more:
Small Geometry Probes
P6563A

Features & Benefits
Surface Mount Device Package Support
50 mil SO/SOIC SMD Package Support
50 mil QUAD SMD Package Support
25 mil JEDEC SMD Package Support
0.5 mm EIAJ SMD Package Support
0.65 mm EIAJ SMD Package Support
Circuit Compatibility
CMOS Circuit Compatibility
BiCMOS Circuit Compatibility
FastCMOS Circuit Compatibility
TTL Circuit Compatibility
ECL Circuit Compatibility
Scope Compatibility
TDS Series Scope Compatibility
Applications
Easy Access
General Purpose Relative Measurements
Digital Design
Device Characterization

SMD Standard Accessories.
The P6563A is scaled for surface mounted IC packages.
The low-mass probe body is only 1.5 inches long and 100 mils wide.
Designed to match the oscilloscope's performance, this probe provides solutions for the most popular EIAJ and JEDEC surface mount packages.
Surface Mount Device Probing
While instrumentation improvements have provided a steady stream of digital troubleshooting tools, the physical challenges associated with probing small geometry ICs have gone unaddressed until now. SMD probes from Tektronix provide circuit designers the first complete, off-the-shelf solution for probing small geometry IC packages.
Unique Utility
The basic contact of the SMD probe family is a 25 mil socket that accepts square or round pins. A variety of tip adapters permits convenient, nondestructive, temporary connection to the most popular EIAJ and JEDEC surface mount packages.
Exceptional performance

Figure 1.
Each SMD probe is designed to minimize capacitive loading on TTL, ECL, CMOS, FastCMOS and BiCMOS circuits. The probe and oscilloscope form a measurement system optimized for circuit designers by providing fast transient response, high system bandwidth and low capacitive circuit loading.
Figure 1 presents a sample conversion of the SMD probe family's capacitive circuit loading to an equivalent number of typical CMOS gates. Being aware of the potential effects of probe loading on the circuit under test can eliminate chasing false indicators, reduce test times and lead to more accurate and repeatable measurements.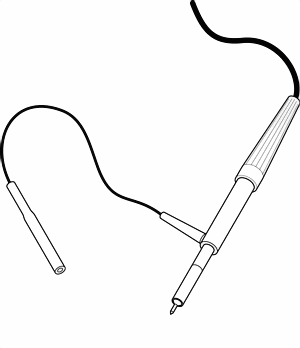 General purpose handheld probing.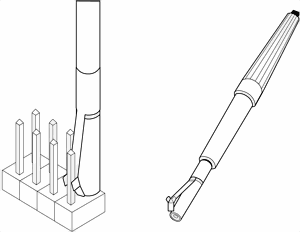 Signal-ground Pair - 25 mil Square-pin headers on 100 mil centers.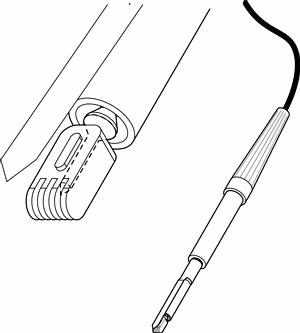 PQFP and Quad Packages - JEDEC 25 mil center lead spacing. EIAJ 0.5 and 0.65 mm center lead spacing.

Circuit Boards in System Enclosures - 25 mil Square-pin headers on 100 mil centers.

SOIC/SOP Small Outline Packages - 50 mil center lead spacing.
Probing Tip
For improved signal fidelity and probing convenience, a short ground blade is included. To use it, form a ground plane of copper clad on top of the IC to be probed. Attach short jumper wires from the device ground to the copper clad. Then, with the SureFoot® probe tip installed, probe the device and display a cleaner signal on the scope.
Characteristics
SMD Probe Characteristics
| Probe Set | P6563A |
| --- | --- |
| Digitizing Oscilloscopes | TDS500/600/700 Series |
| Bandwidth (-3 dB) | 500 MHz |
| Rise Time (typical) | <800 ps |
| Uniform Signal Delay | ±100 ps |
| Attenuation | 20X |
| Device Loading Capacitance (typical) | <5 pF |
| Device Loading Resistance | 9.5 MΩ |
| Maximum Non-destructive Input Voltage | 42 V (DC + peak AC) |
| Compensation Range | 7 pF - 30 pF |
| Length | 1.3 m |
Ordering Information
P6563A
500 MHz, 20X SMD Probe.
Includes: 2 ea. of 3 Pitches SureFoot® Tip Guides, 4 in. Ground Leads, Signal-ground Adapters, Blade-ground Adapters and 1 ea. Adjustment Tool and Instruction Sheet.
Recommended Accessories