Download Manuals, Datasheets, Software and more:
Troubleshoot your Wireless Network in Real-Time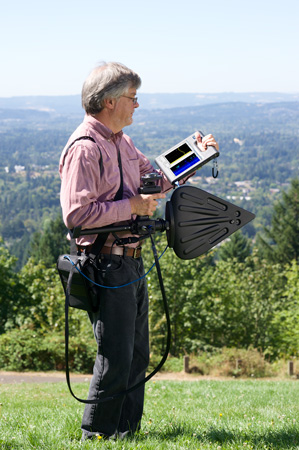 Address Private Mobile Radio networks quickly and get out of the field faster with the portable RSA306. Small enough to fit in your pocket or tool belt for field RF installation, yet powerful enough to deliver real-time signal analysis.
The RSA306 USB Spectrum Analyzer helps you identify elusive signals with capabilities found in high performance analyzers and its price is just as impressive as its size. Get your own RSA306 for half the cost of a conventional spectrum analyzer.
Powerful – Full-featured 6.2 GHz spectrum analyzer.
Real-Time capability – 100% probability of intercept for signals > 100 us.
Get a fast handle on network health – Demodulate P25 analog and digital signals.
Versatile – Go beyond pass/fail. Full spectrum analyzer measurement capabilities. Moves seamlessly between power vs. time, constellation diagrams, and spectrum. Available AM/FM demodulation to maintain legacy devices.
Portable – Smaller than a paperback book, so it's easy to carry in the field.
Affordable – Priced at $3,490, less than half the price of a conventional spectrum analyzer. Free SignalVu PC- RF signal analysis software included.
Call in backup – Record anomalies on your laptop for further analysis or send files directly to HQ.
Support you can trust – Tektronix warranty with worldwide support from a brand you know.