Download Manuals, Datasheets, Software and more:
Cut Costs. Reduce Downtime. Protect Your Investment.
Keithley Care plans provide fast, high quality services at a fraction of the cost of on-demand service events. As the original equipment manufacturer, Keithley guarantees your repaired instrument is returned to original factory performance specifications. Our worldwide service centers are staffed by experienced technicians, and equipped with proprietary tools and software optimized for restoring your Keithley products to like-new condition.
Key Features
Low repair cost, covering all parts, labor, and transportation
Instruments returned to like-new factory performance
Includes calibration (if necessary) and adjustments to published accuracy specifications
Convenience
Minimize downtime with a Keithley Care plan. You are one click or phone call away from starting your repair process - no quotes, purchase orders, or approval delays.

Online tools are available to book your repair order and track your instrument's progress through the service process. Depot technicians around the world have immediate access to genuine Keithley replacement parts and proprietary tools that speed their work. Your uptime is our priority.
Request More Information About Keithley Care
Cost Effectiveness
A Keithley Care Repair Plan is an effective way to control costs and protect you from unplanned expenses. Our plans cover all parts, labor, and transportation costs for up to 5 years of peace of mind and can be ordered at the time of instrument purchase or at any point throughout the instrument lifetime.
Compliance
All repair work includes any calibration and adjustments necessary to restore your instrument to published accuracy specifications, ensuring that all measurement results can be trusted. Calibrations are performed under ISO 9001:2015 Registered Quality System and in compliance with metrology standards:
ISO/IEC 17025:2005
ANSI/NCSL Z540.1-1994(R2002)
Which Plan is Right for You?
Our factory warranty covers your equipment from failures and design flaws, In addition, there are several service options which can extend your warranty coverage and avoid costly repairs. Pick the plan that best suits your needs (3 or 5 year options available):
 
Service Plan Feature
Total Protection
(Opt. T3, T5)
Gold Care
(Opt. G3, G5)
Keithley Care
(Opt. EW, 3Y-EW,
5Y-EW)
Tek Care
(Opt. R3, R5)
Extension of factory warranty
Protection from manufacturer defects
Free factory certified calibration with repair (if necessary)
Free in-country shipping
Priority on-bench service
 
 
Coverage of user-caused EOS and ESD damage
 
 
Coverage from accidental damage
 
 
 
Coverage from normal wear and tear
 
 
 
Loaner unit during repair shipped within 48 hours
 
 
 
Ordering Information
Keithley Care can be added as an option using the ordering nomenclature below with selected Tektronix instruments.
 
Option
Description
Opt. EW
1 YEAR KEITHLEYCARE EXTENDED WARRANTY. Extends 1 additional year to product warranty. Repair coverage includes parts, labor, and transportation.
Opt. 3Y-EW
3 YEAR KEITHLEYCARE EXTENDED WARRANTY. For products with 1 year warranty extends 2 additional years. Repair coverage includes parts, labor, and transportation.
Opt. 5Y-EW
5 YEAR KEITHLEYCARE EXTENDED WARRANTY. Products with a 1 year warranty extends 4 additional years. Products with 3 year warranty extends 2 additional years. Repair coverage includes parts, labor, and transportation.
Service plans may not be available in certain geographies. Please check with the local country/regional sales office for confirmation.
Certain limits apply, see program terms for details.
Agreement Renewals
Do you already have a service agreement with us? Renew today to continue to receive the benefits of Tektronix and Keithley Services.
Free shipping
Priority service
Lock in pricing with multi-year agreements
Coverage over the life of your instrument or length of your project
Quick and convenient coverage – there when you need it!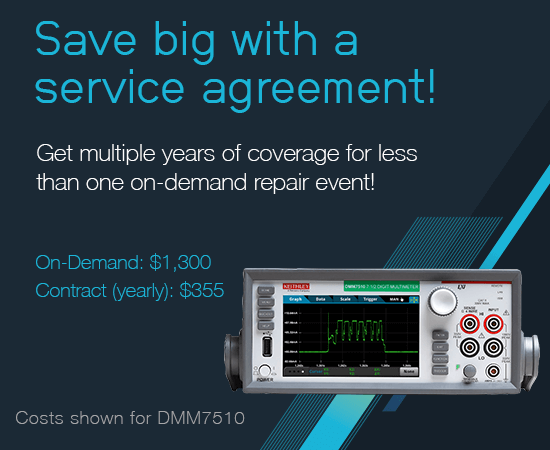 Download an overview of our Keithley Care Repair Plan and share it with others who would benefit from controlled costs and priority service.
Compare factory-certified and commercial calibration options to see what is best for your equipment