Download Manuals, Datasheets, Software and more:
PSPL5340 10 dB Pick-off Tee Datasheet
PSPL5340 Datasheet
More Information
Read Online: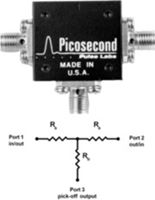 The PSPL5340 is a broadband, resistive, Pick-Off, Power Divider Tee. The pick-off port 3 output is a small replica of the signal passing through the tee. The PSPL5340 is an impedance-matched tee consisting of three precision, 1% tolerance resistors. The PSPL5340 input/output impedance seen either on port 1 or port 2 is precisely 50 Ω.
Key performance specifications
10 dB
50 ps, 8 GHz
Z-matched
Typical performance

Frequency Domain Responses from 40 MHz to 10 GHz 
1 GHz/div Insertion Loss plots = 1 dB/div, Return Loss plot = 6 dB/div

Specifications
Parameter 1
Value
Pick-Off Insertion Loss DC
(port 1 or 2 to port 3)
10 dB
±0.1 dB
Pick-Off Voltage Ratio
3.16 x
Thru Line Insertion Loss
at DC S21 (port 1 to port 2)
3.3 dB
±0.05 dB
Thru Line Rise time
50 ps
Pick-Off Rise time
Not specified; see notes for details
Minimum Signal Rise time
80 ps
Thru Line Bandwidth (-3 dB)
8 GHz
Pick-Off Bandwidth (1 dB)
10 GHz
Pick-Off Bandwidth (3 dB)
13 GHz
Temperature Range
-55 to +70 °C operating at full power, derate to 0 W at 125 °C
In / Out Impedance at DC
(port 1 or port 2)
50.0 Ω
±0.3 Ω
S11 or S22 Return Loss, DC
50 dB
S11 or S22 Return Loss, AC
(See Typical performance)
Thru Line Resistors, Ra
9.38 Ω
Pick-Off Resistor, Rb
78.4 Ω
Maximum Power Input, average
0.6 W
Connectors
SMA jacks (f)
Warranty
One Year
Mechanical dimensions

1 All parameters listed are typical unless max/min guaranteed limits are provided. Using the pick-off tee for input signals with rise times faster than 80 ps is not recommended. This tee can be used with faster rise times, but there will be waveform distortions. With faster rise times, either the thru-line bandwidth is insufficient and/or the pick-off output will no longer be a faithful representation of the input signal. The pick-off output rise time will be too fast and there will be some overshoot and ringing.
Ordering information
Models
PSPL5340

Pick-Off Tee, 10 dB