Download Manuals, Datasheets, Software and more:
Buffered Passive Probe
P6339A

Features & Benefits
300 VRMS CAT II Maximum Input Voltage
8 pF Input Capacitance
10 MΩ Input Resistance
Scope Controlled Parameters
Connects to TEKPROBE™ III Interface Instruments
Compact Probe Tip Compatible with a Wide Range of Tektronix Accessories and Adapters
TEKPROBE III Interface Allows Control of Key Probe Parameters

Input Gain
AC/DC Coupling
Bandwidth Limiting
DC Offset
Applications
General Purpose
Digital Design
Power Device Characterization
Mixed Signal
Designed for TEKPROBE III, TDS794D and TDS694C
The P6339A 500 MHz Buffered Passive Probe is a revolutionary leap in probe technology. The P6339A's wide dynamic range makes it ideal for general purpose measurement applications.
To facilitate SMD probing, the P6339A comes standard with a set of SureFoot® adapters. The compact probe head/tip assembly is compatible with the full line of 3.5 mm (compact) accessories. The P6339A probe is designed exclusively for the TDS794D and TDS694C instruments.
Characteristics
Warranted Specifications
Maximum Input Voltage - 300 VRMS  CAT II.
Voltage Sensitivity - 10 mV/div to 100 V/div in a 1, 2, 5 sequence.
DC Attenuation Accuracy - ±4%.
Output Offset - ≤±5 mV.
Typical Specifications
Bandwidth - DC to 500 MHz.
Rise Time - 700 ps.
Input C - 8 pF.
Input R - 10 MΩ.
Bandwidth Limit - Selectable 20 MHz and 150 MHz.
Coupling - AC/DC, <10 Hz Cutoff.
Output Termination - TEKPROBE™ III interface/50 Ω termination.
Physical Characteristics
Probe Tip/Head Style - 3.5 mm/Compact.
Output Cable Length - 1.3 m.
Environmental Characteristics
Temperature - Operating: +10 °C to +40 °C (+50 °F to +104 °F).
Safety - UL3111-2-031, CSAS1010.2.031, EN61010-2-031, IEC61010-2-031.
Compatible Instruments
TDS794D, TDS694C.

Figure 1. P6339A input impedance.

Figure 2. P6339A input phase.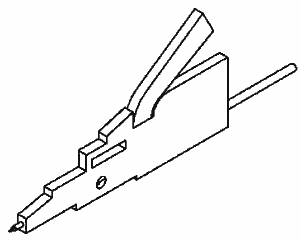 Figure 3. SMK4 Micro KlipChip™ adapter.

Figure 4. SF200A Series SureFoot® adapters.
Ordering Information
P6339A
500 MHz Buffered Passive Probe.
Includes: Adjustment tool (003-1433-02); attenuator tip cover (204-1049-00); retractable hook tip (013-0107-07); 2 ea. 50 mil, 25 mil (0.65 mm), and 0.5 mm SureFoot adapters; 2-in. ground lead (195-4240-00); 6-in. ground lead with 0.025 in. square-pin receptacle (196-3113-02); 6-in. ground lead with alligator clip (196-3305-00); SMT KlipChip adapter (206-0364-01); low inductance lead ground collar (343-1003-01); 2 ea. pairs of colored cable markers (016-0633-00); accessory pouch; instruction sheet (071-0178-01).
Service
Opt. C3 - Calibration Service 3 Years
Opt. C5 - Calibration Service 5 Years
Opt. D1 - Calibration Data Report
Opt. D3 - Calibration Data Report 3 Years (with Option C3)
Opt. D5 - Calibration Data Report 5 Years (with Option C5)
Opt. R3 - Repair Service 3 Years
Opt. R5 - Repair Service 5 Years
Recommended/Replacement Accessories
SureFoot Adapter, Orange, 50 mil (12 ea.) - Order SF201A.
SureFoot Adapter, Blue, 0.65 mm/25 mil (12 ea.) - Order SF202A.
SureFoot Adapter, Red, 0.50 mm/20 mil (12 ea.) - Order SF203A.
KlipChip Adapter (20 ea.) - Order SMG50.
Micro KlipChip Adapter (4 ea.) - Order SMK4.