Live Chat with Tek representatives. Available 6:00 AM - 4:30 PM PST.
Download Manuals, Datasheets, Software and more:
TTR500 Series Vector Network Analyzer (VNA)
The TTR500 Vector Network Analyzer (VNA) allows you to get closer to your measurements than ever before. Whether you are measuring reflection coefficients, impedance, admittance, return loss, insertion loss, gain or isolation, you can trust the TTR500 to provide insights from a single source that are not available in other industry instruments. The TTR500 is perfect for filter measurements, antenna matching and tuning, amplifier measurements and RF cable and connector measurements, just to name a few. See how you can use the TTR500 in your next project.
Frequency Range
Up to 6 GHz
Output Power
-50 to +7 dBm
Vector Network Analyzer advantages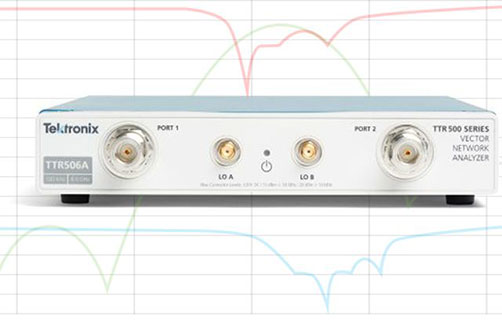 A VNA allows you to measure complex quantities such as reflection coefficients, impedance, admittance, return loss, insertion loss, gain, isolation, and much more in a manner that is not possible with other test instruments.
Traditional test equipment such as power meters, spectrum analyzer, and oscilloscopes typically only have receivers that are used to measure signals emitted or created by the Device Under Test (DUT). In contrast, a VNA has both a source and a set of receivers used to determine changes to the stimulus caused by the DUT. The stimulus-based test approach allows VNAs to measure very small reflections and changes to the stimulus enabling you to accurately characterize any RF component in real-world environment and test conditions.
Who uses Vector Network Analyzers?
RF design and validation engineers use VNAs to validate their design simulations.
Manufacturing engineers assemble and test RF components and devices based on a certain set of specifications. Vector Network Analyzers are used to quickly and accurately validate the performance of the RF components and devices.
Education professionals train the next generation of engineers with standard industry test instrumentation.
VNA application examples:
Antenna matching and tuning
Filter measurements
Amplifier measurements
Radio Frequency (RF) cable and connector measurements
75 Ohm characteristic impedances
Automated production testing
Smart innovations, reduced cost and size
The TTR500 Series VNA tightly integrates six RF receivers and two RF sources into a proprietary ASIC. With its innovative architecture and patented technology, the TTR500 Series VNA achieves the same level of performance as a benchtop VNA, but at 40 percent lower cost and one-seventh the size and weight of units with comparable performance.
Performance, size, reliability, affordability. Choose four. White Paper.
Highlights
Frequency Range: 100 kHz up to 6 GHz
Dynamic Range: Greater than 110 dB
Trace Noise: Less than 0.012 dBrms
Output Power: -50 to +7 dBm
Built-in bias tee accessible on both ports to bias active devices
Learning curve? There is none
It's simple. Our industry-standard interface allows you to spend less time getting up to speed, so you'll have more time to test your design. The VectorVu-PC software delivers a traditional look and feel for controlling and calibrating the instrument with any Windows PC or laptop. For automated test systems, programmatic support is offered for common legacy VNAs for easy integration into existing test systems.
Automatic Bandwidth Measurements
Highlights
Run VectorVu-PC in offline mode to analyze stored data
Output file format compatible with common EDA simulation tools
SCPI command compatible with common legacy VNA
 
Tektronix
TTR500
Keysight ENA
E5063
Anritsu Shockline
MS46122B
Rohde & Schwarz
ZVL6
Frequency Range
100 kHz - 3.0 GHz
100 kHz - 3.0 GHz
1 MHz - 8.0 GHz
9 kHz - 6.0 GHz
100 kHz – 6.0 GHz
100 kHz - 6.5 GHz
Dynamic Range (dB)
>122
117
100
> 115
Trace Noise (dBrms)
< 0.008
0.005
0.006
< 0.005
Output Power
-50 to +7 dBm
-20 to 0 dBm
-20 to -3 dBm
-50 to 0 dBm
Bias Tee (internal)
Yes
No
No
No
Weight (lbs.)
3.5
24
4.8
15.4
Antenna Matching and Tuning
You built your antenna and transceiver. Now you want to see how well it performs. Minimize costly signal reflections and maximize signal range by testing for impedance mismatches or discontinuities in your system using the TTR500 VNA. Thanks to its USB design and easy to use interface, the TTR500 makes analyzing impedances or admittances on the Smith chart and saving S-parameter files, for the purpose of designing matching networks, seamless and convenient.
Blog: 5 easy steps to antenna matching with a Vector Network Analyzer
Video: Simple Antenna Matching with the TTR500
Highlights
Measure S-parameters in Log Magnitude, Phase, SWR, impedance, and admittance formats
Smith chart markers in impedance, admittance, phase, real, and imaginary
Conveniently import/export S-parameter files in Touchstone (.sNp) file format directly to your PC
Save traces to memory for comparison with live results
Filter Measurements
You have a filter to test and you want to see low loss and high rejection at the correct frequencies. While other types of test equipment can measure overall performance, VNAs allow the user to fully characterize filters within their intended operating frequency and power level, allowing for complete comparisons to design simulations. The TTR500 VNA is capable of measuring return loss, insertion loss, group delay and much more for both tuning and validating filter performance.
Video: Performing a 2-port measurement on a bandpass filter with the TTR500 series VNA
Video: Making an automatic bandwidth measurement using the TTR500 series VNA
Highlights
Tune and characterize filters by measuring return loss, insertion loss, group delay and much more
Simplify test procedures by taking advantage of automated bandwidth and notch measurements
Optimize dynamic range and measurement speeds by adjusting IFBW from as low as 10 Hz to 300 kHz
Measure high dynamic range cavity filters using the TTR500's >122 dB dynamic range
Amplifier Measurements
Your amplifier has to deliver sensitivity to a receiver, and high power as an output. The TTR500 allows you to fully characterize amplifier performance for comparing to design simulations. Use the built-in bias tee (standard in both models) to provide a DC bias to active devices without the expense and complication of external circuitry. Unlike some other USB-based VNAs, the TTR500 series VNA is capable of measuring both passive and active devices including medium to low-power amplifiers.
Video: Making a gain measurement using the built-in bias tee of the TTR500 series VNA
Highlights
Measure amplifier impedance match, gain, phase, group delay, and isolation
Built-in bias tee accessible on both ports to conveniently bias active devices
Capable of a wide range of output power levels for determining P1dB compression points
Source and Reciever Calibration for higher precisision power measurements
RF Cable and Connector Measurements
If you have a pile of cables or connectors and you want to characterize their S-parameters, or if you simply want to know if they're any good, you can with the TTR500 series VNA. Capable of measuring as much as 40 dB of return loss, the TTR500 series VNA has the calibration and measurement performance required to properly characterize these important RF components.
Blog: Verifying RF Cable Performance with a VNA
Highlights
Characterize RF cables and connectors with as much as 40 dB return loss
Calibrate once, and measure for a week: less than 0.1 dB of drift over 90 hours
Built-in functions such as Port Extension allow for properly dialing in calibration planes
Simplify test procedures by saving and recalling calibration state files
Locate and troubleshoot cable/PCB impedance discontinuities with the Time Domain with Gating option.
Automated Production Testing
You need fast, accurate, and stable network readings. Automate the process of measuring DUTs to verify that they're built right, tune it if it isn't, or characterize test fixture losses to remove them from your measurement. Accelerate VNA calibration with TCALTM, Tektronix' automated electronic calibration module. The TTR500 series VNA provides performance, accuracy, and reliability, with a significantly lower cost of ownership compared to similar performing used and outdated VNA competitors. Similar to traditional benchtop VNAs, the TTR500 series VNA is SCPI code compatible, allowing you to migrate existing VNA test code.
Highlights
Extremely low cost of ownership compared to competition
Robust SCPI command interface (compatible with current VNA models) to optimize code migration
Programmable in C/C++, Python, MatLab, LabView, etc. via SCPI code through TekVISA or NI VISA
Rack mount kit, availale separately, holds either one or two instruments in a rack
Ideal for Education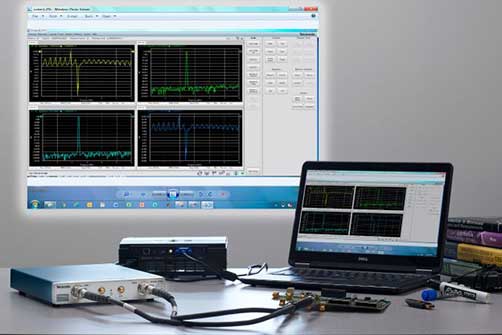 Don't let the small form-factor fool you. Designed with a robust, industry-standard user interface, more than 122 dB dynamic range, and up to 6 GHz frequency range, the TTR500 series VNA is the perfect instrument for preparing the next class of engineers. And with its extremely affordable price, more students can have hands-on time with a real-world instrument.
Highlights
Full suite of 2-port 2-path VNA capabilities
Industry-standard and recognizable user interface
Import/export S-parameters in Touchstone (.sNp) file format
Offline mode well suited for out-of-lab assignments
VectorVu-PC software brings benchtop features to the TTR500 series VNA.
The TTR500 series operates with VectorVu-PC, a powerful program that is the basis of Tektronix vector network analyzers. The software controls the vector network analyzers acquisition and updates measurement displays continuously, at the direction of the user.
VectorVu-PC (available as a free download) features an industry-standard interface that minimizes the learning curve so you have more time to test your device under test.
Highlights
Traditional VNA look-and-feel and features for controlling and calibrating the instrument, all conveniently from the user's Windows PC or tablet.
Optimized for touchscreen
Programmable in C/C++/C#, Python, MATLAB, LabView, and more via a SCPI programming interface, compatible with common legacy VNAs.
LabView driver available
Complete line of affordably priced accessories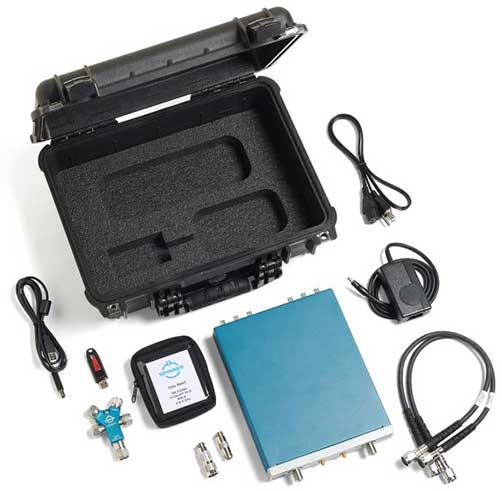 Tektronix offers a variety of robust accessories to simplify your shopping for the complete VNA solution. Accessories available include a rugged carrying case, rack mount kits, rugged phased-stable cables, attenuators, adapters and calibration kits.
See datasheet for complete list
Highlights
Wide variety of calibration kits for mechanical and automated electronic calibration
Rugged, phase stable cables in a variety of sizes and types
Adapters, coaxial, 50 Ohm with a variety of connector sizes and types