Download
Download
Download Manuals, Datasheets, Software and more:
Contact us
Contact us
Live Chat with Tek representatives. Available 6:00 AM - 4:30 PM PST.
2600B Series SMU
Keithley's Series 2600B System SMU instruments are the industry standard current-voltage source and measure solution for highly automated production test applications. Both dual- and single-channel models tightly integrate a precision power supply, true current source, DMM, and electronic load with pulse generating capabilities. Plus, TSP® technology runs complete test programs for automated system applications, and TSP-Link® technology enables daisy-chaining up to 64 channels for high volume parallel test.
Min V/I Pulse Source
<100 µs
0.1% settled
V/I range
0.1 fA to 10 A,
100 nV to 200 V
Max Speed
20k readings/s to buffer
SMU 2600B Series SourceMeter
Complete production test without sacrificing footprint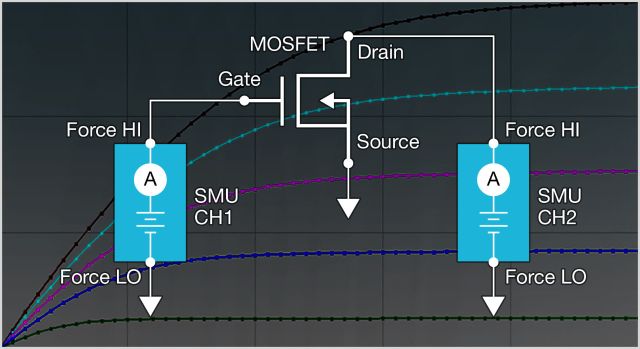 Meet all your production test needs with two completely isolated channels of wide dynamic source and measure within the same footprint. Each 40 W channel provides 6½-digit precision resolution source and measure from 10 A pulse to 0.1 fA and 200 V to 100 nV at less than 100 µs pulse width and within 0.1% of settled value.
Simplifying FET Testing with 2600B
Highlights
Up to 2 channels in the same footprint
Widest dynamic range of voltage and current
Highly accurate 100 µs pulse expanding DC production test capabilities
Embedded scripting for unmatched production throughput
Test Script Processor (TSP®) technology embeds and executes complete test programs inside the SMU instrument to deliver industry-best performance.
Diode Production Testing with Series 2600B
Highlights
Eliminates time-consuming bus communications to and from the PC
Advanced data processing and flow control
Versatile prober/handler control
System performance, without a mainframe
TSP-Link® technology enables expansion up to 64 channels for high-speed, SMU-per-pin parallel testing without a mainframe. All channels are simultaneously and independently controlled at a tight <500 ns.
Increasing Production Throughput of Multi-pin Devices with Keithley Series 2600B
Highlights
Supports <500 ns channel-to-channel synchronization
Up to 32 SMUs or 64 independent SMU channels
Reconfigure easily as test requirements change
Best low current performance for production
The 2635B and 2636B SMUs provide 0.1 fA, 10-16 resolution on the lowest 100 pA range, reducing ultra-low level sample characterization worries and assuring production success.
Highlights
7x faster settling time on the lowest current range
Best low current resolution on the market
Direct triax connection simplifies setup
Learn more. Gain more.
Source Measure Unit Tutorial Learning Center brings together a wealth of information on Keithley SMUs and other products in an all-in-one, convenient location. We provide links to a wide variety of content related to the applications and industries we serve.
MODEL
Keithley 26xxB Series High Speed System SMUs
Keithley 24xx Series High Speed System SMUs
2601B
2602B
2604B
2611B
2612B
2614B
2634B
2635B
2636B
2400
2401
2410
2420
2440
2450
2460
2461
2470
Display
VFD, 2 line
VFD, 2 line
Touchscreen 5 in. (12.7 cm)
Channels
1
2
2
1
2
2
2
1
2
1
Digits
61/2
61/2
Quadrants of Operation
4
4
Max Output Power
200 W Pulse, 40 W DC
200 W Pulse, 40 W DC / Channel
200 W Pulse, 40 W DC / Channel
200 W Pulse, 30 W DC
200 W Pulse, 30 W DC / Channel
200 W Pulse, 30 W DC / Channel
200 W Pulse, 30 W DC / Channel
200 W Pulse, 30 W DC
200 W Pulse, 30 W DC / Channel
20 W
20 W
20 W
60 W
50 W
20 W
100 W
1000 W Pulse, 100 W DC
20 W
SOURCE / MEASURE
I
min
±100 fA
±0.1 fA
±1 pA
±1 pA
±1 pA
±10 pA
±10 pA
±10 fA
±10 pA
±1 pA
±10 fA
max
±10 A Pulse, ±3 A DC
±10 A Pulse, ±1.5 A DC
±1 A
±1 A
±1 A
±3 A
±5 A
±1 A
±7 A
±10 A Pulse, ±7 A DC
±1 A
V
min
±100 nV
±100 nV
±10 nV
±100 nV
max
±40 V
±200 nV
±200 nV
±20 nV
±1100 nV
±60 nV
±40 nV
±200 nV
±100 nV
±100 nV
±1100 nV
Basic Accuracy
I
0.020%
0.025%
0.020%
V
0.015%
0.012%
GENERAL FEATURES
Digitizers
No
No
Dual 18-bit 1 MS/s Digitizers
No
Reading Speed
20,000 rdgs/s
2,000 rdgs/s
3,000 rdgs/s
3,000 rdgs/s
3,000 rdgs/s, 1 MS/s with Digitizer
3,000 rdgs/s
Programming
SCPI
Yes
Yes Plus 2400 Emulations
Yes
TSP
Yes
Yes
TSP-Link
Yes
Yes
No
Yes
Yes
No
No
Yes
Yes
No
Yes
Digital I/O
Yes
Yes
No
Yes
Yes
No
No
Yes
Yes
Yes
Contact Check
Yes
Yes
No
Yes
Yes
No
No
Yes
Yes
No
Yes
No
Computer Interface
USB 2.0
LAN/LXI-C
IEEE-488
RS-232
IEEE-488
RS-232
USB 2.0
LAN/LXI 1.4
IEEE-488
Compliance
CE, UL
CE, UL
CE
CE, NRTL listed
Keithley KickStart Instrument Control Software. No Programming Required.
Making measurements is easy with KickStart.  Characterize your devices and materials quickly and easily without programming.   Visualize real-time results in graphical and tabular format.  Export data tables or graphs for quick reporting or additional analysis in Excel.
Download KickStart today and try it out for 60 days
Highlights
GPIB, USB, Ethernet connectivity on Windows OS
I-V characterization application to support up to 4 source measure unit (SMU) instruments
Generate linear, log, list, and dual sweeps of voltage and current source with simultaneous measurement
Keithley IVy - Wireless I-V characterization on a mobile device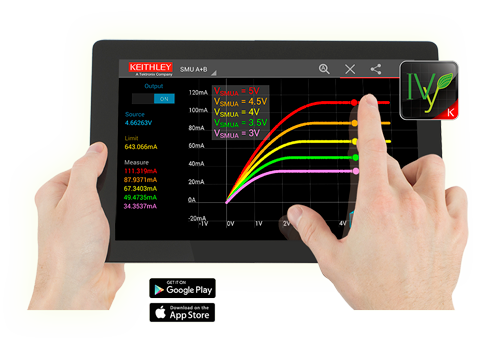 FREE script developer environment to maximize instrument performance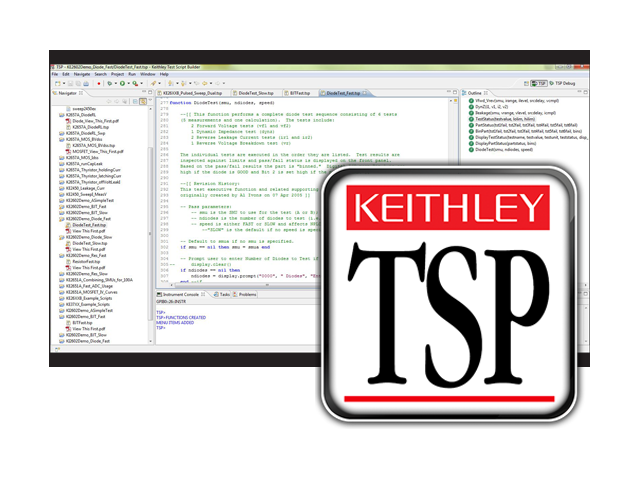 Test Script Builder (TSB) is a software tool that simplifies building test scripts for Keithley's Test Script Processor (TSP®)-enabled instruments.
Highlights
Send commands and receive responses from the instrument
Create, manage, and run user scripts
Debug scripts
Import factory scripts to view or edit and convert to user scripts
MULTI MODEL BENCH CONVERSION KIT
BANANA JACK INTERFACE CABLE
1A / 200V PROTECTION MODULE SPECIFICATION
1.5A /200V PROTECTION MODULE WITH TERMINAL BLOCK CONNECTORS
CABLE CONNECTING 2600 SMU TO HI AND LO TRIAX
2600 SERIES SCREW TERMINAL CONNECTOR KIT
2600 SERIES TRIGGER I/O TO TLINK INTERFACE CABLE
TRIAX ADAPTER FOR 2600 SERIES
HEAVY DUTY RACK MOUNT KIT 2600 SERIES SINGLE UNIT
HEAVY DUTY RACK MOUNT KIT FOR TWO UNITS
MALE BNC TO FEMALE TRIAX ADAPT
SHIELDED GPIB CABLE, 4M 13 FT
3-SLOT MALE TRIAX TO BNC ADAPTER
3-SLOT MALE TRIAX TO BNC ADAPTER (GUARD REMOVED)
LOW PROFILE IEEE-488 INTERFACE BOARD
IEEE-488.2 USB-TO-GPIB INTERFACE ADAPTER