Download Manuals, Datasheets, Software and more:
Empowering New Technology
Bench oscilloscope helps medical device company develop new technology
Sep 15 2020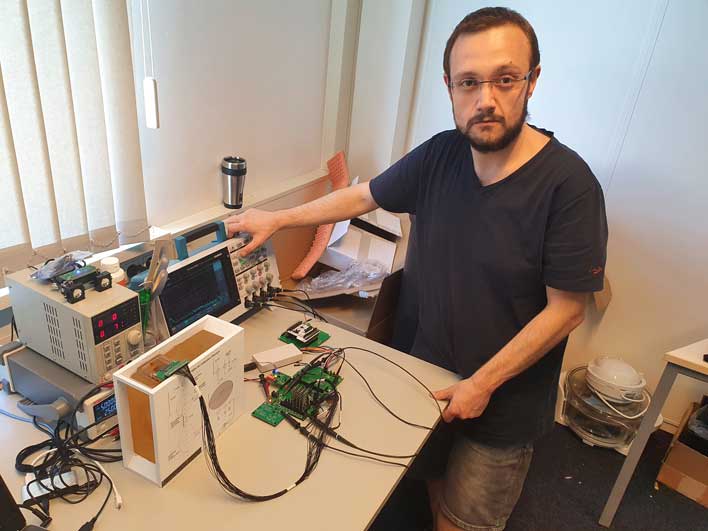 Meet Dario Murgia, Design Engineer at Novioscan
Learn more about the product mentioned in this story here:
Dario began his engineering journey as a 17-year-old who wanted to run homebrewed, unsigned code on his videogame console. He started researching hardware hacking methods and techniques online and found a handful of forums and newsgroups to learn from. He also began experimenting with electronics, using his savings to buy a soldering station and a multimeter.
With lots of practice, his understanding grew. And the more he learned, the more he enjoyed his new hobby. When he finished high school, he decided to study electronics engineering at university.
With his degree and a few jobs in Italy under his belt, Dario began working as a senior applications and design engineer at NXP Semiconductors in the Netherlands. He worked there for 5 years before joining Novioscan – a medical technology company that became a perfect fit for his growing passion and skills in engineering.

Novioscan's product was called Sens-U, a wearable ultrasound device designed to help school-age children dealing with incontinence by measuring their bladder size and using discrete tactile feedback and an optional smart phone notification to tell them when they should use the restroom.
When Sens-U became an enormous success, Novioscan began developing a similar product for adults. Dario has loved being part of this project. There are few things more rewarding than being motivated by the passion for our work, and he says he is proud to know his own grandmother would have loved the product he's helping create. Dario also enjoys the way this project lets him work with a team from a variety of disciplines and forces him to learn new things every day.
Designing a new Sens-U for adults meant combining a high number of complex electronics in a small, battery powered, wearable ultrasound device. To overcome the technical challenges, Novioscan needed to upgrade their test and measurement equipment.
Specifically, Dario and his team were looking for an oscilloscope with at least 4 channels, a large display, the ability to save data onto a PC, save/recall capabilities, well-documented API for measurement automation, and a device they could rely on for the length of the product development journey.
Dario reached out to an old friend who works as an application engineer at Tektronix looking for help finding the scope his team needed.
Tektronix provided Dario and Novioscan with a TBS2000B Series Oscilloscope, which included all the features they needed to develop their new product. It was the perfect tool for gathering the enormous amount of data needed to test and measure all the blocks of the new architecture in their prototypes.

The ability to save data in CSV format directly on a PC allowed Dario to present that data in interactive reports, with automatic plot generation and filtering based on parameter selection. Saving and recalling scope settings was also a helpful feature – allowing Dario's colleagues who had less experience with the new scope to easily perform the measurements necessary to move development forward.
When we asked Dario how his new TBS2000B Series Oscilloscope has helped move his project forward, he said:
"From the moment we could add the new oscilloscope to the existing setup, the development of the project had a huge boost. Getting support on selecting the right product was very helpful and our team was thrilled about the choice we made."
Tektronix is passionate about providing efficient, reliable and innovative test and measurement solutions so our customers can save time and money on their product development projects. We're Tektronix and we're for the engineers.