Download Manuals, Datasheets, Software and more:
Synchronized, multi-channel spectrum analysis and time domain waveforms speed 5G troubleshooting.
5G systems rely on a symphony of digital, analog and RF signals.  Being able to analyze signals across multiple domains is critical to finding interference, glitches, spurs, drop-outs, and other errors.
In 4, 5 and 6 Series MSO oscilloscopes, behind each input is a 12-bit ADC inside a custom ASIC. Each ADC sends high-speed digitized data down two paths. This approach enables independent control of the time domain and frequency domain acquisitions, allowing optimization of both waveform and spectrum views of a given signal. This unique Spectrum View feature enables synchronized measurements across time, RF and digital domains, on up to 8 channels.
The 6 Series MSO is available with up to 10 GHz bandwidth, giving it the ability to directly measure Sub 6 (FR1) 5G signals.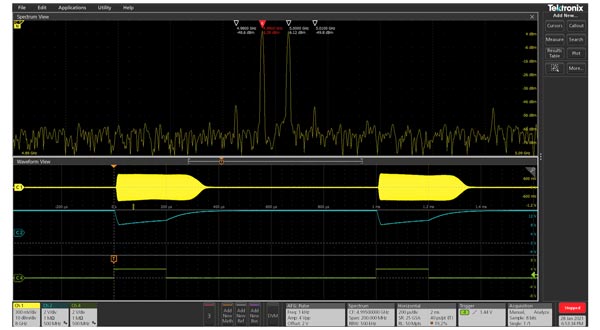 Request a Quote or Demonstration
Wider Instantaneous Bandwidth for Emerging Standards
5G System Troubleshooting