Download Manuals, Datasheets, Software and more:
Keithley 2000 Series: 6.5 Digit Multimeter with Scanning
See Keithley's new DMM6500 6.5 Digit Graphical Touchscreen Digital Multimeter.
The 6.5 digit 2000 Series offers a unique combination of high-precision, cost-effectiveness, and flexibility. Based on the same high-speed, low-noise A/D converter technology found in our 7 1/2 and 8 1/2-digit multimeters, this DMM offers market-leading speed and accuracy.  For greater flexibility, a built-in card slot on the rear panel allows an additional multiplexer card for multi-point measurement applications. See all digital multimeters »
Keithley 2000 Series: 6½-Digit Multimeter with Scanning
| | |
| --- | --- |
| Features | Benefits |
| 13 built-in measurement functions | Minimizes added equipment costs when building systems. |
| Optional plug-in switch cards for multipoint measurements | Simplify creating a self-contained, multipoint switch and measure solution.     |
| 2000 readings/second at 4½-digits | Make a good choice for applications where throughput is critical. |
| DC voltage sensitivity as low as 100nV and basic accuracy of 0.002% | Able to capture lower level signals |
| IEEE-488 and RS-232 interfaces | Simplify integrating multiple instruments into one system. |
THERMCPL/GEN PURPOSE SCAN CARD
SINGLE FIXED RACK MOUNTING KIT
DUAL FIXED RACK MOUNTING KIT
KELVIN PROBES, 0.9M (3FT)
KELVIN PROBES, 3.6M (12 FT)
LOW PROFILE IEEE-488 INTERFACE BOARD
IEEE-488.2 USB-TO-GPIB INTERFACE ADAPTER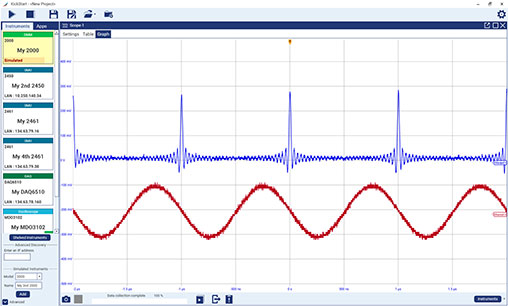 Control your instruments from your PC
Drive innovation through faster test & measurement with KickStart Software. KickStart instrument control software for the PC enables quick test setup, text execution and data visualization. By plotting data immediately and offering quick statistical summaries of the data in the reading table, KickStart allows you to gather insights faster and make the decisions you need to make.
Run tests on multiple types of bench instruments independently or simultaneously
Auto export data for long term logging
Replicate tests quickly using saved test configurations
Use built-in plotting, comparison and statistical tools to quickly discover measurement anomalies and trends
Configure tests using simulated instruments and swap in real instruments when available
See How