Download Manuals, Datasheets, Software and more:
Keithley 2110 5.5 Digit Multimeter with Dual Display
The 2110 Series 5.5 Digit USB digital multimeter combines compelling pricing with comprehensive capabilities, superior measurement accuracy, and high speed. Its dual-line display capability allows it to display two different measurements at once. This general purpose DMM offers an unbeatable value for production, R&D, and test engineers, scientists, and students. At 5.5 digits, the 2110 Series delivers up to 200 readings/s via the USB remote interface and at 4.5 digits it can take up to 50,00 reading/s. 
See more digital multimeter models.
Keithley 2110 Series: 5½-Digit Dual-Display USB Multimeter
| | |
| --- | --- |
| Features | Benefits |
| 15 measurement functions, including capacitance and thermocouple measurements | Minimizes added equipment costs when building systems |
| Dual-line display  | Two measurements shown concurrently (e.g. DCV and Temperature) reduces need for additional instruments |
| Choice of USB only or USB+GPIB interfaces | Provides greater flexibility in system integration |
| Includes PC software utilities for both Microsoft® Word and Excel | Supports graphing and data sharing |
| Easy-to-use Front panel  | Ideal for users who just need to make a few measurements quickly |
| Includes start-up software, USB cable, power cable,  safety test leads, and three year standard warranty | Provides lower total cost |
SINGLE UNIT UNIVERSAL RACK MOUNT KIT
KELVIN PROBES, 0.9M (3FT)
KELVIN PROBES, 3.6M (12 FT)
LOW PROFILE IEEE-488 INTERFACE BOARD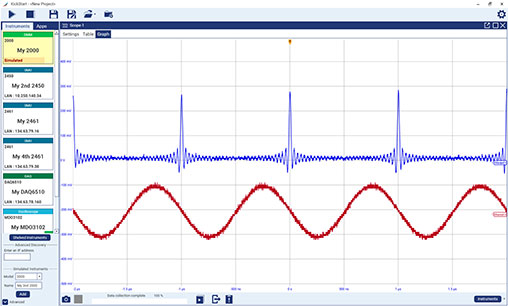 Control your instruments from your PC
Drive innovation through faster test & measurement with KickStart Software. KickStart instrument control software for the PC enables quick test setup, text execution and data visualization. By plotting data immediately and offering quick statistical summaries of the data in the reading table, KickStart allows you to gather insights faster and make the decisions you need to make.
Run tests on multiple types of bench instruments independently or simultaneously
Auto export data for long term logging
Replicate tests quickly using saved test configurations
Use built-in plotting, comparison and statistical tools to quickly discover measurement anomalies and trends
Configure tests using simulated instruments and swap in real instruments when available
See How