Download Manuals, Datasheets, Software and more:
Step by Step EMI Troubleshooting with 4, 5 and 6 Series MSO Oscilloscopes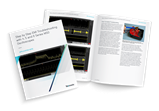 This application note will help you learn the basics of EMC and EMI troubleshooting and debugging.  It introduces a 3-step troubleshooting process and introduces the basics of radiated and conducted emissions troubleshooting. It covers the application of Spectrum View synchronized spectrum analysis on the 4, 5 and 6 Series MSOs. Learn how to account for ambient noise and how to turn measurement data into actionable information.