Download Manuals, Datasheets, Software and more:
USB Power Compliance Solution Datasheet
USBPWR Automated

Features and Benefits
Compliance Testing
Compliance testing to the USB2.0 Battery Charger Specification V1.1 and IEC 62684
Complete set of real-time measurements using an oscilloscope, builds confidence in design under test
Automated Testing
Saves significant amount of test time compared to manual methods of performing the same tests, and increases manufacturing throughput
Reduces operator errors, and improve yields
Avoids the need to be an expert in compliance test procedures
Provides repeatability of test results
Reports
A single printable test report of all tests simplifies sharing and archiving of test results
Applications
Compliance testing of USB battery chargers with permanent cable
Compliance testing of USB battery chargers with detachable cable
External power supply (EPS) design and Compliance testing to IEC62684 specification
System integration and validation of data enabled mobile telephones that use USB 2.0 interface for battery charging
Manufacturing test
The Tektronix MSO/DPO5000, DPO7000C, and DPO/DSA/MSO70000C series oscilloscopes enabled with option USBPWR provide automated setup for design validation and compliance testing of USB battery chargers and external power supplies. The Tektronix USBPWR solution serves the needs of engineers designing USB based battery chargers and external power supplies, as well as those validating the electrical compliance of the devices to the new IEC62684 Specification and USB 2.0 Battery Charger specification v1.1.
Automated Testing – Save Time and Resources
There is no longer a need to be an expert on IEC62684 testing procedures. Remembering the exact steps to take each measurement is time consuming and often requires going back to the IEC62684 specification and the USB battery charging specification. USBPWR Automated Solution takes the guesswork out of conducting compliance testing.
For compliance testing, it is difficult to remember the test procedures or to set up the correct parameters, such as applying the correct record length and sampling rates. USBPWR Automation Solution provides standard specific details and predefined scope settings for each measurement, so the user does not need to be an expert. USBPWR Automated Solution minimizes the setup initialization problems, reduces the complexity of executing USBPWR tests and enables you to test designs faster.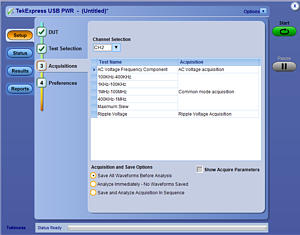 USBPWR solution automatically configures the oscilloscope settings, and acquires signals with predefined compliance parameters
100% Test Coverage
USBPWR automates the complete set of measurements to be performed using a real-time oscilloscope for devices with permanent cable as well as designs with detachable cable. Measurements include:
Ripple Voltage for the combination of the following settings:

AC frequency: 47 Hz, 50 Hz, 60 Hz, and 63 Hz
AC voltage: 90 V, 120 V, 207 V, and 253 V
Load: 0%, 25%, 50%, 75%, and 100% of the rated output current
Temperature: 0 °C, 25 °C, and 45 °C

AC Voltage Frequency Component
Maximum Slew
Common Mode Voltage at the following frequency bands:

100 kHz-400 kHz
1 kHz-100 kHz
1 MHz-100 MHz
400 kHz-1 MHz

USBPWR solution provides 100% test coverage of compliance tests using an oscilloscope
Results
USBPWR Results section helps design engineers look at the test results quickly and clearly for pass or fail summary. It provides visual representation of pass/fail status and test execution status in color codes.

USBPWR provides quick summary of test results
Detailed Reports
The USBPWR automation generates thorough .MHT/.XLS/HTML reports that capture the details of each test including Limits, Measured Value, Pass/Fail Results, Margin, common mode voltage plots, frequency component plot, etc. It also captures test execution time, and hyper-links to saved test waveforms for each test. Report generation also provides features such as report appending, auto incrementing report naming, inserting user comments, etc. Reports appending feature enables adding results from different test conditions and test scenarios, and create a single-printable-report for sharing the results.

USBPWR report contents are configurable for additional details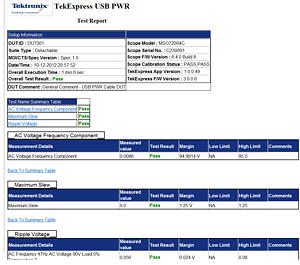 USBPWR provides detailed reports 
Characteristics
Characteristic

Description

Specifications

IEC62684 Interoperability specifications of common external power supply (EPS) for use with data-enabled mobile telephones

USB-IF USB 2.0 Battery Charging Spec V1.1 (USB BC 1.1)

Tests Coverage

Ripple Voltage for combination of following settings:

   AC frequency: 47 Hz, 50 Hz, 60 Hz and 63 Hz

   AC voltage: 90 V, 120 V, 207 V and 253 V

   Load: 0%, 25%, 50%, 75% and 100% of the rated output current

   Temperature: 0 °C, 25 °C and 45 °C

AC Voltage Frequency Component

Maximum Slew

Common Mode Voltage at following frequency bands:

   100 KHz - 400 KHz

   1 KHz - 100 KHz

   1 MHz - 100 MHz

   400 KHz - 1 MHz

Report Generation Format

.xls, .mht, and HTML
Ordering Information
Option USBPWR
USB Power Adapter/ EPS Compliance Automated Test Solution
Model

New Instrument Orders

Product Upgrades

Floating Licenses

MSO/DPO5000/GSA

Series (350 MHz and above)

Opt. USBPWR

DPO-UP Opt.USBPWR

DPOFL-USBPWR

DPO7000C/GSA Series

Opt. USBPWR

DPO-UP Opt.USBPWR

DPOFL-USBPWR

**DPO/DSA/MSO70000C/GSA

Series

Opt. USBPWR

DPO-UP Opt.USBPWR

DPOFL-USBPWR
** D-Series oscilloscopes are not supported for Option USBPWR
Recommended Accessories
One set of TPP0500, TPP1000, P6139B, or P5100A probes with standard accessories is recommended. Additionally, one set of TCA-BNC converter and TCA-1MEG TekConnect 1 MΩ Adapter is recommended when using a P6139B or P5100A probe with a DPO/DSA/MSO70000C/GSA series oscilloscope. Please refer to www.tek.com/probes for further information on the recommended models of probes and any necessary probe adapters.
Additional Information
Tektronix offers a range of solutions for power analysis and compliance testing. To see comprehensive listing, and download the latest resources, visit www.tek.com/power. USBPWR solution updates and up-to-date instrument software upgrades are available at www.tek.com/downloads