Download Manuals, Datasheets, Software and more:
Tektronix Logic Analyzer Probes
P5900 Series Datasheet
More Information
Read Online: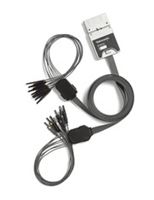 Verification and debug of today's high speed digital signals requires probing solutions that can accurately acquire from a wide variety of electronic designs and protect signal fidelity. Tektronix logic analyzer probes contain a variety of connectivity options that are engineered to ensure that signal acquisition is a true reflection of your design's performance.
Notice to EU customers
This product is not updated to comply with the RoHS 2 Directive 2011/65/EU and will not be shipped to the EU. Customers may be able to purchase products from inventory that were placed on the EU market prior to July 22, 2017 until supplies are depleted. Tektronix is committed to helping you with your solution needs. Please contact your local sales representative for further assistance or to determine if alternative product(s) are available. Tektronix will continue service to the end of worldwide support life.
Key features
Low total capacitive loading minimizes intrusion on circuits
20 kΩ input resistance

7.5 Vp-pdynamic range supports a broad range of logic families

Variety of attachment mechanisms including the high-density D-Max®, Mictor, square pins, and flying leads.
Applications
Digital hardware validation and debug
Monitoring, measurement, and optimization of digital hardware performance
Embedded software integration, debug, and verification
Leading probe solutions for real-time digital systems analysis – P5900 series probes
No test and measurement solution is complete without probing and the consideration of its impact on your system and your measurement time. With the industry's lowest probe loading, the P5900 Series logic analyzer probes protect the integrity of your signal - minimizing the impact on your design. The P5900 Series logic analyzer probes when used with TLA6400 Series logic analyzers make sophisticated logic analysis available at an affordable price. Select from a variety of attachment mechanisms, including the high-density D-Max®, Mictor, and general-purpose.
P5910 17-channel general purpose probe
The 17-channel P5910 provides flexible general-purpose probing, with support for 0.100 in. and 2 mm pin spacing, low input capacitance, and accessories for connecting to many industry-standard connections.

P5960 34-channel D-Max probe
For applications where circuit board space is limited, the 34-channel high-density P5960 D-Max offers the smallest available footprint and a quick connection mechanism.

P5934 34-channel Mictor probe
The P5934 is 34-channel mictor probe with quick connect/disconnect and a positive-latching mechanism to ensure a secure, reliable connection.
Specifications
All specifications are guaranteed unless noted otherwise. All specifications apply to all models unless noted otherwise.
Compatible with TLA6400 series logic analyzers
 
P5910
P5934
P5960
Probe type
Single-ended Data
Single-ended Clock
(General purpose)
Single-ended Data
Single-ended Clock
(Mictor 34-channel)
Single-ended Data
Single-ended Clock
(D-Max® Probing Technology)
Number of channels
17 
34 
34 
Recommended use
Most general-purpose applications
Applications requiring many channels to be connected quickly in a small footprint
High-performance applications requiring many channels to be connected quickly in a small footprint
Attachment to target system
Fits both 0.100 in. and 2 mm square pin configurations
Amp Mictor 34-channel connector
D-Max® probing technology compression cLGA
P5900 probe specifications
Input resistance

20 kΩ to ground, typical
Input capacitance

P5910

1.3 pF

P5934

2.0 pF

P5960

0.8 pF
Minimum digital swing

300 mV
Analog bandwidth 1

2 GHz
1Analog bandwidth of P6960 is less with the flying lead set attached.
Cable length

P5910

1.5 m (5 ft.)

P5934

1.2 m (4 ft.)

P5960

1.5 m (5 ft.)
Ordering information
Probe options
Language options
Opt. L0

English manual

Opt. L99

No manual
Service options
Customers who choose a Tektronix product receive a support partnership focused on making the deployment and operation of their products successful. Tektronix support teams are committed to providing rapid response. A broad range of flexible services is available at the time of product purchase to meet customer service needs.
The following service options are offered for the P5900 logic analyzer probes.
Opt. C3

Calibration Service 3 Years
Opt. C5

Calibration Service 5 Years
Opt. R3

Repair Service 3 Years (including warranty)
Opt. R5

Repair Service 5 Years (including warranty)
Standard accessories
P5910
335-2736-xx

Sheet of probe labels

020-2662-xx

Probe accessory kit provides different means to connect the logic analyzer probe to the SUT.
P5934
335-2738-xx

Sheet of probe labels

105-1088-xx

Latch housing assembly, edge-mount

105-1089-xx

Latch housing assembly, vertical
P5960
335-2737-xx

Sheet of probe labels

020-2908-xx

Probe retention kit for D-Max® Probing Technology (contains 2 retention shrouds)
Recommended accessories
P5910
020-2622-xx

Probe accessory kit provides different means to connect the logic analyzer probe to the SUT

020-2711-xx (20 included)

20 Extension ground tips

131-5638-xx (20 included)

Probe tip

020-2733-xx (20 included)

IC grabber

020-2712-xx (8 included)

3-inch ground lead set

020-2713-xx (2 included)

8-inch ground lead set

352-1115-xx (2 included)

Probe grouper
P5934
131-6134-xx

AMP Mictor Connector, Surface-Mount

020-2228-xx (21 included)

AMP Mictor Connector, Surface-Mount

020-2456-xx

Compression-on-PCB to Mictor Adapter, 34 channel
P5960
020-2910-xx (50 included)

Probe retention kit for D-Max® Probing Technology

020-2539-xx

Post-style probe retention kit for D-Max® Probing Technology