Download Manuals, Datasheets, Software and more:
PSPL5315 17 GHz Differential Pulse Splitter Datasheet
PSPL5315 Datasheet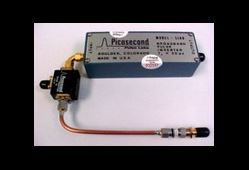 More Information
Read Online:
The PSPL5315 BALUN is a broadband differential pulse splitter. A signal fed into the 50 Ω input is split equally into two 50 Ω outputs. One output is the same polarity as the input, while the other output is inverted in polarity. The PSPL5315 BALUN has a very fast 21 ps rise time and a bandwidth of 17 GHz. One application of the PSPL5315 is to provide push-pull, balanced drive signals for the deflection plates of ultra-wideband, traveling-wave oscilloscopes.
Typical performance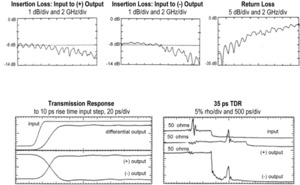 Specifications
Parameter 1
Value
Rise time (10%-90%)
21 ps typical, 25 ps max.
Bandwidth (-3 dB)
17 GHz typical
Low Frequency Cutoff
200 kHz (-3 dB)
Insertion Loss
8 dB, nominal
Impedance
50 Ω
Refl. Coeff. (35 ps TDR)
Input
(+) output
(-) input
-4%, t > 1 ns
-4%, t > 3 ns
-15%, t > 2 ns
Return Loss
0.1  20 dB -2.5 dB/GHz*f (GHz)
2  15 dB -1.25 dB/GHz*f (GHz)
Sag Time Constant
800 ns (1/e)
Delay
0.9 ns
Diff. Delay Balance (step response)
±2 ps max.
Diff. Balance (step response)
1 ns
Max. Input
0.75 Watts
Connectors
SMA jacks (f)
Weight
0.5 lbs. (0.2 kg)
Dimensions
6 in x 3.7 in x 1.1 in (15 cm x 9.4 cm x 2.8 cm)
Warranty
One year
1 All parameters listed are typical unless max/min guaranteed limits are provided. Due to internal reflections, the PSPL5315 is NOT recommended for use with gigabit logic signals nor in a differential network analyzer.
Mechanical dimensions

Ordering information
Models
PSPL5315

Diff pulse splitter-Balun, SMA J-J-J