Download Manuals, Datasheets, Software and more:
PSPL5882 40 Gb/s Broadband Amplifier Datasheet
PSPL5882 Datasheet
More Information
Read Online:

The PSPL5882 is extremely broadband, covering over 6 decades from 25 kHz to 35 GHz. It also demonstrates a very clean time domain response, resulting in high quality 40 Gb/s eye diagrams. The PSPL5882 includes internal reverse voltage protection, power supply regulation, and sequencing circuitry, making it insensitive to power supply voltage variation and application sequence.
Key performance specifications
Electro-Absorption Modulator driver or optical receiver amplifier
Linear amplifier with 16 dB gain
25 kHz to 35 GHz bandwidth
2.7 Vamp eye amplitude
9 ps rise time
Typical 40 Gb/s eye measurements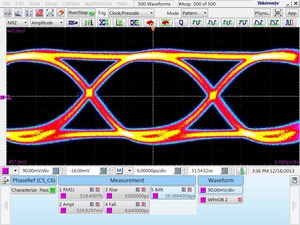 Input from Tektronix PPG4001, PRBS = 2
31
–1, 525 mV

Output amplitude, 3 V
Typical performance

S11, 5 dB/div, 5 GHz/div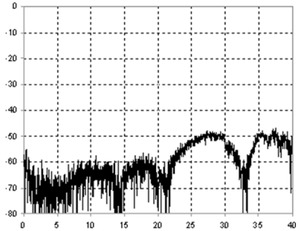 S12, 10 dB/div, 5 GHz/div

S21, 1 dB/div, 5 GHz/div

S22, 5 dB/div, 5 GHz/div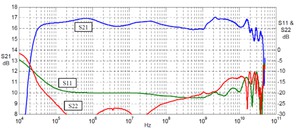 Typical S21, S11, and S22 from 10 kHz to 50 GHz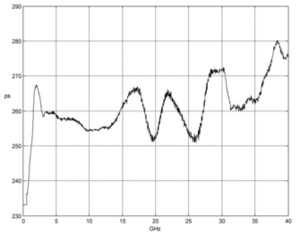 Typical Group Delay (10 ps/div, 5 GHz/div, 0.8 GHz aperture)

Typical Step Response (input signal is 16 ps fall time)
Specifications
Parameter
Symbol
Units
Minimum
Typical
Maximum
Comments
Impedance
Z
ohms
 
50 
 
 
Upper 3 dB freq.
fc,h
GHz
30 
35 
 
Relative to gain at 100 MHz
Lower 3 dB freq.
fc,l
kHz
 
25 
40 
 
Small Signal Gain
S21 
dB
14.5 
16 
 
Measured at 100 MHz
Gain Ripple
 
dB
 
±1 
±2 
50 MHz
Max Power Out
(-1 dB gain comp)
P1 dB
dBm
 
12 
11 
 
f 25 GHz ≤ f
Output Eye Voltage
VOUT
Vamp
2.4 
2.7 
 
Vin = 0.6 Vamp, 12.5 Gb/s PRBS
Input Return Loss
S11
dB
 
-18 
-10 
-14 
-8 
50 MHz 10 GHz ≤ f
Output Return Loss
S22
dB
 
-13 
-10 
-10 
-8 
50 MHz 10 GHz ≤ f
Rise Time
tr
ps
 
9 
 
10-90%, root-sum-of-squares extraction, 16 ps system rise time
Fall Time
tf
ps
 
9 
 
Overshoot
 
%
 
7 
 
1 ns window, 16 ps system rise time
Undershoot
 
%
 
7 
 
Noise Figure
NF
dB
 
6 
 
Measured at 1.5 GHz
Group Delay Variation
 
ps
 
±20 
±30 
3 GHz 0.8 GHz aperture
Polarity
Non-Inverting
Coupling
AC, input and output
DC Connector
Solder pins
Voltage Supply (+)
+VDC
VDC
7 
8 
9 
 
Voltage Supply (-)
-VDC
VDC
-5.5 
-5 
-4.5 
 
Supply Current (+)
+IDC
mA
 
155 
 
 
Supply Current (-)
-IDC
mA
 
10 
 
 
Max Allowed Input
 
dBm
 
 
16 
Input damage threshold
DC Voltage applied to RF Input or Output
 
VDC
-4 
 
8 
Damage threshold
Operating Temp
TCASE
°C
0 
 
70 
Case temperature
RF Connectors
2.92 mm or 2.4 mm jacks (f)
Warranty
One year
Ordering information
Models
PSPL5882

AMPLIFIER, 40-45 GHz, 16 dB GAIN
Options
Opt. 240JJ

Female 2.4 mm connectors on Input and Output

Opt. 292JJ

Female 2.92 mm connectors on Input and Output