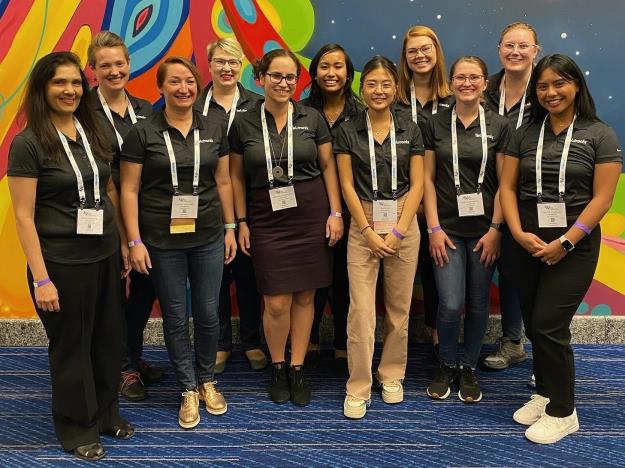 Nicole Chandler, Software Design Engineer and Women in Technology (WIT) Co-Lead, attended the Society of Women Engineers Conference in Houston, Texas, with some colleagues and shares some of her key learnings from attending.
Since 2016 the "Women in Technology" (WIT) group exists at Tektronix to foster an inclusive environment for women. The Group has now 230 members and has become an influential part of the overall Tektronix culture. While fostering networking, community and collaboration, the group has led to an increase in the number of women in engineering and leadership positions at Tektronix.
Nicole says: "I had the wonderful opportunity to attend the Society of Women Engineers (SWE) Conference with an amazing group of Tektronix colleagues. We had an awesome group of Beaverton and Solon based colleagues in software, hardware, and business. It was great to be able to get together and meet colleagues from a different location.

Every time I get to attend this conference, I leave feeling inspired and hopeful for women in technology. Being surrounded by prospective future engineers and all of the women leaders in technology is an incredible feeling. I am grateful for the opportunity to learn from all the presenters, panelists, and keynote speakers."
Key takeaways from the conference for Nicole were:
Diversity is much more than gender and race.

There are many models of it, but they are all about having dimensions of diversity. Proximity and/or experience effect our diversity. Your identity and your story is what makes you and can be broken down into dimensions. Some examples of different dimensions are personality/genetics, biological, personal/cultural, and organizational.
Nothing just happens. You must advocate for yourself. It starts with you.

If you want to ensure you are looked at for the next position, others need to know of your work and who you are. Take on stretch and development assignments; they're a great way to get others to know who you are and show what you can do.
Get to know the people in the room that are making the decisions. Connect with them on something that you are interested in.

Technical knowledge isn't always a prerequisite to lead.

Increase your knowledge so that you understand and add into conversations by pushing the needle and asking intelligent questions.
WIT was able to sponsor 15 attendees, 11 in-person and four virtually. SWE is the world's largest conference for women in engineering and technology and brings together thousands of women and allies. Nicole said: "This three-day networking and educational event featured topics ranging from self-development to emerging technologies for a cleaner world, and we were able to learn from high caliber keynote speakers (secret service job, anyone?) as well as engineers just starting their careers."