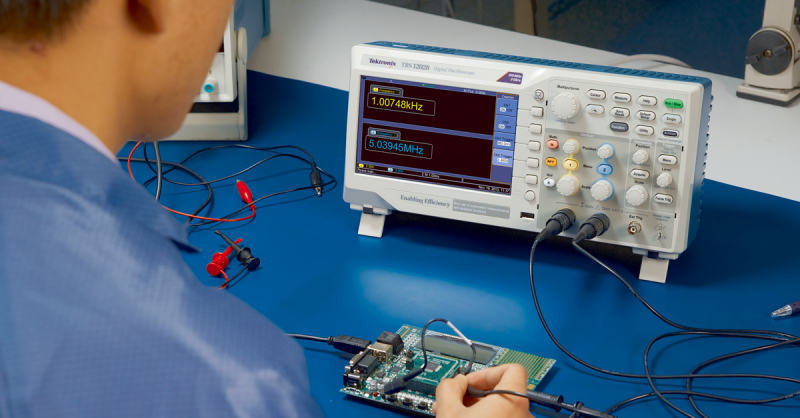 We are excited to announce the introduction of the TBS1000B-EDU and TBS1000B series of 2-channel oscilloscopes, offering an improved learning experience. These new oscilloscopes feature across-the-board enhancements including a high-resolution 7-inch display, dual channel frequency counter and 34 automated measurement.

The new instruments represent the best value entry-level oscilloscopes for both students and teachers alike, supporting a wide range of general commercial applications.
With digital technologies and systems becoming a larger aspect of daily life, there is a strong demand for affordable and highly capable oscilloscopes. Because of this we are increasing our focus on education and adding new capabilities that will further improve convenience, efficiency and versatility for all users alike and give students a comprehensive hands-on experience. 

Tektronix is committed to driving innovation, therefore, the new TBS1000B-EDU series are the first in the industry with an integrated courseware system designed to help students learn more efficiently and effectively while minimizing the time teachers need to spend preparing and conducting labs. With this feature, lab exercise content is viewable on the oscilloscope and students can capture results straight from the instrument.

Also, be sure to keep your eye out for an integrated content ecosystem that includes PC-based courseware editing software and a Tektronix web based Courseware Resource Center where pre-made course content can be downloaded for use for free and uploaded so that it can be shared with a wider audience.
And if that wasn't enough we should also point out that the new instrument models address basic R&D, service and repair, manufacturing and electronic hobbyist applications. These new oscilloscopes are designed to perform accurate and efficient daily measurements.

All models of the TBS1000B-EDU and TBS1000B series raise the bar for performance and function in this market. For additional information visit /oscilloscope/tbs1000b-digital-storage-oscilloscope.