There are a number of compliance requirements for the latest automotive Ethernet standard, which is Multigigabit Ethernet. While some of the low-speed, in-vehicle network standards, like CAN, LIN, and FlexRay, do not require any compliance testing, for automotive Ethernet there is a compliance test defined by IEEE and Open Alliance that contain a number of test requirements.
The integration of automotive Ethernet is placing greater demands on technology and is placing even greater demands on comprehensive design validation to ensure interoperability between multiple Electronic Control Units (ECUs) and reliability in demanding environments. A complete testing solution enables passing strict compliance tests and provides greater confidence in design margins under real-world conditions.
In particular, there are a number of testing challenges and measurements that are needed to ensure hardware interoperability. They include:
Distortion Measurement – The distortion test measures the maximum allowable transmitter distortion. This test requires the use of a disturbing sine wave signal that is added to the PHY output signal. The peak transmitter distortion is calculated, and the measured values are compared against the compliance test specification.
Return Loss Measurement – The return loss test determines the impedance mismatch from the differential impedance specification of 100 Ω, which will affect hardware interoperability.
Jitter and Transmit Clock Frequency Measurements – Separate tests are run to measure the Master (Slave) RMS jitter and the Tx clock frequency.
Droop Measurement – The droop measurements are performed by determining the positive and negative waveform peak voltages.
Power Spectral Density (PSD) Measurement – The spectral of an input signal is computed using built-in oscilloscope MATH functions. Post processing is done on the signal to arrive at the PSD. The computed PSD is then compared with the specification by using lower and upper masks to arrive at the final result.
MDI Jitter Measurement – This test measures jitter of the data signals.
These types of early testing increase the likelihood of passing compliance tests, while allowing more complete characterization and determination of design margins. If we perform these measurements manually, however, it's going to be very time consuming. The Tektronix automated test application for automotive Ethernet, which helps reduce test time, also achieves higher accuracy with the measurements the algorithm developed in association with the standard bodies. TekExpress is the automation platform used for many of the Tektronix high-speed serial compliance tests.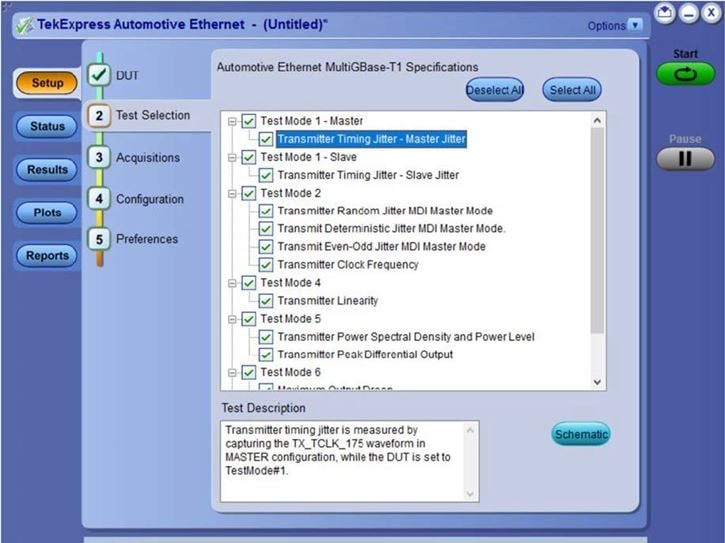 Test Selection with Automotive Ethernet Software
For more detail on these measurement tests and use cases and the pitfalls that an engineer might encounter during test setup and execution, watch our pre-recorded webinar, Automotive Multigigabit Ethernet, or the related software demonstration.