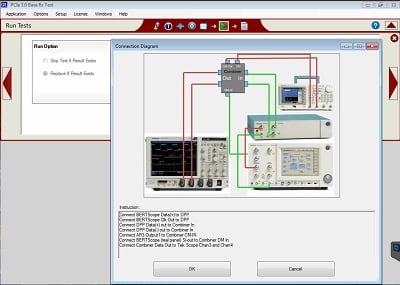 Receiver physical layer testing is one of the more complex test and measurement tasks facing engineers working on enterprise storage or datacenter applications. Among other things, it involves complex, step-by-step calibration of multiple parameters on a pattern generator, such as de-emphasis, jitter, common and differential mode noise, and crosstalk – all in conformance to the appropriate specification.
Now Tektronix and partner Granite River Labs (GRL) have joined forces to significantly reduce the complexities of test signal calibration and ensure consistent and reproducible test results using Tektronix BERTScope bit error rate testers. 
Three new receiver test automation software applications from GRL offer such features as one button calibration, automated jitter tolerance testing and automated margin testing and reporting along with a range of advanced and specialized capabilities.  Available now, the new applications are:
GRL-SFPP-RX -- The first commercially-available software of its kind, this application automates jitter tolerance calibration and testing to the 10Gb/s SFP+ (SFF-8431) and QSFP+ (SFF-8635) specifications, which support Fibre Channel and 10 Gigabit Ethernet for telecommunication and data communications applications.
GRL-PCIE4-BASE-RX – This app automates calibration of the stressed eye opening to the PCIe 4.0 Base (ASIC) specification, using the industry-standard Seasim statistical data eye simulator. The PCIe 4.0 standard provides a 16 GT/s line rate, double the previous 3.0 standard, requiring even higher precision calibration.  It supports the latest 0.7 specification revision.
GRL-BSA-RX User Defined Receiver Test Calibration Software – This offering provides a ready-to-use automation environment that allows users to easily and flexibly define and configure test parameters on the BERTScope.  Leveraging the GRL KayaQ Automation Framework, GRL-BSA-RX is a valuable tool for general receiver characterization and debugging, as well as testing custom or proprietary interfaces and standards for which automated receiver test solutions are not currently available - such as DisplayPort 1.4 Sink and USB Type-C active cable testing.


Developing new high-performance PHYs is a difficult enough job which is why test automation is so important. As Brian Reich, general manager, Performance Oscilloscopes at Tektronix, puts it, "these automated solutions will enable engineers to efficiently test their designs and help expedite receiver test calibration for a faster time to answer."
You can read the full press release here.