Keithley 4200A-SCS Parameter Analyzer
Keithley 4200A-SCS Parameter Analyzer
Accelerate research, reliability and failure analysis studies of semiconductor devices, materials and process development with the 4200A-SCS. The highest performance parameter analyzer, it delivers synchronizing current-voltage (I-V), capacitance-voltage (C-V) and ultra-fast pulsed I-V measurements.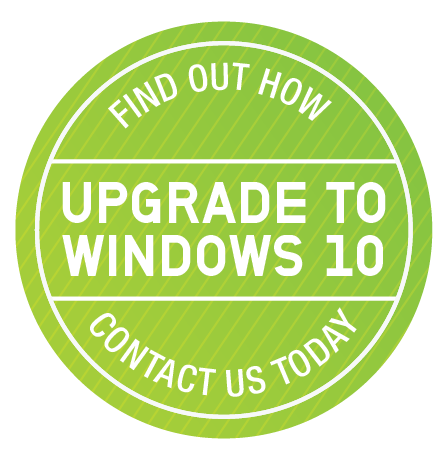 DC Current-Voltage
(I-V) Range
10 aA - 1A
0.2 µV - 210 V
Capacitance-Voltage
(C-V) Range
1 kHz - 10 MHz
± 30V DC bias
Pulsed I-V
Range
±40 V (80 V p-p), ±800 mA
200 MSa/sec, 5 ns sampling rate
Keithley 4200A-SCS Parameter Analyzer
Parametric insight, fast and clear.
Making connections to your bold discoveries has never been easier. The 4200A-SCS Parameter Analyzer reduces characterization complexity and test setup by up to 50%, providing clear, uncompromised measurement and analysis capability. Plus, embedded measurement expertise—an industry first—provides test guidance and gives you supreme confidence in your results.
Highlights
Built-in measurement videos in English, Chinese, Japanese, and Korean
Jump start your testing with hundreds of user-modifiable application tests
Automated real-time parameter extraction, data graphing, arithmetic functions
Measure. Switch. Repeat.
The 4200A-CVIV Multi-Switch automatically switches between I-V and C-V measurements without re-cabling or lifting the prober tips. Unlike competing products, the four-channel 4200A-CVIV display provides local visual insight for quick test setup and easy troubleshooting when unexpected results occur.
Highlights
Move C-V measurement to any device terminal without re-cabling
User-configurable for low current capability
Personalize the names of output channels
View real-time test status
Characterize. Customize. Maximize.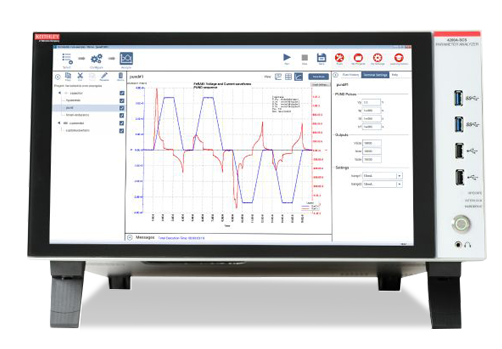 Put simply, the 4200A-SCS is completely customizable and fully upgradeable so you can perform electrical characterization and evaluation of semiconductor devices, new materials, active/passive components, wafer level reliability, failure analysis, electrochemistry or virtually any type of sample.
Highlights
NBTI/PBTI testing
Random telegraph noise
Non-volatile memory devices
Potentiostat application tests
Integrated solution with analytical probers and cryogenic controllers.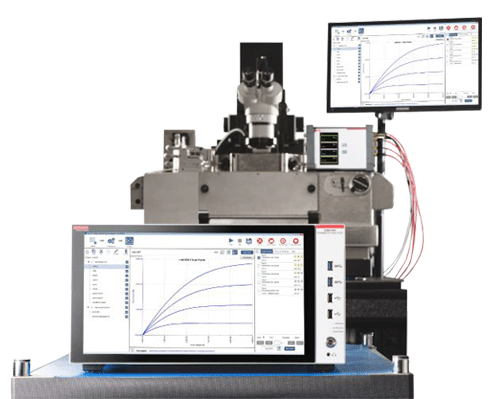 The 4200A-SCS Parameter Analyzer supports many manual and semi-automated wafer probers and cryogenic temperature controllers, including Cascade MicroTech, Lucas Labs/Signatone, MicroManipulator, Wentworth Laboratories, LakeShore Model 336 cryogenic temperature controller.
Highlights
"Point and click" test sequencing
"Manual" prober mode tests prober functionality
Fake prober mode enables debugging without removing commands
Cut Costs and Protect Your Investment
Keithley Care plans provide fast, high-quality services at a fraction of the cost of on-demand service events. You are one click or phone call away from obtaining repair coverage - no quotes, purchase orders, or approval delays.
Datasheet
Model
Description
Pricing
View Datasheet
4200A-SCS-PK1
High Resolution IV
210V/100mA, 0.1 fA resolution
For two- and three-terminal devices, MOSFET, CMOS characterization Package 4200A-SCS-PK1 includes:

4200A-SCS parameter analyzer
(2) 4200-SMU Module
(1) 4200-PA Preamp
(1) 8101-PIV Test fixture with sample devices

Request a Quote
View Datasheet
4200A-SCS-PK2
High Resolution IV & CV
210V/100mA, 0.1 fA resolution, 1kHz - 10MHz
For high κ dielectric, deep submicron CMOS characterization Package 4200A-SCS-PK2 includes:

4200A-SCS parameter analyzer
(2) 4200-SMU Module
(1) 4200-PA Preamp
(1) 4210-CVU Capacitance-Voltage Module
(1) 8101-PIV Test fixture with sample devices

Request a Quote
View Datasheet
4200A-SCS-PK3
High Resolution and Power IV & CV
210V/1A, 0.1 fA resolution, 1kHz - 10MHz
For power devices, high κ dielectric, deep submicron CMOS device characterization Package 4200A-SCS-PK3 includes:

4200A-SCS parameter analyzer
(2) 4200-SMU Module
(2) 4210-SMU
(2) 4200-PA Preamp
(1) 4210-CVU Capacitance-Voltage Module
(1) 8101-PIV Test fixture with sample devices

Request a Quote
View Datasheet
4200-BTI-A
Ultra-fast NBTI/PBTI
For sophisticated NBTI and PBTI measurements on leading-edge silicon CMOS technology Package 4200-BTI-A includes:

(1) 4225-PMU Ultra-Fast I-V Module
(2) 4225-RPM Remote Preamplifier/Switch Modules
Automated Characterization Suite (ACS) Software
Ultra-Fast BTI Test Project Module
Cabling

Request a Quote
Semiconductor Reliability
Perform complex reliability tests while letting the 4200A-SCS take care of the complex coding. Included projects like Hot Carrier Injection Degradation (HCI) give you a jump start on device analysis.
Evaluating Hot Carrier Induced Degradation of MOSFET Devices
Highlights
Combine DC I-V, C-V, and pulse measurements in one set of tests
Included support for many probe stations and external instruments
Easy to use cycling system allows repeat measurements without coding
C-V Measurement for High Impedance Applications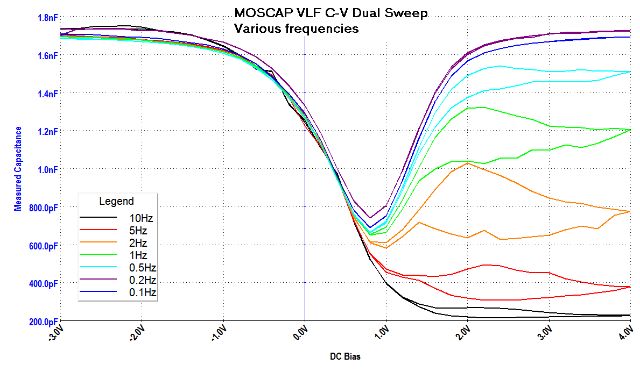 Non-volatile Memory
VCSEL Testing
Multiple, concurrent source measure unit (SMU) instruments in the 4200A-SCS simplify your laser diode testing. Generate LIV (Light intensity-Current-Voltage) curves with connections to only a single box. Advanced probe station and switch support means you can use the same instrument for on-wafer production testing of individual diodes or entire arrays. SMUs can be configured for up to 21 W capabilities for a variety of continuous wave (CW) VCSEL applications.
Nanoscale Device Characterization
The integrated instrument capabilities of the 4200A-SCS simplify the measurement requirements in developing nanoscale electronics such as carbon nanotubes. Start your investigations from a preconfigured test project and expand your work from there. A pulsed source mode for SMUs helps reduce overheating problems can be combined with low voltage C-V and ultra-fast pulsed DC measurements in seconds.
Electrical Characterization of Carbon Nanotube Transistors (CNT FETs)
Resistivity of Materials
MOSFET Characterization
The 4200A-SCS can hold all the instruments necessary for full characterization of MOS devices through component or on-wafer testing. Included tests and projects solve for oxide thickness of a MOSCap, threshold voltages, doping concentration, mobile ion concentration, and more. All these tests can be run at the touch of a button from a single instrument box.
C‑V Characterization of MOS Capacitors Using the 4200A-SCS Parameter Analyzer
Making Stable Low Current Measurements with High Test Connection Capacitance Using the 4201-SMU and 4211-SMU
This application note explains the maximum capacitance specifications of an SMU, and describes several applications on which the 4201-SMU and 4211-SMU enables you to make stable low current measurements. The example applications describe include the…
Literature number: 1KW-61609-0
Application Note
21 Oct 2019
Model 4200A-SCS Clarius V1.7 Software Release Notes
The Clarius+ software application suite is the software for the 4200A-SCS. Clarius+ software requires Microsoft Windows 10 on your 4200A-SCS Parameter Analyzer. These release notes describe fixed issues and known issues in the software.
Part number: 077132609
Release Notes
Model 4200A-SCS Parameter Analyzer Reference Manual
The Model 4200A-SCS Parameter Analyzer Reference Manual provides detailed instruction for the 4200A-SCS. The Model 4200A-SCS Parameter Analyzer Reference Manual provides detailed instruction for the 4200A. It includes hardware information, such as…
Part number: 4200A-901-01G_September_2019_Reference.pdf
Primary User
4200A-SCS Clarius+ Software Suite V1.7
This version of Clarius+ is only supported on Microsoft Windows 10. If installed on the 4200A-SCS system with a Clarius+ release prior to V1.4, contact Keithley, a Tektronix Company, at TEK.com to upgrade the parameter analyzer. If installing on a…
Part number: 4200A-CLARIUS-V1.7
Application
Do I need to calibrate my instruments separately when I upgrade from the 4200-SCS to a 4200A-SCS mainframe?
No; when the 4200A-MF-UP service is selected, the 4200-SCS is converted to the 4200A-SCS mainframe. This system gains the Clarius software. All supported instrument modules in the original system will be moved to the new, 4200A-SCS mainframe and will…
FAQ ID: 780926
30 Sep 2019
What is included in the 4200A-SCS Windows 10 Upgrade option?
The 4200A-SCS can be upgraded from the Windows 7 operating system to Windows 10. The part number for this upgrade is 4200A-WIN10-UP. This service will provide a USB flash drive containing the upgrade program files and instructions for installing the…
FAQ ID: 780921
30 Sep 2019
Performing Charge Pumping Measurements with the 4200A-SCS Parameter Analyzer
This application note explains how to make charge pumping measurements using the 4200A-SCS with the optional 4225-PMU Ultra-Fast I-V Module (PMU) or 4220-PGU Pulse Generator Unit (PGU).
Literature number: 1KW-60634-0
Application Note
04 Sep 2019
ACS Basic Software Reference Manual The ACS Basic Reference Manual includes advanced operation topics, information regarding support…The ACS Basic Reference Manual includes advanced operation topics, information regarding support for Keithley's source and measure instrument products, and in-depth descriptions of programming commands.
Part number: ACSBASIC-901-01G
Primary User
ACS Software Quick Start Guide The ACS Quick Start Guide describes installation information, basic connections, reviews basic…The ACS Quick Start Guide describes installation information, basic connections, reviews basic operation and hardware information, and how to perform a test.
Part number: ACS-903-01E
Primary User
ACS Software Reference Manual The ACS Reference Manual includes advanced topics, information regarding support for Keithley's…The ACS Reference Manual includes advanced topics, information regarding support for Keithley's source and measure instrument products, and in-depth descriptions of programming commands. 
Part number: ACS-901-01L
Primary User
ACS Basic Software Quick Start Guide The ACS Basic Quick Start Guide describes installation information, basic connections,…The ACS Basic Quick Start Guide describes installation information, basic connections, reviews basic operation and hardware information, and how to perform a test. 
Part number: ACSBASIC-903-01C
Primary User
Keithley PreAmp Adapter Installation
Keithley PreAmp Adapter Installation Model 4200-TMB Triaxial Mounting Bracket instructions
Part number: PA-633A
User
Evolving Materials and Testing for Emerging Generations of Power Electronics Design
Transitioning from silicon to wide bandgap semiconductors such as silicon carbide and gallium nitride means that power module designs can be physically smaller than what came before, while also increasing MOSFET switching speed and energy efficiency. As…
Literature number: 75W-61556-0
Technical Brief
17 May 2019
Model 4200A-CVIV Multi-Switch User's Manual
The Keithley Instruments Model 4200A-CVIV Multi-Switch User's Manual provides detailed product, connection, accessory, application, and Clarius+ software information.
Part number: 4200A-CVIV-900-01D
Primary User
Model 4200A-SCS Clarius V1.6.1 Software Release Notes
The Clarius+ software application suite is the software for the 4200A-SCS. Clarius+ software requires Microsoft Windows 10 on your 4200A-SCS Parameter Analyzer. These release notes describe fixed issues and known issues in the software.
Part number: 077132608
Release Notes
4200A-SCS Clarius+ Software Suite V1.6.1
This version of Clarius+ is only supported on Microsoft Windows 10. If installed on the 4200A-SCS system with a Clarius+ release prior to V1.4, contact Keithley, a Tektronix Company, at TEK.com to upgrade the parameter analyzer. If installing on a…
Part number: 4200A-CLARIUS-V1.6.1
Application
Low Level Measurements Handbook - 7th Edition
Precision DC Current, Voltage, and Resistance Measurements
Literature number: 1KW-1559-0
Handbook
17 Apr 2019
Making Low Current Pulse I-V Measurements
with the 4225-PMU Pulse Measure Unit and 4225-RPM Remote/Preamplifier Switch Modules
Literature number: 1KW-61527-0
Application Note
24 Mar 2019
Making Three-Terminal Capacitance-Voltage Measurements Up to 400 V
Using the 4200A-CVIV Multi-Switch Bias Tee Capability
Literature number: 1KW-61529-0
Application Note
21 Mar 2019
4200A-SCS Parameter Analyzer Datasheet

Literature number: 1KW-60780-4
Datasheet