Question :
What is the TekProbe interface?
Answer :
In addition to coupling the signal from the probe to the oscilloscope the TekProbe interface provides power and offset to active probes. It also allows the oscilloscope to sense the probe's attenuation factor and/or probe type such as a 100X probe or current probes. The Tektronix oscilloscope models that incorporate this interface are the TDS300, TDS400, TDS500, TDS600, TDS700, TDS3000/B/C, TDS5000/B and TDS7000 series. Adaptors to this interface are available for the DPO7000, DPO70000/B, DSA70000/B, DPO4000/MSO4000, DPO3000/MSO3000, DPO2000/MSO2000 series scopes.
Figure 1: TekProbe interface connector on oscilloscope.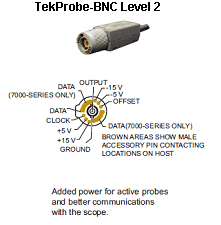 FAQ ID 58876
View all FAQs »