Download Manuals, Datasheets, Software and more:
HDMI
High-Definition Multimedia Interface (HDMI) is the digital video interface for delivering a HD experience. As transmission speeds of the HDMI standard increase, interoperability issues due to signal quality distortions introduce new technical requirements and test challenges for HDMI sink and source devices.
Including HDMI 2.1 support, Tektronix testing solutions provide advanced signal capture and analysis, with automated test capabilities to accelerate testing and product development cycles. Testing support includes:
HDMI Source Test
HDMI 2.1 eARC
HDMI Source Testing
HDMI standards continue to evolve to deliver high quality video and audio. With each successive generation, HDMI source developers face faster data rates and new test challenges. HDMI 2.1 increases data rates up to 48 Gbps (Giga bits per second) over 4 lanes, expanding test cases and test times. Differential, eye diagram and single-ended measurements require high signal integrity with the lowest noise to accurately measure device performance.
For HDMI source testing, Tektronix offers two source test configurations to best meet your needs. The TekExpress based software solution completely automates execution of all source measurements. With no connection changes or manual interventions required between tests, Tektronix' source test solution provides simple set-up, ease of use, measurement accuracy and reduced test times.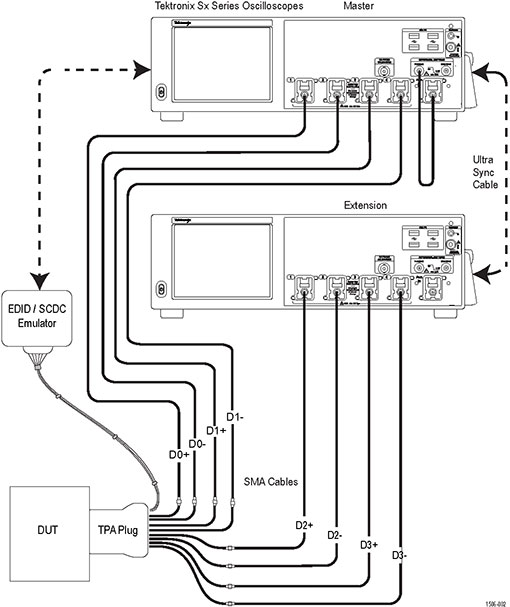 HDMI 2.1 eARC Testing
Enhanced Audio Return Channel (eARC) is a new feature in HDMI 2.1 which simplifies audio connectivity and supports the most advanced audio formats and highest audio quality. eARC improves the differential audio information over single ended signaling and utilizes the IEC61937 specification. To test for eARC compliance, developers need an affordable, easy-to-use, comprehensive and fast measurement solution.
Tektronix offers complete Compliance test solutions for both eARC Tx and eARC Rx. Tektronix eARC solutions are supported on the Tektronix DPO/DSA/MSO - 7000/70000/C/D/DX/SX series with bandwidth greater than or equal to 2.5GHz. The solution uses the Tektronix AWG5200 to streamline eARC Tx and Rx testing. TekExpress based software completely automates execution of all eARC Tx and eARC Rx compliance measurements providing simple set-up, ease of use and fast, efficient testing.
Featured Content
Timing jitter is the unwelcome companion of all electrical systems that use voltage transitions to represent timing information. This paper focuses primarily on jitter in electrical systems.
This application note discusses different ways that information from an eye diagram can be sliced to gain more insight. It also discusses some basic ways that transmitters, channels, and receivers are tested.
Development & Testing of Next Generation HDMI Interfaces.