Download Manuals, Datasheets, Software and more:
Convenient Service Delivery Options
I need calibration for...
Equipment services shouldn't be disruptive to your processes. Our service delivery options include everything from door-to-door to onsite service to best fit into your schedules and operations. With a global network of service locations, a broad scope of capabilities, and strong relationships with outside service providers, we can support all of your calibration needs.
Local Service Centers
Tektronix operates an unparalleled service network with 27 North American service centers, and 18 international locations to provide prompt, reliable instrument calibration, repair and related services.
Pick-up and delivery within the locality of our service centers
Broad scope of accreditation means more work is completed locally or in our network minimizing third-party costs 
Unique ability to offer a factory certified calibration using our proprietary OEM software for Tektronix, Keithley, and Fluke instruments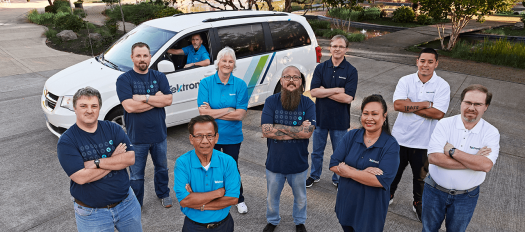 Periodic Onsite Service
What is the cost of downtime to you? Lost productivity, lost development time and added labor costs can negatively affect your bottom line. With onsite calibration services, we maximize uptime and reduce costs by bringing the service to you. Our highly trained Customer Service Engineers will work with your team to plan, manage and execute a comprehensive calibration program that minimizes impact on demanding design and production schedules. This is also a great solution for bulky or permanently mounted equipment that cannot be sent in for services.
We are also offering a "Virtual Onsite" service where we dedicate the resources and standards that would have been used for onsite service but perform the service in our service center. Some businesses need calibration to remain compliant but are restricting outside personnel access to their facility in order to protect their employees. Virtual onsites, combined with pickup and delivery service, allow for appropriate social distancing where required.
Permanent Onsite Service
Tektronix technicians can also be permanently located at your facility to provide ongoing calibration services. Tektronix provides all labor, calibration standards, support equipment, IT infrastructure, and management oversight.
Resources dedicated to supporting your critical engineering and production requirements
Ultra-quick turnaround times
Eliminate the risk of shipping delicate and costly instruments
Support schedule aligned to match your holiday and work schedule
Read about one of our permanent onsite locations at Sandia National Laboratories.

Authorized Service Providers
Tektronix has the widest variety of calibration capabilities in the business, but occasionally, we need to use one of our third-party approved providers to fulfill a customer request. This service offering helps customers to streamline internal processes for vendor management and procurement of calibration and repair services. Tektronix management of this service will include:
Vendor qualification
Expedited service with vendor
Physical inspection of equipment (outgoing and incoming)
Quality review of all vendor paperwork
Updating of information systems
Management of handling and logistics for any calibration and repair
Scheduling vendors to perform calibration service on-site when equipment can't go off-site for calibration
Storage of your service history and calibration certificates from outside service through CalWeb
 
Choose Tektronix for all your calibration needs
Calibration services for equipment from 9,000-plus manufacturers—far more than just Tektronix!
Extensive global service network—more than 100 points of service.
Superior quality—181 ISO/IEC 17025:2017 accreditation parameters.
1,100-plus associates—highly skilled technicians and sales representatives.