Download
Download
Download Manuals, Datasheets, Software and more:
Contact us
Contact us
Live Chat with Tek representatives. Available 6:00 AM - 4:30 PM PST.
DAQ6510 Data Acquisition and Logging, Multimeter System
Creating a new level of simplicity, the DAQ6510 has a touchscreen user interface that enables faster setup time, real time monitoring of test status, and detailed data analysis on the instrument. See all digital multimeters »
Measurement Functions
Up to 15
Plug-In Switch Modules
12
SENSITIVITY
100 nV
10 pA
1 µOhm
Digitizer
1 M sample/s
16 bits
Perform environmental testing and accelerated life testing with confidence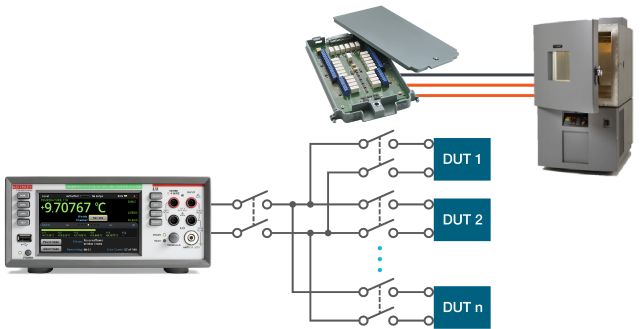 Set up a test on a statistically significant number of devices quickly using the touchscreen display. Monitor the status of the test while the test is in progress. See data in graphical or tabular form on the touchscreen display.
Highlights
Test up to 80 devices in one setup with a single DAQ6510 mainframe.
Expand up to a higher channel count if necessary using the TSP-Link® interface to connect and control multiple DAQ6510 mainframes.
Monitor temperature over the range of -200⁰ C to 1820⁰ C with any of 8 different thermocouple types, 5 different RTDs, or 3 different thermistors.
Set limits and define critical channels to monitor during testing to know immediately when a problem occurs.
Store test data on an external USB drive or on a PC to ensure important data is not lost.
Program the DAQ6510 to re-start following the loss of power to minimize lost test time during evenings and weekends.
Cost-effectively test lower value resistance components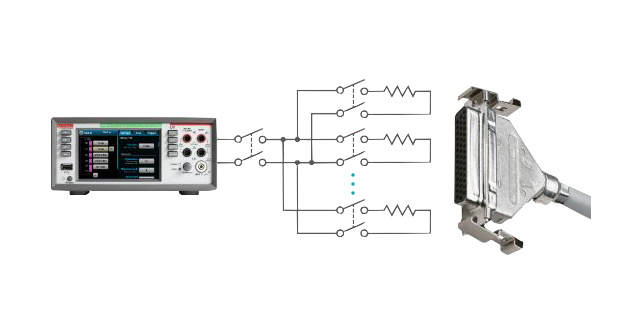 Test components such as cables, low value resistors, and connectors accurately and reliably with the DAQ6510.
Highlights
Measure with 1 µΩ sensitivity.
Use the 4-wire resistance function to eliminate test lead resistance error.
Use offset compensation to eliminate thermal contact error.
Increase test capacity and increase throughput in manufacturing


Use the DAQ6510 to increase the number of devices with a single test system and maximize test capacity. Take advantage of the faster measurement time and faster scanning rate that the DAQ6510 offers.
Highlights
Expand test system capacity up to 80 devices for one test system.
Take fast measurements with a 0.0005 power line cycle integration time.
Use the solid state relay card for high volume manufacturing and scan through DUTs at a rate as high as 800 channels/s.
Let the DAQ6510 execute and control a test to minimize communication time with a PC by using the DAQ6510's internal TSP program execution.
Supplied Accessories
1757 — Pair, general purpose test lead set, 1000 V Cat II
USB-B-1 — USB Cable, Type A to Type B, 1 m (3.3 ft) Traceable Calibration Certificate Three-Year Warranty
Optional Interfaces and Programmable Digital I/O
KTTI-RS232 — RS-232 Communication and Digital I/O Accessory, user-installable
KTTI-GPIB — GPIB Communication and Digital I/O Accessory, user-installable
KTTI-TSP — TSP-Link Communication and Digital I/O Accessory, user-installable
Available Accessories
Test Leads and Probes
1752 — Premium Safety Test Lead Kit
1754 — 2-Wire Universal 10-Piece Test Lead Kit
1756 — General Purpose Test Lead Kit
5804 — Kelvin (4-Wire) Universal 10-Piece Test Lead Kit
8610 — Low Thermal Shorting Plug
PC Communication Interface and Cables
KPCI-488LPA — IEEE-488 Interface for PCI Bus
KUSB-488B — IEEE-488 USB-to-GPIB Interface Adapter
USB-B-1 — USB Cable, Type A to Type B, 1 m (3.3 ft.)
174694600 — CAT5 Crossover Cable for TSP-Link/Ethernet
7007 — Shielded GPIB Cable
Adapter
DB9-MM — 9-pin, D-sub, male-to-male connector for interface options
Triggering and Control
8503 — DIN to BNC Trigger Cable
Rack Mount Kits
4299-8 — Single Fixed Rack Mount Kit
4299-9 — Dual Fixed Rack Mount Kit
4299-10 — Dual Fixed Rack Mount Kit. Mount One DAQ6510 and One Series 26xxB Instrument
4299-11 — Dual Fixed Rack Mount Kit. Mount One DAQ6510 and One Instrument from Series 2400, Series 2000, etc.
Replacement Fuses
FU-99-1 — Current Input Fuse, 3 A, 250 V Fast Acting 5×20 mm
FU-106-1.25 — Main Input Fuse, 1.25 A, 250 V, Slo-Blo
Available Services
Extended Warranties
DAQ6510-EW — 3 year factory warranty extended to 4 years from date of shipment
DAQ6510-5Y-EW — 3 year factory warranty extended to 5 years from date of shipment
To see warranties for plug-in modules, view their datasheets
Calibration Contracts
C/DAQ6510-3Y-DATA KeithleyCare — 3 Year Calibration w/Data
C/DAQ6510-5Y-DATA KeithleyCare — 5 Year Calibration w/Data Plan
C/DAQ6510-3Y-STD KeithleyCare — 3 Year Standard Calibration Plan
C/DAQ6510-5Y-STD KeithleyCare — 5 Year Standard Calibration Plan