Download Manuals, Datasheets, Software and more:
DVB Object Carousel and MHP Generator
AD95x-II and AD960 MPEG Test System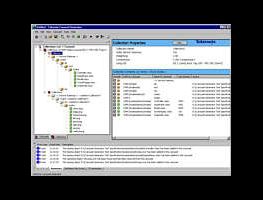 AD95x-II and AD960 MPEG Test System
Features & Benefits
Cost Effective solution for Full Set Top Box and Interactive Application Performance Verification
Reduces Test Time and Improves Interoperability for Interactive Hardware and Software Development
Generates Video, Audio, and relevant SI to enable direct use on a Set Top Box
Multiplex may be played out directly via Tektronix AD-Series MPEG Test Systems or stored as a file
Easy-to-Use Carousel Generator Wizard Gets You Up and Running Quickly
Variable Asset weighting enables faster carousel load times
Custom Templates allow automatic SI configuration
Interoperable with Tektronix Multiplexer and Carousel Analyzer software to reduce development cycle time
Comprehensive Error Logging
DSM-CC, DVB, MHP and DTT Object Carousel Generation
Configurable Program Map Table (PMT), Program Association Table (PAT), DSI and DII Cycle Times
Supports Carousels on Multiple Packet Identifiers (PIDs)
Supports Multiple DII Carousels and MHP Application Information Table (AIT) Table generation
Applications
Interactive Content Development
Middleware and API Development
Set Top Box Development and Manufacturing
Terrestrial, Cable and Satellite Broadcasters and Network Operators
DVB Object Carousel Generator
The Tektronix Object Carousel Generator provides developers and broadcasters with a powerful, easy to use DVB Digital Storage Media Command and Control (DSM-CC) generator tool for Multimedia Home Platform (MHP) and interactive TV test applications.
The tool provides in-depth real-time and off-line generation of MPEG-2, DVB Transport Streams containing Data Broadcast Protocols including DSM-CC, DVB, MHP and Digital Terrestrial Television (DTT) object Carousels. Carousel Generator lets you fully verify products, system design and performance.
Data Broadcasting Overview
DVB Transport Streams were initially developed as means of delivering compressed audio and video services to an end user from a central service provider via a variety of different third-party delivery networks. Broadcasters realized that the same streams and networks could also be used to provide data services, with a number of different ways being defined in the MPEG-2 specification (ISO13818-6) to carry data, the method depending on the type of application.
Typical examples for data broadcast applications include:
Set Top Box (STB) firmware updates to the STB operating system
STB Application software downloads, such as games
Picture or text data; for example, extended advertising information
Extended service information and program guides
Proprietary data, such as price lists
Similar to the way in which video and audio services are delivered to end users, data broadcasting allows data to be transmitted to consumers set top boxes using Object and Data Carousels, which contain periodic transmissions of information in a transport stream.
The Tektronix Carousel Generator supports Multimedia Home Platform (MHP) with the inclusion of the Application Information Table (AIT) and Object Carousels (as specified in the MHP standard) viewing.
Shown below is how information carried by object carousels is sub-divided and carried by the transport stream:
BIOP messages comprise a message header, a message sub-header and the message body which contains data. The message body may contain complete data objects
BIOP messages are broadcast in Modules. A Module is formed from one or more concatenated, complete BIOP messages
Each Module is fragmented into one or more DDBs that are in turn transmitted in corresponding DSM-CC Sections
Sections are transmitted in packets in the transport stream
Carousel Types
The carousel types supported by the carousel generator are as follows:
Object Carousels: DSM-CC, DVB, DTT, MHP
| Object Carousels | Reference Specification |
| --- | --- |
| DSM-CC | Digital Storage Media - Command and Control |
| DVB | Digital Video Broadcast |
| DTT | Digital Terrestrial Television |
| MHP | Multimedia Home Platform |
Ordering Information
Ordering Information
For orders placed for a new AD95X-II or AD960 and for upgrades to an existing system.
Includes: CD, dongle or dongle upgrade and manual.
Opt. CG - DSM-CC, DVB, MHP and DTT Object carousel generator.
For ordersplaced to upgrade a AD95X-II or AD960, or to install on a customer's own PC (Windows NT 4.0 and Windows 2000).
Includes: CD, dongle or dongle upgrade and manual.
AD-CG - DSM-CC, DVB, MHP and DTT Object carousel generator.