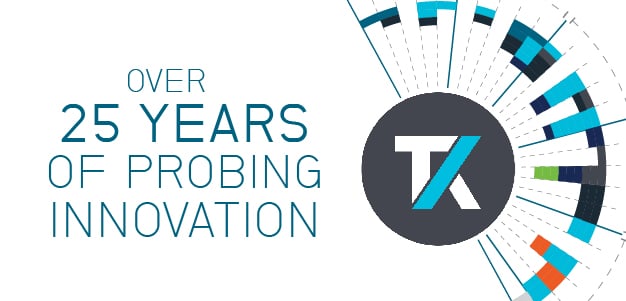 Tektronix has been a leader in developing cutting-edge oscilloscope probe technology for nearly 30 years. The infographic below highlights some of the key innovations and probe features we've developed in the last few decades. From low noise, low loading, and high bandwidth power rail probes to low input capacitance, high voltage single ended probes, our portfolio is designed to help engineers test and measure their designs more accurately and more efficiently.


Oscilloscope probe patents through the decades
From 1994 to 2004, we were awarded a number of patents for improving low voltage single ended, low voltage differential, and current probes. As bandwidths increased, we shifted our focus, and between 2004 and 2014, we focused our research on innovating high voltage differential and passive probes. And since 2014, we've continued to develop groundbreaking technology on isolated and power rail probes.
As of 2021, Tektronix holds 82 patents on probes in eight distinct categories, including low voltage single ended probes, low voltage differential probes, high voltage single ended probes, high voltage differential probes, current probes, passive probes, isolated probes, and power rail probes.
Oscilloscope probe resources
Because Tektronix oscilloscopes are designed for a wide variety of applications, we offer a broad portfolio of probes to ensure engineers can optimize the instruments for their benches. To find the probe best suited for your work, check out our probe selector guide.
Learn more about oscilloscope probes and how they work or delve into some of Tektronix's key probe technology patents and innovations like IsoVu™ Probes, TriMode™ Probes, and low capacitance, high bandwidth passive probes. Or shop our probes and accessories online to prep your bench for any test and measurement application.