Contact us
Contact us
Live Chat with Tek representatives. Available 6:00 AM - 4:30 PM PST.
Download
Download
Download Manuals, Datasheets, Software and more:
Making Stable Low Current Measurements with High Test Connection Capacitance Using the 4201-SMU and 4211-SMU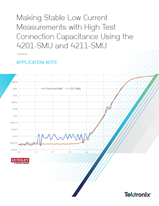 This application note explains the maximum capacitance specifications of an SMU, and describes several applications on which the 4201-SMU and 4211-SMU enables you to make stable low current measurements. The example applications describe include the following: OLED pixel device testing on a flat panel display, transfer characteristics of a MOSFET using long cables, FET testing through a switch matrix, nano-FET I-V measurements on a chuck, and capacitor leakage measurements. Details on calculating test system capacitance is also provided in this application note.