Contact us
Contact us
Live Chat with Tek representatives. Available 6:00 AM - 4:30 PM PST.
Download
Download
Download Manuals, Datasheets, Software and more:
PSPL8003 Datasheet
PSPL8003 15 GHz Low Noise Amplifier LABware Module
The products on this datasheet are no longer being sold by Tektronix. Contact Technical Support for alternative products View Tektronix Encore for used test equipment Check support and warranty status for these products Find more support information for these products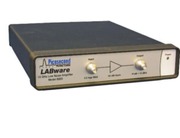 Read Online:
The Model PSPL8003 15 GHz Low Noise Amplifier LABware Module is designed for bench-top lab use. This LABware module can simply be plugged in with a line cord (either 110 V or 220 V) and the amplifier is ready for use. The PSPL8003 is a broadband linear amplifier intended for use amplifying signals with a minimum amount of distortion. The PSPL8003 provides exceptional gain flatness and low deviation from linear phase while providing a bandwidth of 10 kHz to 15 GHz. This amplifier is ideal for use as a linear gain block.
Key performance specifications
LABware bench-top instrument
15 GHz bandwidth with excellent gain flatness (±0.3 dB)
Lower 3 dB frequency of 10 kHz
Low deviation from linear phase (±3 degrees)
1 dB compression point of 13 dBm
Integrated power supplies
Typical performance
The following plot shows the response of the PSPL8003 to a 100 mv 20 ps rise time step. The PSPL8003 is an inverting amplifier; the output has negative polarity. From the top to the bottom, the time scales are 50 ps/div, 500 ps/div, and 2 ns/div.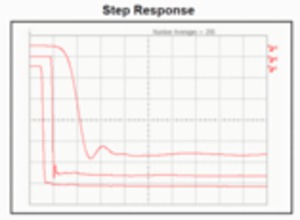 Specifications
Specifications
Parameter
Symbol
Units
Minimum
Typical
Maximum
Comments
Impedance
Z
ohms
 
50 
 
 
Upper 3 dB freq.
fc,h
GHz
14 
15 
 
 
Lower 3 dB freq.
fc,l
kHz
 
10 
20 
 
Small signal gain
S21
dB
13 
15 
16 
Average at 1 GHz and 2 GHz
Max Power Out
(-1 dB gain comp)
P1 dB
dBm
10 
13 
 
 
Gain Flatness
 
dB
 
±0.3 
±0.5 
50 MHz
Group Delay Flatness
 
ps
 
±3 
±5 
50 MHz
Input Return Loss
S11
dB
 
 
-10 
50 MHz
Output Return Loss
S22
dB
 
 
-10 
-9.5 
50 MHz 14 GHz ≤ f
Noise Figure
NF
dB
 
5.0 
7.0 
f > 50 MHz
Polarity
Inverting
Coupling
AC, input and output
RF Connectors
SMA jacks (f)
Ordering information
Models
PSPL8003

LINEAR AMPLIFIER, 15 GHz, LABware