Contact us
Contact us
Live Chat with Tek representatives. Available 6:00 AM - 4:30 PM PST.
Download
Download
Download Manuals, Datasheets, Software and more:
PSPL5589 Datasheet
PSPL5589 2.8 GHz High Current Bias Tee Datasheet
The products on this datasheet are no longer being sold by Tektronix. Contact Technical Support for alternative products View Tektronix Encore for used test equipment Check support and warranty status for these products Find more support information for these products

More Information
Read Online:
The PSPL5589 High Current Bias Tee is intended for frequency domain, high current applications. Unlike most high current bias tees that typically are specified for only an octave band, this bias tee can typically cover a decade. The DC input is a solder terminal feed-thru capacitor.
Key performance specifications
0.3 GHz to 2.8 GHz
100 V, 7 A
Typical performance

Insertion Loss, S21. 0.5 dB/div, top line is the 0 dB reference.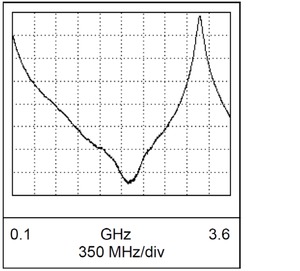 Return Loss, S11. 5 dB/div, top line is the 0 dB reference.
Specifications
Parameter
Symbol
Units
Minimum
Typical
Maximum
Comments
Impedance
Z
ohms
 
50 
 
 
Frequency range
f
GHz
 
0.3 to 2.8  0.45 to 2.6 
 
IL 10 dB IL 15 dB
Insertion loss
S21
dB
 
0.05 
 
At 1.5 GHz
Input (AC), Return loss
S11
dB
 
>25 
 
Mid band, AC port
DC voltage
V
V
 
 
100 
 
DC current
I
A
 
 
7 
 
Capacitance (bypass)
C
nF
 
22 
 
 
Capacitance
C
nF
 
1 
 
 
Inductance
L
nH
 
51 
 
 
Resistance
R
ohms
 
0.015 
 
 
RF power
P
W
 
 
100 
Average power
Isolation
S13
dB
 
>50 
 
 
DC path bandwidth
fc,DC
kHz
 
275 
 
 
Temperature
T
°C
-55 
 
+125 
Storage and operating
RF connectors
SMA jacks (f)
DC connector
Solder pin
Warranty
One year
Ordering information
Models
PSPL5589

BIAS TEE, 0.3-2.86 GHz, 100 V, 7 A