DAQ6510 6½-Digit Data Acquisition and Logging Multimeter System
DAQ6510 6½-Digit Data Acquisition and Logging Multimeter System
Creating a new level of simplicity, the DAQ6510 has a touchscreen user interface that enables faster setup time, real time monitoring of test status, and detailed data analysis on the instrument.
Measurement Functions
Up to 15
Plug-In Switch Modules
12
SENSITIVITY
100 nV
10 pA
1 µOhm
Digitizer
1 M sample/s
16 bits
Models
Model
Channels
Plug-In Switch Modules
Digitizer
List Price
DAQ6510

Up to 80

12 options

1 Msample/s

US $1,750
Configure & Quote
DAQ6510/7700

20

1

1 Msample/s

US $2,230
Configure & Quote
Channels
Plug-In Switch Modules
Digitizer
Up to 80
12 options
1 Msample/s
Channels
Plug-In Switch Modules
Digitizer
Perform environmental testing and accelerated life testing with confidence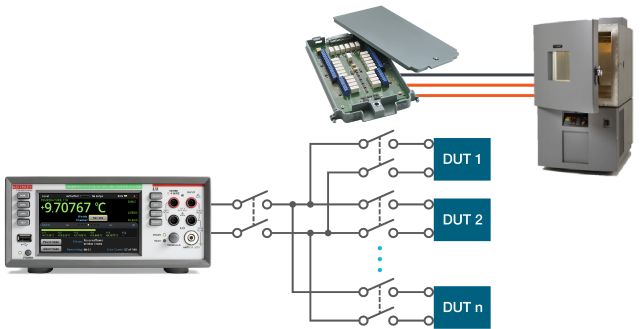 Set up a test on a statistically significant number of devices quickly using the touchscreen display. Monitor the status of the test while the test is in progress. See data in graphical or tabular form on the touchscreen display.
Highlights
Test up to 80 devices in one setup with a single DAQ6510 mainframe.
Expand up to a higher channel count if necessary using the TSP-Link® interface to connect and control multiple DAQ6510 mainframes.
Monitor temperature over the range of -200⁰ C to 1820⁰ C with any of 8 different thermocouple types, 5 different RTDs, or 3 different thermistors.
Set limits and define critical channels to monitor during testing to know immediately when a problem occurs.
Store test data on an external USB drive or on a PC to ensure important data is not lost.
Program the DAQ6510 to re-start following the loss of power to minimize lost test time during evenings and weekends.
Cost-effectively test lower value resistance components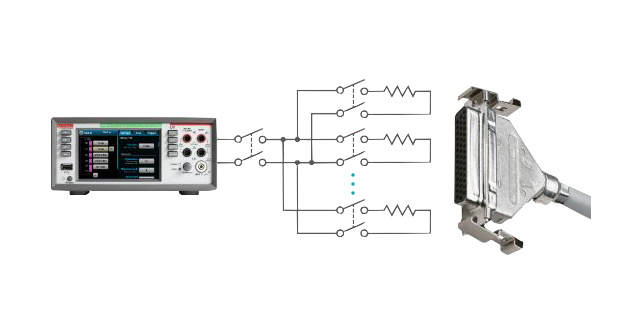 Test components such as cables, low value resistors, and connectors accurately and reliably with the DAQ6510.
Highlights
Measure with 1 µΩ sensitivity.
Use the 4-wire resistance function to eliminate test lead resistance error.
Use offset compensation to eliminate thermal contact error.
Increase test capacity and increase throughput in manufacturing

Use the DAQ6510 to increase the number of devices with a single test system and maximize test capacity. Take advantage of the faster measurement time and faster scanning rate that the DAQ6510 offers.
Highlights
Expand test system capacity up to 80 devices for one test system.
Take fast measurements with a 0.0005 power line cycle integration time.
Use the solid state relay card for high volume manufacturing and scan through DUTs at a rate as high as 800 channels/s.
Let the DAQ6510 execute and control a test to minimize communication time with a PC by using the DAQ6510's internal TSP program execution.
Model DAQ6510 Data Acquisition and Multimeter System Calibration Manual This manual provides information on completing verification…This manual provides information on completing verification and adjustment procedures for your DAQ6510.
Part number: DAQ6510-905-01A
User
13 Jul 2018
How to Increase Productivity by Networking Instruments
This technical note gives high-level setup steps for connecting to Keithley instruments with web enabled services (automatic and manual networking configuration.)  Web tools such as the informative home and administration screens, send and receive command…
Literature number: 1KW-61433-0
Technical Brief
05 Jul 2018
DAQ6510 Data Acquisition and Logging Multimeter System Datasheet

Literature number: 1KW-61317-0
Datasheet
19 Jun 2018
Ensuring the Accuracy and Cost-Effectiveness of Temperature Measurement Systems
This applications brief examines how to evaluate the advantages and disadvantages of various sensor types and the instrumentation options available so that sensor outputs result in accurate and reliable measurements.
Literature number: 1KW-61407-0
Application Note
08 Jun 2018
KickStart Instrument Control Software Version 2.0.0 (Beta) (Windows 10, 8, 7 compatible)
**Version 2.0.0 (Beta)** Key FeaturesKickStart Software for the PC enables quick test setup and data visualizationwhen using multiple instruments.• Save time by automating data collection of millions of readings.• Set up a multi-instrument test with the…
Part number: KICKSTART-2.0.0
Application
07 Jun 2018
Digital Multimeters Comparison Table
Table comparing DC volts, AC volts, ohms, DC amps, AC amps, and other measurement capabilities of Keithley and Tektronix DMMs.
Literature number: 1KZ-61264-1
Product Selector Guide
06 Jun 2018
Model DAQ6510 User's Manual The Model DAQ6510 Data Acquisition and Multimeter System User's Manual contains detailed…The Model DAQ6510 Data Acquisition and Multimeter System User's Manual contains detailed applications to help you achieve success with your instrument. In addition, this manual provides information about the basics of the front panel to familiarize you…
Part number: DAQ6510-900-01A
Primary User
05 Jun 2018
How do I perform a digitized current measurement on a Keithley DMM6500?
For this example: making a 1kS/s digitized current measurement with 2000 Samples. Buffer Settings: Press MENU Under the Measure Tab, press Reading Buffers Change capacity to 200000 I set Fill Mode to Once (but continuous also worked) Be sure to clear…
FAQ ID: 471651
16 May 2018
Guidelines and Tips for Multi-Channel Data Logging - Switch Card Selection Guide
Choosing a 7700 Series Switching Module for the DAQ6510 Data Acquisition MultimeterThere are 12 different 7700 Series Plug-In Switch Modules that enable the DAQ6510 6½-Digit Data Acquisition and Logging Multimeter System to perform a wide range of tests. This configuration guide will help you to select the appropriate switch module for…
Literature number: 1KW-61385-0
Selection Guide
14 May 2018
Model DAQ6510 Data Acquisition and Multimeter System Quick Start Guide
Model DAQ6510 Data Acquisition and Multimeter System Quick Start Guide
Part number: DAQ6510-903-01A
Primary User
09 May 2018