Live Chat with Tek representatives. Available 6:00 AM - 4:30 PM
Download Manuals, Datasheets, Software and more:
Healthcare Calibration in the Time of COVID-19
How Tektronix adapted to support hospitals and healthcare customers
The COVID-19 pandemic has brought challenges to all businesses and industries, but none more than hospitals and healthcare facilities. Maintenance and calibration of hospital equipment is vital to maintaining regulatory compliance and ensuring the health and safety of patients. As a provider of calibration and repair services to over 500 hospitals across the US and several large healthcare equipment manufacturers, Tektronix leapt into action to make sure these services wouldn't be interrupted during the ever-changing pandemic.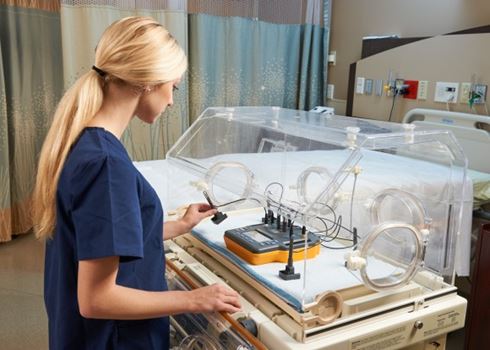 We are in constant communication with our customers to schedule logistics, plan services, and develop the processes to maintain compliance. So when the coronavirus pandemic started to heat up and Tektronix received a call from one of the country's largest healthcare equipment manufacturers with over 30,000 assets to maintain, our technicians were already working to mitigate concerns of the health and safety of employees and avoid interruptions to upcoming onsite service. To adapt to new restrictions and requirements brought on by COVID-19, a team of Tek leadership, operations, and sales met twice a week with customer representatives to review the upcoming service needs, asset lists, and the challenges for each specific location.
 
To help keep the service schedule moving along, Tektronix created a new "virtual onsite" service delivery option that  would dedicate a technician's time to hospital service needs, either by picking up the equipment to bring back to the local service center, or by shipping the assets instead of servicing equipment at the hospital. Like a normal onsite calibration, the service is scheduled and completed without having to wait in a queue. We even supplied shipping boxes to the hospitals to make this as convenient as possible. One hospital located in Athens, TN commented to our local technician, "I appreciate ALL your work and Tektronix's commitment. I did not realize what your value is to be on site for calibrations. Boxing and shipping is a chore itself along with keeping up with what is sent and returned. I appreciate your assistance."
 
As the pandemic worsened in parts of the country like New York City and travel to these "hot spot" areas was restricted, our customer initially decided it was best to extend the calibration due dates out 90 days and plan for a time when the hospital would be better equipped to receive these services. Tektronix worked with regional authorities to gain an essential services authorization for our field service technicians to travel more freely to complete biomedical onsite calibrations.  
This challenging time definitely brought out the best of our "ONETEAM" mentality. Team members from operations, sales, customer care, service centers, legal and HR all came together with our customers to provide solutions to keep Tek on top of the hospital's needs, with the safety and health of our employees and customers top of mind.
Get Started Today
Get a free quote for calibration or call 1-877-477-8204
to speak directly with a customer service representative
I need calibration for...
Learn about the differences between a traditional CMMS and web-based calibration program management, and find out how you can take your calibration program to the next level with CalWeb.
How a medical device manufacturer optimized its calibration program with CalWeb.
After receiving repeated Form 483 findings from the US Food and Drug Administration (FDA), learn how a cosmetic manufacturer used CalWeb to revamp it's calibration program.