What a difference a year makes. Last year at the European Conference on Optical Communications (ECOC) in Cannes, France, Tektronix demonstrated a working prototype of a real-time 70 GHz oscilloscope based on "patented Asynchronous Time Interleaving technology." This year the DPO70000SX is much more than a gleam in an engineer's eye – it's shipping to engineers, researchers and scientists around the world, many of whom are using it push the limits of optical communications technology.
The news at ECOC 2015 this week in Valencia, Spain is about putting the latest in oscilloscope technology to work. As speeds go up and amplitudes go down, system noise has become a major challenge because it obscures important signal details. The ATI technology used in DPO70000SX oscilloscopes allows engineers to capture and measure high-frequency signals more accurately than possible with conventional frequency interleaving approaches.
The DPO70000SX oscilloscopes were formally launched in March of this year with 70 and 33 GHz models. Now, as unveiled at ECOC, Tektronix is expanding the line up with a 50 GHz instrument for customers who want to take advantage of the superior low-noise performance of the patented asynchronous time interleaving (ATI) architecture for technologies such as 28 GBaud PAM4 and Kband frequency testing. The can also take advantage of other key innovations including compact packaging and UltraSync synchronization technology. Also being introduced is a 23 GHz instrument that includes the same innovations but without the ATI channel.

DPO70000SX ultra-high performance oscilloscopes are now available with 70 GHz or 50 GHz bandwidths on the low-noise ATI channel and with 33 GHz or 23 GHz acquisitions without the ATI channel. All models include the compact 3U packaging and UltraSync.
With recent publication of the 400G IEEE 802.3bs specification that calls for 8 lanes at 50G each, the next big push for optical developers will be bringing 400 gigabit Ethernet technologies to market. For testing these higher-speed signals, it's critical that the acquisition system, whether it's a real-time or an equivalent-time oscilloscope, has the lowest noise possible. And this is area where high-performance Tektronix oscilloscopes are the clear industry leaders.
In Spain, Tektronix is introducing a comprehensive set of analysis tools for PAM4, the modulation scheme used in 802.3bs and quickly gaining popularity for a range of other optical and high-speed serial applications. The same PAM4 analysis tools are available for both DPO70000SX and DSA8300 oscilloscopes and offer the lowest noise and highest sensitivity acquisitions of any PAM4 solution available. Low noise is important for PAM4 testing to accurately encode the multiple bit states this scheme uses, among other benefits.

Tektronix now offers a comprehensive set of PAM4 analysis tools for both the DPO70000SX and DSA8300 sampling oscilloscopes.
Building on the theme of adding functionality, SignalVu software has now been implemented on the DPO70000SX platform. This is the same signal analysis engine used in Tektronix RSA5000 and RSA6000 Series real-time spectrum analyzers. When used with the DPO70000SX, it allows researchers and designers to evaluate wide and ultra-wide bandwidth signals including 5G, cellular backhaul and radar. This solution delivers the functionality of a vector signal analyzer, a spectrum analyzer, and the powerful trigger capabilities of a digital oscilloscope -- all in a single package.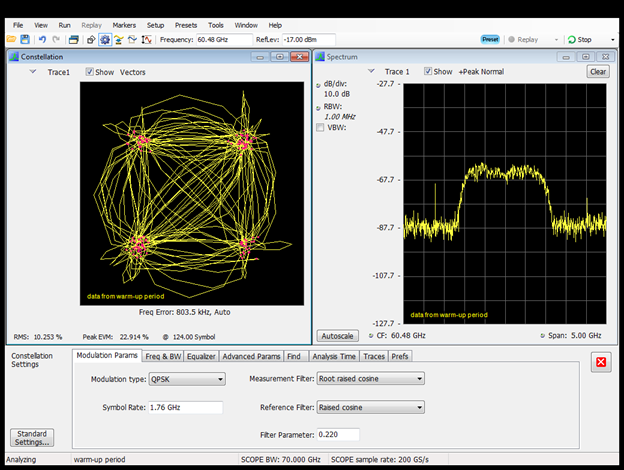 SignalVu signal analysis software on the DPO70000SX oscilloscope is the ideal solution for evaluating wide and ultra-wide bandwidth signals, including 5G, cellular backhaul and radar.
Anyone with a sharp eye for new technology walking through the Tektronix booth at ECOC will likely take note of the industry's first fully automated solution for short-reach optical test including support for Transmitter Dispersion Eye Closure (TDEC) measurements. TDEC is one of the more challenging conformance test requirements included in the recently release IEEE 802.3bm specification for 100 G Ethernet.
The publication of this specification by the IEEE is spurring development of lower cost 40G and 100G optical products, and has created a need for easier, faster and more repeatable conformance test solutions. With the addition of TDEC support as announced last week, Tektronix meets this need with a turnkey and fully automated optical conformance solution for the 100GBASE-SR4 PHY used in 802.3bm. The solution is based on a DSA8300 equivalent time oscilloscope equipped with an 80C15 optical module.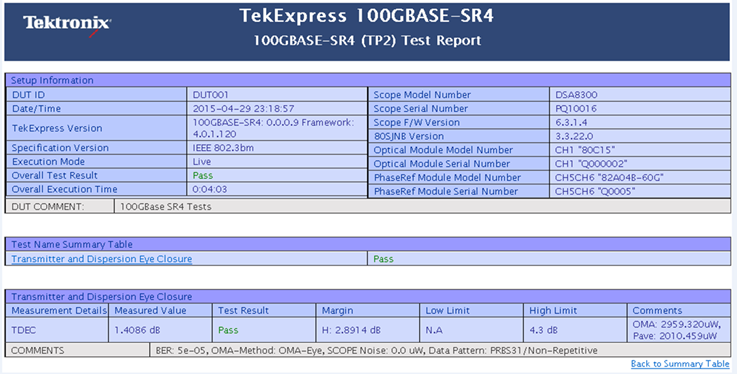 Tektronix now offers the industry's first fully-automated 100GBASE-SR4 conformance test solution including support for challenging TDEC measurements.
Here are the links to the Tektronix announcements before and during ECOC 2015: