マニュアル、データシート、ソフトウェアなどのダウンロード:
Features & Benefits
Stream playout and recording provides repeatable test source and capture capability for the development environment
Wide Range of Industry Standard Interfaces for Plug and Play Connectivity
Modular Design Allows You to Purchase Only the Performance You Require Today
Easy to Upgrade for Changing Needs
Portable platform with Hi Resolution integrated display
Applications
Stream Playout and Recording
Continuous playout of looped streams with automatic updating of time stamps
Transport stream recording with packet arrival time information stored for offline timing analysis
Simultaneous play & record (option)
Stream Creation and Manipulation
Multiplexer/Demultiplexer to create multi-program transport streams with custom SI for both DVB and ATSC.
Stream cutter, Packet editor and PSI/SI/PSIP editor
Interfaces
Wide range of interfaces including DVB-SPI (standard) and options for ASI, DHEI, M2S, SMPTE310M
Uses
Development
In the development environment the AD951A is a convenient signal source. Its ability to play out the same test stream repeatedly provides the stimulus source for developers of integrated receiver decoders (IRD) and modulators.
The AD951A also captures long streams to hard disk for deferred time analysis*1.
*1 See details of Deferred Time Transport Stream Analysis options in the AD953A data sheet.
Production
In the production environment the AD951A provides a source of repeatable test patterns for the test and alignment of IRDs and modulators. The reliability, embedded diagnostics and modularity of the system provides for the minimum downtime during the unit's working life.
Recording and Playout
The AD951A allows record and play at video data rates of up to 87.5 Mb/s through the appropriate interfaces. Recording and playout can be set to handle either 188, 204 or 208 byte packets depending on the interface. Files may be played out once only or continuously looped. Playout begin and end points may be set within a file, not just at the file beginning and end. Automatic determination of clock rate from PCR values in a stored file or the playout rate can be manually selected.

Continuous Time Stamping
Stream Player contains a "Continuous Time-Stamping" option. This provides real-time modification to the timing information contained in the source stream during looped playback. This process removes timing discontinuities which would otherwise occur at the loop point.
The following values are modified:
Continuity count
PCR, PTS, DTS
Time Offset Table (TOT), Time and Date Table (TDT), and System Time Table (STT ATSC)
This feature is configurable from the stream player user interface and will operate in real time at the maximum playout rate.
Recording Streams with Time-Stamping Information
The AD951A recording application includes support for recording transport streams with time-stamping information. Incoming packets received at the interface are time stamped for use in offline timing analysis.
Simultaneous Play and Record (duplex option)
This upgrade package includes enhanced hardware with two high-speed SCSI disk drives. This allows simultaneous play and record and gives the AD951A the ability to provide both stimulus and analysis ("loopthrough") in a digital transmission chain. Other uses include file play while recording on another file, to multitask the instrument in a lab development environment.
Editing and Cutting Transport Streams
There are 3 direct stream manipulation packages included, Stream Maker, TS Cutter and TS Editor. These allow stream packet editing using the hexadecimal view and with the header interpreter guide, the user can remap PIDs, recalculate PCR values and deliberately introduce calibrated PCR inaccuracies, following several laws (Gaussian, Random, sine wave, etc.)
See the multiplexer, which follows, for even more sophisticated stream manipulation.
Make Seamless
When looping a transport stream to simulate continuous playout, errors can be generated at the loop point caused by discontinuities in timing information. The Make Seamless module provides the opportunity of creating seamless MPEG-2 files.
Multiplexer and DVB/ATSC Table Editor
Why Multiplex?
When testing transmission chain equipment or set-top boxes, quite often a transport stream of the representative type needed is just simply not available. Even if there is a similar one, vital components within it may be missing or suffer from a lack of SI (system information) or other tables, or are simply multiplexed to the incorrect transport stream rate for the application.
The software can re-multiplex:
MPEG-2 Video elementary streams
MPEG-2 Audio elementary streams
AC-3 Audio elementary streams
MPEG-2 Video PES (packetized elementary streams)
MPEG-2 Audio PES
AC-3 Audio PES
PIDs from other transport streams
Other data - the bit rate must be specified
The Solution
The multiplexer allows the user to collect together components from streams recorded off hard disk or CD/DVD-ROM, manipulate them in an unlimited manner, and then rebuild a fully compliant output stream for whatever use is desired. Along the way, the system's in-built syntax knowledge of tables and descriptors ensure compliance and high quality output of the final multiplex transport stream.
Decompose Existing Streams
The multiplexer accepts any recorded transport stream as an input source. The user can then decompose this transport stream into its component PES. The user can then save the resulting PES and ES streams onto disk.
Regroup Them with Stored Streams
These PES, or elementary video and audio streams, can be grouped together into logical groups - 'Programs' of video, audio, and other associated data (private data, such as teletext). The original timing relationships are preserved. These streams and/or other prerecorded PES or ES streams can then be reassembled together to build up a totally new transport stream as the user desires. Regrouping of elementary streams or programs can be achieved within an existing transport stream, by allowing the individual stream identifiers (PIDs) to be remapped as required.
Component Views And Available Bandwidth View
The Component Bit Durations View graphically displays the durations and start and stop times of each PID that does not contain PSI/SI/PSIP information.
Duration and start and stop times can be changed using edit boxes or 'click and drag.' Programs can be grouped or stored by stream type, PID, start time, stop time, duration, or bit rate. An Available Bandwidth view clearly shows the user how much content can be added into a transport stream within the overall transport stream bit rate.
The Component Duration View can be synchronized with the Available Bandwidth view so user changes to either view automatically update the other.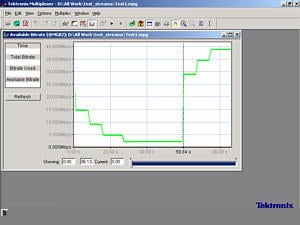 Map, Check and Rebuild Your Own Multiplex
These streams can then be rebuilt into a larger multiplex stream and new system information tables can be customized and added. Powerful syntax auto-check warns the user of mis-mapped, reserved, or duplicate PIDs, including the Program Paradigm, by checking and automatically updating PAT, PMT, and derivable fields (in its 'standard' mode) accordingly, to create a final legal and DVB, ATSC, or ISDB-compliant output stream. The multiplexer allows the user to be able to construct a transport stream for any rate equal to or greater than the sum of the individual components to be multiplexed. Another facility offered is the ability for the multiplexer to insert correct PCR values on the PIDs defined by the user. This allows for PCRs to be on a separate PID or embedded on an existing PID.
Generate Compliant Timing and Output Bit Rates as Required
The multiplexer is able to insert the PCRs at the correct repetition rate and also allows the user to specify the PCR repetition rate, if desired.
Create, Add, or Modify SI Flexibility
The multiplexer allows all the standard MPEG/DVB/ATSC/ISDB system information tables (SI) and descriptors to be edited and a stream interpretation dialog box enables the user to automatically load appropriate scripts for predefined stream types. The user is permitted to generate illegal conditions that allow stress of decoder or transmission chain equipment to verify its robustness. It is also possible to generate private tables and descriptors.
Test Feature - Deliberately Create Illegal Streams
The software can be set to generate an optional warning when certain illegal conditions have been generated. This is clearly visible on the user interface. In a similar manner, the multiplexer allows all legal descriptors to be added to each table. The repetition rate for each table can be changed, overriding the default value. A conditional warning is generated if an illegal repetition rate is defined.
"Expert" and "Standard" Modes
Standard mode will calculate related fields and table pointers (e.g., checksums) for the user without his having to worry, but an expert mode is also provided to allow the user to set these to illegal conditions for test conditions as described above.
Wizards for Common Tasks
Creating a new transport stream
Supporting MPEG, DVB, and ATSC standards
Adding programs
Adding events
Additional Applications
Many additional software applications are available as options. These include Deferred and Real time Transport Stream Analysis, Elementary Stream analysis and Carousel Generation and Analysis. These are detailed in the AD953A data sheet, and are included in the Ordering Information below.
Characteristics
Product Specifications
Record
Maximum record time at the rate of 60 Mb/s - over 1 hour
Maximum data rate: 87.5 Mb/s.
(trig rec/monitor: 60 Mb/s.)
Minimum data rate: 250 kb/s.
Playout
Maximum data rate: 87.5 Mb/s.
Minimum data rate:
Using internal clock: 250 kb/s.
Using external clock: 250 kb/s.
Bit rate resolution: 1 b/s.
Frequency resolution: 0.03 Hz.
Clock Accuracy: ±1 ppm.
Aging & drift: <1 ppm per year.
Packet Handling –
Record
Input Format

Storage Format

   

188 byte

204 byte

188 byte

Y

   

204 byte

Y

Y

208 byte (GPSI)

Y

   
Playout
Storage Format

Output Format

   

188 byte

204 byte

208 byte (GPSI)

188 byte

Y

Y (Dummy RS)

Y (Zero RS)

204byte

Y

Y

   
External Clock
Signal Input - AC coupled.
Min. Signal Level - 200 mV.
Input Impedance - 50 Ω.
Connector Format - BNC.
Hardware Configuration
36 GB SCSI disk for stream storage.
DVD Read, CD-Read/Write drive.
Ultra-wide SCSI port for external storage.
100Base-T Ethernet.
Display
Integrated LCD, 1024x768
Power Requirements
Voltage Range - 100 to 240 VRMS ±10%.
Frequency Range - 50/60 Hz.
Power Consumption (Typical) - 105W.
Safety - CSA C22.2 No. 1010.1-92, UL61010B-1, Low Voltage Directive 73/23/EEC, amended by 93/68/EEC.
Environmental Specifications
Operating Temperature +5 °C min. to +40 °C max
Transport Stream Interfaces
Parallel Input and Output Port -
Connector format input: 25 Way D Type.
Connector format output: 25 Way D Type.
Electrical Specification - LVDS (differential).
Input Impedance - 100 Ω.
Output Impedance - 100 Ω.
Transport Stream Interface Options 
Interface Card Options

Modes

Bit Rate

Connector

GPSI Interface - Opt. GPPC

SMPTE310M

19.392 Mb/s and 38.785 Mb/s (support for 8 VSB & 16 VSB)

BNC

DHEI

To 48 Mb/s

26 Way High Density D  

ECL (AC)

To 50 Mb/s

26 Way High Density D 

ECL (DC)

To 50 Mb/s

26 Way High Density D

RS422 differential

To 20 Mb/s

26 Way High Density D

SSI (DVB serial)

To 44 Mb/s

BNC

ASI and M2S (DIVICOM) Opt. ASPT

Data, packet burst

Data rate to 87.5 Mb/s

Transmission  rate 270 Mb/s

BNC
Physical Characteristics
| Dimensions | mm | in. |
| --- | --- | --- |
| Weight (system unit) | kg | lbs. |
| Height (without feet) | 226 | 8.9 |
| Width | 432 | 17 |
| Depth | 560 | 22 |
| Net | 15.5 | 34 |
Ordering Information
AD951A
The AD951A includes as standard:
Mainframe with integrated Hi Res display
1 I/O card including DVB SPI interface
Record and Play software
MUX software
Make Seamless, Cutter, Maker and Editor software
Keyboard with integrated pointing device
Options
Opt. DU - Adds second I/O card and HDD for duplex operation
Opt. ASPT - ASI Interface card with time stamping
Opt. GPPC - GPSI Interface card
Opt. TSAL - Transport Stream Analyzer with file size limited to 192 MBytes
Opt. TSA - Transport Stream Analyzer
Opt. TSAP - Transport Stream Analyzer plus PES Analyzer and Buffer Analyzer
Opt. PB - PES and Buffer Analyzer
Opt. MPLUS - Monitor Plus software
Opt. DB - Carousel Analyzer
Opt. CG - Carousel Generator
Opt. DBCG - Bundle software including Carousel Analyzer and Carousel Generator.
Opt. ES - ES Analyzer.
Opt. IX - Satellite Mux - Japan.
Opt. BC - Cable Mux - Japan.
Opt. RM - Rack Mount.
International Power Plugs
Opt. A0 - North America power.
Opt. A1 - Universal EURO power.
Opt. A2 - United Kingdom power.
Opt. A3 - Australia power.
Opt. A4 - 240 V, North America power.
Opt. A5 - Switzerland power.
Opt. A6 - Japan power.
Opt. A10 - China power.
Opt. A99 - No power cord or AC adapter.
Service
Opt. R3 - Repair Service 3 Years