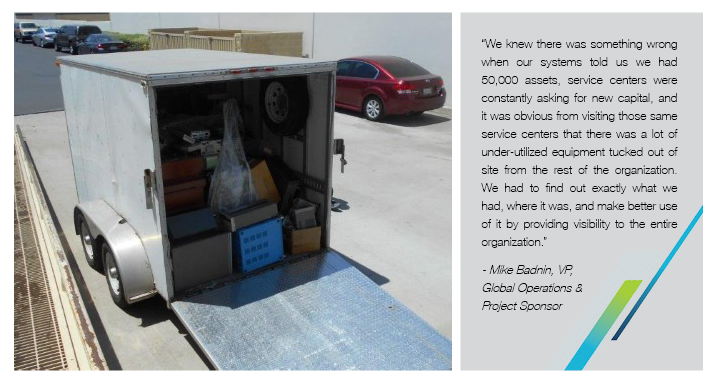 By Lynette Brown
Managing equipment can be a difficult task, particularly if that equipment is shared between groups or is being loaned out across multiple locations. As a manufacturer of test and measurement equipment, we know how hard our customers work to be efficient as possible with their equipment purchases and the importance of diligently maintaining equipment asset records. As part of an ongoing improvement plan here at Tektronix, we needed to get a more accurate accounting and understanding of what assets we had ourselves so we could better utilize them across our services organization. This led to a multi-year project to visit all 28 U.S. locations, not just to take inventory of equipment and instruments, but to also get a handle on where all the equipment was located, how much it was being used and by whom.

Another element we looked as was how to make our inventory and equipment management system as useful as possible. Just having an inventory system doesn't guarantee it's accurate or has the functionality you need. We decided to have parallel tracks in this project. Track 1 was to ensure we had an accurate inventory. Track 2 was to plan for a centralized location to share under-utilized assets among locations and allow our equipment management system to scale as we grew and evolved. This centralized location would include a physical space to store equipment and a digital portal that would allow all our other sites to see equipment availability, and to request and reserve assets when needed.
Here's what Mike Badnin, VP, Global Operations and the project sponsor had to say about the importance of an inventory management system:
"In the calibration business, having the right standards (assets) available when a technician needs them is critical to delivering fast turnaround times. We knew there was something wrong when our systems told us we had 50,000 assets, service centers were constantly asking for new capital, and yet it was obvious from visiting those same service centers that there was a lot of under-utilized equipment tucked out of sight from the rest of the organization. We had to find out exactly what we had, where it was, and make better use of it by providing visibility to the entire organization."
The solutions was to configure CalWeb, our cloud-based asset management platform, to be the digital portal for our equipment loaner program in parallel with our wall-to-wall inventory audit. During this set-up process, it was important to ensure the right team was assembled for this project. This included training those involved on how to find and account for all the assets and identifying a technical person at each site who could evaluate each asset to determine whether it was worth keeping.
Once we developed a plan for how we would do this, we dove in and got it done. Our audit revealed that over half of the 50,000 assets in our system were inactive. We also found several pieces of equipment that we did not realize we had. We even found a trailer full of unused and outdated equipment outside of one of our labs.

Over the course of 2 years, we completed over 60 site visits and remote audits. Each location had anywhere from 30 to 3,000 assets to review. After the physical audits were complete, we added 4,000 additional assets to the inventory. We also recycled or repurposed approximately 2,000 assets and archived approximately 16,000 assets.
Although it was a long and challenging process, Andrew S., Service Center Manager and a CalWeb user, was pleased with the results:
"I was hesitant to have such a distraction in our service center, but the inventory team mindfully scheduled the audit around our employees and made sure we kept our customers priority #1.
It was great to sift through our inventory and send back all the equipment that was underutilized -- this freed up useful space. The CalWeb loaner program has saved my technicians many hours and sped up the process of finding equipment we need with a searchable list. The portal is simple and fast!"
With updated asset information, the organization was better equipped to optimize asset utilization. Who was using what equipment? For how long? Did certain locations need equipment more often than others? This is where CalWeb really started to shine. It gave all locations visibility into shared equipment inventory and allowed for better tracking. CalWeb shows real-time availability, making it more efficient and effective to share equipment between locations.
Using CalWeb increased efficiency by cutting the loaner request time by nearly 50 percent. It replaced our SharePoint site, where it took nearly 90 minutes for a request to be submitted, approved, and shipped out. The notifications and approvals are now automated in CalWeb and the shipping documents are systematically generated, allowing people to focus on other important tasks, not administrative duties.
The benefits have also trickled throughout the organization as Dave M., Tool Crib Administrator explains:
"Using CalWeb for our loaner requests has made me much more efficient and effective in my job. With the automated notifications and approvals, I no longer worry about missing notices and I can immediately see the status of equipment throughout all our locations. No more guessing what is available. Our users have remarked that since moving to CalWeb, assets are easier to find in the inventory and the request process is more user friendly"
We not only saved time, we also saved money. This project saved an estimated $400,000 in the first year, much that stemming from the ability to share equipment between locations rather than purchasing new equipment.
By taking our own advice and setting up a centralized tool crib option in CalWeb, we have been able to run our operation more efficiently and increase both the operational and capital ROI for our business. We don't just talk the talk of CalWeb, but walk the walk as well says Poorna S., Project Manager and Process Designer:
"Our investment into this project was returned to us not just in time and money saved, but also in how it's set us up to grow and stay competitive. Our customers require us to be efficient and stay up-to-date with equipment and support. This inventory audit and moving from manual tracking to an automated CalWeb-based loaner process has given us the tools to do that."