SignalVu Vector Signal Analysis Software offers a broad range of RF measurements and is available for both Tektronix spectrum analyzers and oscilloscopes, including the 6 Series B MSO and DPO70000SX Series oscilloscopes. The SignalVu 5GNR option enables you to examine 5G New Radio (NR) physical layer signals to confirm DUT performance and ensure compliance with 3GPP measurement specifications.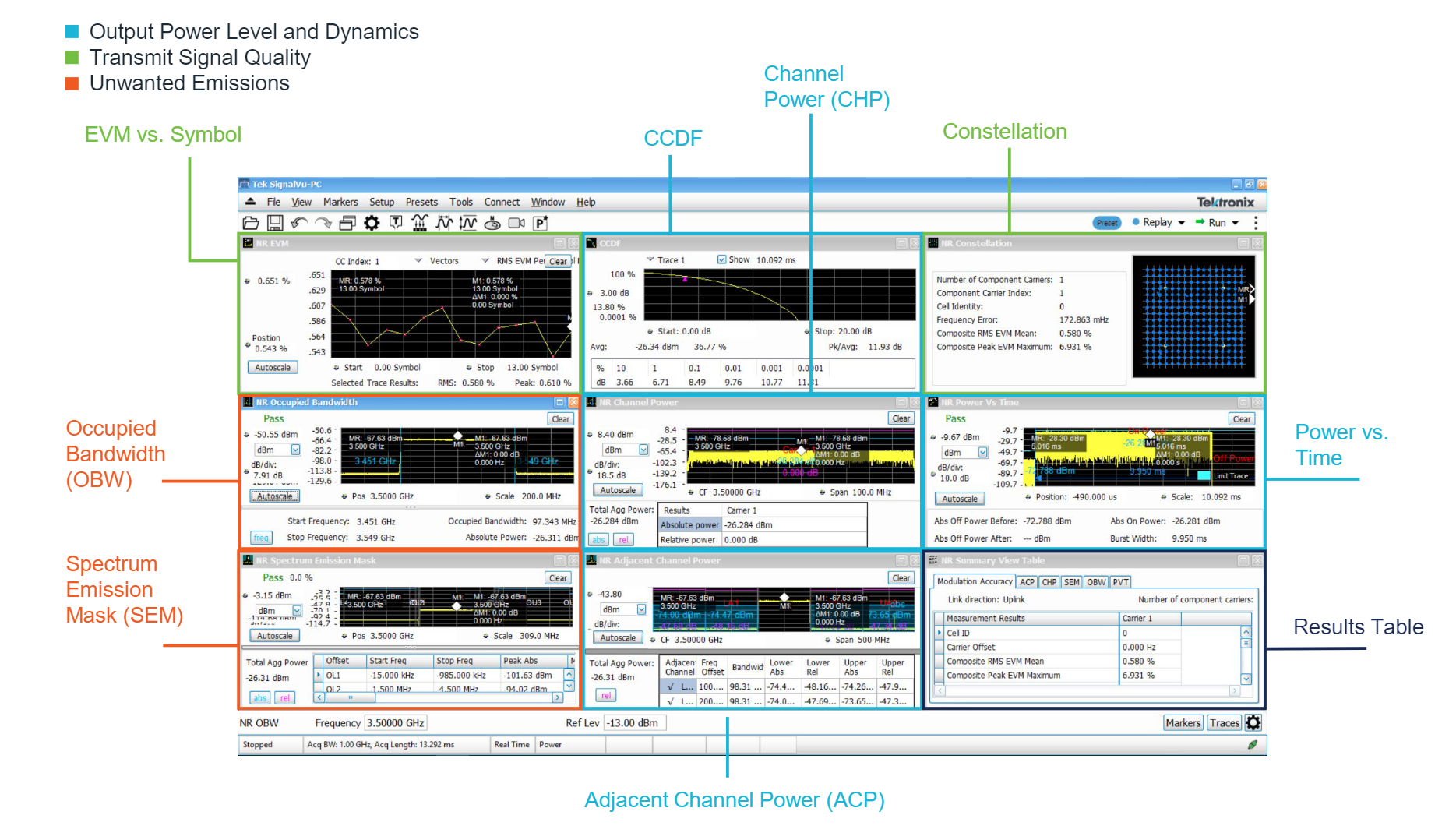 Additional measurement capabilities include:
Spectrum
Spectrogram
Amplitude vs. Time
Frequency vs. Time
Phase vs. Time
RF I&Q vs. Time
Time Overview(analysis length/offset)
Settling time
ACPR, MCPR
Spurious display
AM, FM, PM analysis
nQAM, nFSK, nPSK, nQPSK,nAPSK, nCPM analysis
Flexible OFDM
Other high-speed serial/digital data protocol compliance support
In-depth analysis and troubleshooting with coupled measurements and markers across measurements and domains.Save, recall or playback results for collaboration and documentation. Full programmatic control enables automation.
6 Series B MSO with SignalVu and 5GNR Analysis:

Analyze signals up to 10 GHz frequency range and 2 GHz bandwidth
Simultaneous time and frequency-domain views with independent acquisition settings in each domain
Take advantage of low noise on each channel for high quality EVM measurements (< 1%)
In addition to making detailed 5G NR measurements with SignalVu, the 6 Series B MSO offers up to 8 FlexChannel™ inputs.Configure each channel for analog, digital, or RF analysis for a synchronized, system-level view, which is critical for mixedsignal system debug and validation of 5G NR RFICs, baseband transceivers, and beamformers.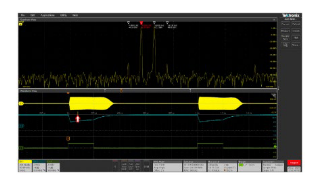 Power amplifier output with enable signals. 6 Series MSOs can perform spectrum analysis synchronized with analog and digital waveforms.
Ordering Information
| | |
| --- | --- |
| Option | Description |
| 5GNRNL-SVPC | Option for SignalVu 5G NR Uplink/Downlink RF Power, Dynamics, Modulation Accuracy (EVM), and Unwanted Emissions Measurements. |
Required Options
Option
Description
6-SV-RFVT
Option for 6 Series B MSO. Spectrum View RF vs. Time Analysis. Enables I/Q Data to be Exported from 5 or 6 Series MSO.
CONNL-SVPC
Option for SignalVu. Enables Base SignalVu Features and Live Connection between Oscilloscope and SignalVu.
Required Options
Option
Description
6-WIN
Removable SSD Option with Windows License for 6 Series B MSO. Allows SignalVu to Run on the Oscilloscope Rather than Separate PC.
6-SV-BW-1
Increase SpectrumView capture bandwidth to 2 GHz.
DPO70000SX Series Oscilloscopes with SignalVu and 5GNR Analysis

Accurately measure low, mid, and high-band signals with models in series available up to 70 GHz
Take advantage of the lowest noise and highest fidelity for EVM (< 1%)
In addition to 5G NR measurements with SignalVu, configure your instrument with up to 4 channels, and with the Tektronix UltraSync™ High Performance Synchronization and Control Bus combine multi-unit systems of up to four DPO70000SX units. Maintain channel-to-channel timing accuracy for MIMO applications.
Ordering Information
| | |
| --- | --- |
| Option | Description |
| Opt. SVE or DPOUP SVE | SignalVu Essentials Vector Signal Analysis Software. Wideband Spectral Analysis and Measurements. |
| DPO-UP 5GNR | Option for SignalVu 5G NR Uplink/Downlink RF Power, Dynamics, Modulation Accuracy (EVM), and Unwanted Emissions Measurements. |